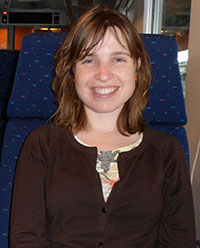 Tania Barragán
Centro de Astrobiología (CSIC/INTA)
Ctra. de Torrejón a Ajalvir km 4
28850 Torrejón de Ardoz
Spain

Tania Barragán is a Phd student from Centre of Astrobiology in Madrid (Spain). She graduated in Geology at the University of Salamanca in 2007.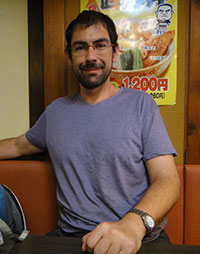 Jorge Esteve
Centre of Biology, Earth and Environmental Sciences
University of West Bohemia at Plzeň
30619 Plzeň
Czech Republic

Jorge Esteve is Research Associate of Palaeontology (2014) at the West Bohemia University in Pilsen, Czech Republic. He graduated with a BSc (2005) and MsC (Hons) (2007) from Universidad Complutense de Madrid, Spain and PhD (2011) from Universidad de Zaragoza in Spain. He had a Young International Fellowship (2012-2013) from the Chinese Academy of Sciences to work at the Nanjing Institute of Geology and Paleontology in Nanjing, China. His main research deals with palaeobiology of Cambrian trilobites from Spain, China, Czech Republic and Morocco.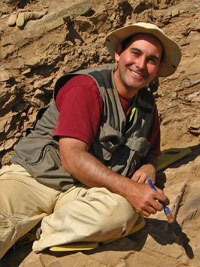 Diego C. García-Bellido
Environment Institute
School of Earth & Environmental Sciences
University of Adelaide
Adelaide, SA 5005
Australia

Diego Garcia-Bellido is an ARC Future Fellow at the University of Adelaide. He studies early animal taxonomical diversity, functional morphology and phylogenetic relationships through the record of Cambrian and Ordovician Lagerstätten. He graduated in Biology-Zoology (Univ. Complutense, Madrid 1995) and received a PhD in Biology (Univ. Complutense, Madrid 2002) for his work on the Palaeozoic Porifera from the Iberian Peninsula. His first contact with Cambrian soft-bodied fossils was in 1994 (University of Cambridge), excavating at the Burgess Shale (British Columbia) with the Royal Ontario Museum-Toronto between 1995 and 2000. He has worked at the ROM (2003-2004), the Spanish Research Council-CSIC (2005-2012) and, since 2013, at the University of Adelaide in collaboration with the South Australian Museum in excavating and studying the early Cambrian Emu Bay Shale Lagerstätte in Kangaroo Island and the Ediacara biota of the Flinders Ranges.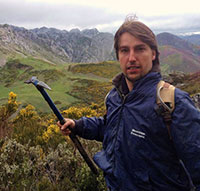 Samuel Zamora
Instituto Geológico y Minero de España
c/ Manuel Lasala
44 - 9º B
50006 Zaragoza
Spain

Samuel Zamora is a 5-years Ramón y Cajal researcher at the Spanish Geological Survey (IGME). He is a specialist on the early evolutionary history of echinoderms. He completed his Ph.D. in 2009 at the University of Zaragoza (Spain) base on Cambrian echinoderm faunas from North Spain and he spent later two years post-Doc at the Natural History Museum (London) and one year at the Smithsonian Institution (Washington DC). He has published extensively on the morphology and a phylogenetic relationship of a broad range of Cambrian and Ordovician echinoderms and is currently researching the origins of the echinoderm body plan and the extrinsic and intrinsic factors that drove the early diversification of echinoderms.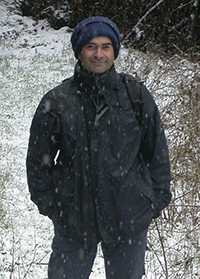 J. Javier Álvaro
Centro de Astrobiología (CSIC/INTA)
Ctra. de Torrejón a Ajalvir km 4
28850 Torrejón de Ardoz
Spain

J. Javier Álvaro works on Neoproterozoic and Early Palaeozoic microbial communities, sedimentology and shelly benthic communities. He got a PhD from the University of Zaragoza (Spain) in 1994. As assistant professor in the University of Lille I (1999-2004; France), he participated in the development of the Department "Palaeozoic Palaeontology and Palaeogeography". In Centre of Astrobiology, he is participating in several projects focused on Precambrian and Cambrian extremophile environments.