The trace fossil Arachnostega in the Ordovician of Estonia (Baltica)
Plain Language Abstract
Arachnostega is a Cambrian to Quaternary net-like burrow system found on the surface of steinkerns from a variety of marine shells. The trace-maker was apparently a deposit-feeder that mined the sediment layer adjacent to the inner surface of the shells. Arachnostega is common in steinkerns throughout the Middle and Upper Ordovician of the paleocontinent of Baltica. Since Baltica experienced a significant climate change in the Ordovician (from temperate to tropical), we can observe whether climate and its associated biological, sedimentary and geochemical factors influenced the organisms that made Arachnostega. This trace fossil does show a significant decline in abundance from the Middle through the Upper Ordovician in Baltica.
Resumen en Español
La traza fósil Arachnostega en el Ordovícico de Estonia (Báltica)
En moldes internos ("steinkerns") de bivalvos, cefalópodos, gasterópodos e hiolitos del Ordovícico de Báltica se encuentran madrigueras asignadas al icnogénero Arachnostega Bertling, 1992. La abundancia de Arachnostega disminuyó significativamente en Báltica durante el Ordovícico. Esta traza fue más abundante durante el Darriwiliense (en el 17% de moldes internos de gasterópodos), algo menos abundante en el Sandbiense (en el 11% de moldes internos de gasterópodos) y menos abundante en el Katiense (en el 3% de moldes internos de gasterópodos). Este cambio en la abundancia de Arachnostega se correlaciona bien con el cambio climático regional (de templado a tropical) durante este intervalo, junto con los consecuentes cambios en el ambiente sedimentario, la geoquímica y la biota. Arachnostega era selectivo con respecto al sustrato, prefiriendo los bivalvos a los gasterópodos. Este icnogénero se encuentra sólo en el Ordovícico Medio y Superior de Estonia y está ausente en el Ordovícico Inferior.
Palabras clave: trazas fósiles; madrigueras; gusanos; moldes internos; rocas carbonatadas
Traducción: Enrique Peñalver
Résumé en Français
La trace fossile Arachnostega de l'Ordovicien de l'Estonie (Baltique)
A l'Ordovicien de la Baltique, des terriers attribués à l'ichnogenre Arachnostega Bertling 1992 se produisent dans des steinkerns de bivalves, de céphalopodes, de gastéropodes et de hyolithides. L'abondance d'Arachnostega diminue de façon significative au cours de l'Ordovicien de la Baltique. C'était le plus abondant dans le Darriwilien (17% des steinkerns de gastéropodes), un peu moins abondant dans le Sandbien (11% des steinkerns de gastéropodes) et moins abondant dans le Katien (3% des steinkerns de gastéropodes). Ce changement d'abondance d'Arachnostega est bien corrélée avec le changement climatique régional (de régions tempérées à tropicales) pendant cet intervalle, avec des changements résultants dans l'environnement sédimentaire, dans la géochimie et dans le biote. Arachnostega était sélectifs en substrat et préférés les bivalves aux gastéropodes. Arachnostega ne se produit que dans l'Ordovicien moyen et supérieur de l'Estonie et est absent dans l'Ordovicien inférieur.
Mots-clés: traces fossiles; terriers; vers; steinkern; roches carbonatées
Translator: Kenny J. Travouillon
Deutsche Zusammenfassung
Das Spurenfossil Arachnostega aus dem Ordovizium von Estland (Baltikum)
Im baltischen Ordovizium treten Grabgänge in Steinkernen von Muscheln, Cephalopoden, Gastropoden und Hyolithiden auf, die der Ichnogattung Arachnostega Bertling, 1992 zugeschrieben werden. Die Häufigkeit von Arachnostega nahm auf dem Baltikum während des Ordiviziums signifikant ab. Sie war am höchsten im Darriwilium (17% der Gastropoden-Steinkerne), etwas weniger hoc him Sandbium (11% der Gastropoden-Steinkerne) und am wenigsten im Katium (3% der Gastropoden-Steinkerne). Dieser Wechsel bei der Arachnostega-Häufigkeit steht in enger Beziehung mit dem regionalen Klimawechsel (von gemäßigt zu tropisch) während dieser Zeitspanne zusammen mit daraus resultierenden Veränderungen im Sediment, der Geochemie und der Biota. Arachnostega war Substrat-selektiv und bevorzugte Bivalven und Gastropoden. Arachnostega kommt nur im mittleren und oberen Ordivizium des Baltikums vor und tritt im unteren Ordovizium nicht auf.
Schlüsselwörter: Spurenfossilien; Grabgänge; Würmer; Steinkern; Karbonatgestein
Translator: Eva Gebauer
Arabic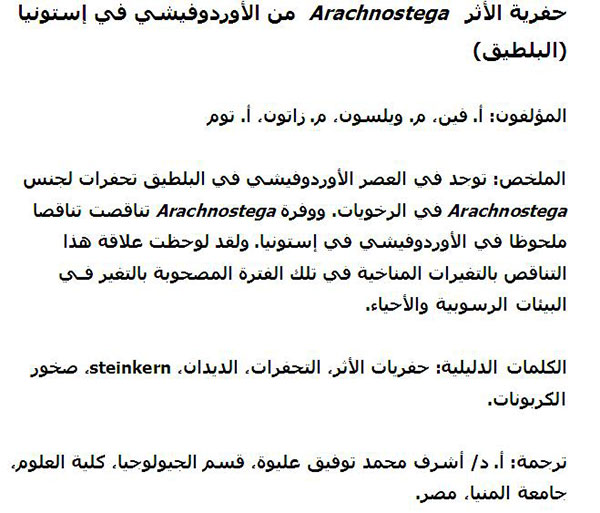 Translator: Ashraf M.T. Elewa