Plio-Pleistocene Mediterranean bathyal echinoids: evidence of adaptation to psychrospheric conditions and affinities with Atlantic assemblages
Plain Language Abstract
Although fossil echinoids are generally well represented in the late Cenozoic of the Mediterranean area, well-preserved specimens of species limited to deep-sea bottoms are exceedingly rare. Consequently the evolution of the Miocene to Recent Mediterranean deep-water echinoids is still scantily known. Here we studied the Plio-Pleistocene deep-water echinoid faunas from the Argille Azzurre Formation of north Italy, commonly represented only by isolated spines and plates, and from Capo Milazzo, in north-eastern Sicily. The latter site gave us a rare opportunity of studying much better-preserved and articulate specimens, providing with further evidence of the nature of the deep-Mediterranean fauna that was established after the late Miocene (late Messinian) salinity crisis. The late Piacenzian-Calabrian assemblages studied mainly consist of few regular echinoid species, which can be regarded as typical of cold deep waters in psychrospheric conditions. This (palae)oceanographical setting is different from the current Mediterranean one, which displays a homothermic regime, a strongly stratified (oligotrophic) deep water body, where the echinoid assemblage is represented by few eurythermal species, with a biodiversity influenced by the eastern Atlantic. Our results also indicate that the studied bathyal regular-echinoid assemblages show strong affinities with the western Atlantic, the Caribbean area in particular. This suggests that during the late Cenozoic, at least until the Calabrian, the deep-water Mediterranean-Atlantic faunal exchange within echinoids was settled by biogeographic dynamics different from that occurring today.
Riassunto in italiano
Echinoidi batiali del Plio-Pleistocene mediterraneo: adattamento a condizioni psicrosferiche e affinità con le associazioni atlantiche.
Nonostante gli echinoidi fossili siano generalmente frequenti nei depositi tardo cenozoici dell'area mediterranea, gli esemplari ben conservati appartenenti a specie esclusive di acque profonde sono così rari che l'evoluzione di questo gruppo, in ambienti profondi di tale bacino, è scarsamente conosciuta per ciò che attiene all'intervallo Miocene-Recente. In questo lavoro vengono esaminati gli echinoidi plio-pleistocenici della Formazione delle Argille Azzurre (nord Italia), che sono normalmente rappresentati solo da piastre e spine disarticolate, e quelli di Capo Milazzo (Sicilia nord orientale), località che ha fornito materiale più completo e meglio preservato. Questi fossili ci hanno consentito di approfondire temi paleoambientali e paleogeografici relativi alla fauna profonda degli echinoidi del Mediterraneo nel periodo seguente la crisi di salinità del tardo Miocene (Messiniano superiore). Le associazioni studiate, riferibili al tardo Piacenziano-Calabriano, mostrano una stretta affinità con quelle oggi viventi nelle fredde acque del piano batiale dell'Atlantico occidentale, l'area caraibica in particolare, in condizioni psicrosferiche. Tale quadro paleoambientale è assai diverso da quello presente nell'attuale Mediterraneo profondo, dove l'assetto oceanografico è caratterizzato da un regime di omotermia, in cui le associazioni profonde di echinoidi sono rappresentate da specie euriterme con spiccata affinità est-atlantica. Lo studio mostra quindi che durante il tardo Cenozoico, almeno sino al Calabriano, lo scambio faunistico tra Mediterraneo e Atlantico, con riguardo agli echinoidi, era regolato da dinamiche biogeografiche differenti da quelle attuali.
Parole chiave: Echinoidi batiali; Psicrosfera; Atlantico; Mediterraneo; Plio-Pleistocene; Sicilia.
Traduttori: gli autori
Resumen en Español
Los equinoideos batiales del Plio-Pleistoceno en el área Mediterránea: evidencia de adaptación a condiciones psicrosféricas y afinidad con las asociaciones del Atlántico.
Aunque los equinoideos fósiles generalmente están bien representados en el Cenozoico tardío del área Mediterránea, los ejemplares bien preservados de especies exclusivas de fondos de aguas profundas son extremadamente raros. Como consecuencia, la evolución de los equinoideos de aguas profundas en el Mediterráneo todavía es poco conocida para el intervalo Mioceno-Actual. En el presente trabajo se estudian las faunas plio-pleistocénicas de equinoideos de aguas profundas procedentes de la Formación Argille Azzure, del norte de Italia (normalmente presentándose como radiolas y placas sueltas), y de Capo Milazzo, en el noreste de Sicilia. Esta última localidad nos concedió una oportunidad única de estudiar ejemplares articulados mucho mejor preservados. Estos fósiles aportan nuevas evidencias sobre la naturaleza de la fauna marina profunda del Mediterráneo que se estableció con posterioridad a la crisis de salinidad del Mioceno superior (Messiniense superior). Las asociaciones de equinoideos de edad Piacenziense-Calabriense estudiadas en este trabajo consisten fundamentalmente en algunas especies que se consideran típicas de aguas frías y profundas propias de condiciones psicrosféricas. Este contexto (paleo)oceanográfico es diferente del que impera actualmente en el Mediterráneo, caracterizado por un régimen homotérmico y por un cuerpo de aguas profundas oligotróficas fuertemente estratificado, en el que las asociaciones de equinoideos están representadas por algunas especies euritérmicas, y cuya biodiversidad denota influencia del Atlántico oriental. Nuestros resultados indican asimismo que las asociaciones de equinoideos regulares batiales estudiadas muestran una fuerte afinidad con aquellas propias del Atlántico occidental, en particular de la zona Caribeña. Estos indicios sugieren que durante el Cenozoico tardío, al menos hasta el Calabriense, la interrelación migratoria de las faunas de equinoideos de aguas profundas del Atlántico y del Mediterráneo se estableció debido a una dinámica biogeográfica diferente a la actual.
Palabras clave: Equinoideos batiales; Psicrosféra; Atlántico; Mediterráneo; plio-pleistoceno; Sicilia.
Traductor: Diego A. García-Ramos
Résumé en Français
Échinides bathyales du Plio-Pléistocène de la Méditerranée: adaptation aux conditions psychrosphériques et affinités avec les assemblages de l'Atlantique.
Bien que les échinides fossiles soient bien représentés dans le Cénozoïque supérieur de la région méditerranéenne, les espèces limitées aux fonds profonds sont extrêmement rares. En fait, l'évolution de échinides méditerranéens profonds dans le Miocène-Actuel est encore très peu connue.
Nous avons étudié les échinides profonds du Pliocène-Pléistocène de la Formation Argille Azzurre (nord de l'Italie), souvent représentés par des épines et des plaques isolées, et de Capo Milazzo (Sicile nord orientale). Le dernier site nous a fourni une rare occasion d'étudier des spécimens beaucoup mieux préservés et articulés. Ces fossiles fournissent une évidence supplémentaire de la nature de la faune profonde méditerranéenne qui se plaça après la crise de salinité du Miocène supérieur (Messinien supérieur). Les associations du Plaisancien-Calabrien étudiées sont principalement constituées de quelques espèces d'échinides réguliers, qui peuvent être considérées comme typiques des eaux froides profondes dans des conditions psychrosphériques. Ce cadre (palé)océanographique est différent de celui de la Méditerranée actuelle, qui montre un régime d'homothermie et relative oligotrophie, où l'association des échinides est représentée par peu d'espèces eurythermes, avec une biodiversité influencée par l'Atlantique oriental. Nos résultats indiquent également que les échinides régulièrs méditerranéens étudiés montrent de fortes affinités avec les associations de l'Atlantique occidental, les Caraïbes en particulier. Ça suggère que pendant le Cénozoïque supérieur, au moins jusqu'à le Calabrien, l'échange des associations des échinides profonds entre la Méditerranée et l'Atlantique était réglé par des dynamiques biogéographiques différentes.
Mots cles: Échinides bathyales; Psychrosphére; Atlantique; Méditerranée; Plio-Pléistocène; Sicile.
Traducteurs: Maria Luisa Runfola et Vittorio Garilli
Deutsche Zusammenfassung
Bathyale Echinoide aus dem mediterranen Plio-Pleistozän: Nachweis auf Adaption auf psychrospherische Bedingungen und Ähnlichkeiten mit atlantischen Assemblagen.
Paläontologische Nachweise von autochthonen Tiefwasser-Echinoiden sind so selten, dass die hier beschriebene gut erhaltene Assemblage aus dem Plio-Pleistozän von Capo Milazzo (Nordost-Sizilien) eine wichtige Möglichkeit darstellt, die Biodiversität der bathyalen Echinoiden des spätkänozoischen Mittelmeeres zu untersuchen. Die hier untersuchte diversitätenarme Fauna wird von Cidaris margaritifera, Histocidaris sicula und Stirechinus scillae dominiert, Arten, die eng verwandt sind mit den rezenten Echinoiden, die heute auf die tiefen Abhänge des westlichen Atlantiks beschränkt sind. Die Echinoiden Assemblagen von Capo Milazzo und der Plio-Pleistozänen Argille Azzurre Formation (Italien) teilen eine Anzahl von Arten von denen die meisten auch aus den seichten Bereichen der Plio-Pleistozänen Ablagerungen und dem heutigen Mittelmeer bekannt sind. C. margaritifera ist die einzige strikt bathyale Echinoide, die in beiden Formationen vorkommt. Die paläoökologische Untersuchung dieser Echinoiden weist auf eine epibenthische Lebensweise in trüben Tiefenwässern mit psychrospherischen Konditionen hin. Die folgenden Arten aus der Argille Azzurre Formation werden als strikt bathyal interpretiert: Histocidaris rosaria, Schizaster braidensis und Schizaster ovatus (transferiert in die Gattung Holanthus). Die moderne mediterrane (verarmte) Tiefwasser-Echinoiden Assemblage zeigt Ähnlichkeiten mit derjenigen aus dem nord-östlichen Atlantik und, mit Ausnahme von Holanthus expergitus, sind alle mediterranen Arten aus bathyalen Tiefen eurybathisch, da sie ebenso in Küstenregionen leben. Im Gegensatz dazu zeigen die bathyalen Echinoiden von Capo Milazzo starke Ähnlichkeit mit strikten Tiefwasser-Arten aus dem westlichen Atlantik, besonders mit denen aus der Karibik. Sie verschwanden während des Quartärs wegen des Verlusts der psychrospherischen Bedingungen aus dem Mittelmeer. Basierend auf der Punta Mazza Sektion und datiert mit Nanofossilien und aus der Literatur ist ihre stratigrafische Reichweite in Capo Milazzo spätes Piacenzium-Calabrium.
Keywords: bathyale Echinoide; psychrospherisch; Atlantik; Mittelmeer; Plio-Pleistozän; Sizilien
Translator: Eva Gebauer
Arabic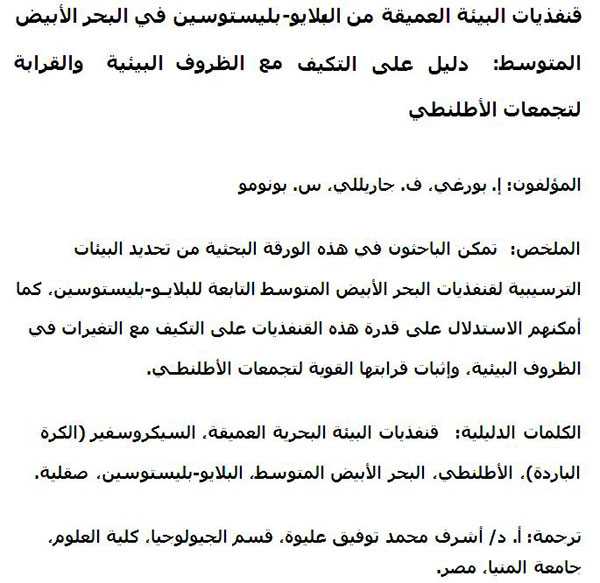 Translator: Ashraf M.T. Elewa