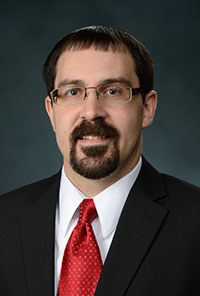 Brian F. Platt.
Department of Geology and Geological Engineering,
University of Mississippi,
120A Carrier Hall,
University, Mississippi 38677
USA

Brian F. Platt is an Assistant Professor in the Department of Geology and Geological Engineering at the University of Mississippi. He received his PhD in geology from the University of Kansas in 2012. His area of specialization is continental ichnology and much of his research involves the integration of ichnology, paleopedology, and sedimentary geology to interpret paleoenvironments and paleoclimates. He also enjoys any opportunities to conduct neoichnological studies to better inform interpretations of the trace-fossil record. Previous and ongoing projects include investigations of dinosaur tracks and other trace fossils in the Upper Jurassic Morrison Formation (Wyoming and Utah) and the Lower Cretaceous De Queen Formation (Arkansas), ichnology and stratigraphy of calcretes and paleosols in the Neogene Ogallala Formation (Kansas), ichnological applications of three-dimensional technologies, and elephant neoichnology.