Illustrated guide to Pliocene foraminifera from Miyakojima, Ryukyu Island Arc, with comments on biostratigraphy
Plain Language Abstract
Miyakojima Island is situated in the southwestern part of the Ryukyu Island Arc, the tropical region of the Japanese islands. The Pliocene Shimajiri Group in the island is composed mostly of sublittoral (shelf) and bathyal (slope) sediments and is accessible in a number of conspicuous outcrops along the east and southeast coast and inland in the southwest. Forty-seven planktonic and 267 benthic foraminiferal species have been identified from 31 rock samples collected from outcrops that cover almost all horizons of the island sections. The taxonomy of these foraminifera is discussed, inclusive of comments on synonymy of "endemic" species described from Japan with ubiquitous/well-established species reported mainly from southeast Asia. Planktonic foraminiferal biostratigraphy shows the age of the Shimajiri Group to be Early to Late Pliocene. All species are illustrated using focus-stacking software from an assembly of digital camera images taken in optical microscopy. The multi-focus illustrations can show natural color, texture and inner structures, including septum. More specimens are illustrated for each species, pictures having been taken from at least two directions in order to show three-dimensional morphological variations of the species so as to furnish an effective guide for future study.
Resumen en Español
Guía ilustrada de foraminíferos pliocenos de Miyakojima, arco insular Ryukyu, con comentarios sobre bioestratigrafía
Este es la primera recopilación sistemática exhaustiva y totalmente ilustrada de los foraminíferos tanto planctónicos como bentónicos del Plioceno del Grupo Shimajiri en Miyakojima, al sur del arco insular Ryukyu. Se han identificado un total de 47 especies planctónicas en 18 géneros y 267 taxones bentónicos en 151 géneros a partir de 31 muestras de matriz rocosa que abarcan casi todos los horizontes en las secciones insulares. Todas las especies, junto con las variedades morfológicas, se ilustran usando software que integra fotografías tomadas a diferente distancia focal con una cámara digital acoplada a un microscopio óptico. Estas ilustraciones multi-foco pueden mostrar el color y la textura naturales (reflexión y transmisión), y las estructuras internas, incluyendo la forma del septo, el cual no es visible con microscopía electrónica de barrido. Las notas sistemáticas incluyen comentarios de sinonimias de especies ubicuas y bien establecidas que han sido descritas de otras áreas. La presente compilación exhaustiva con ilustraciones novedosas proporciona una guía eficaz para la investigación futura de los foraminíferos en las regiones circundantes.
La bioestratigrafía basada en los foraminíferos planctónicos en Miyakojima también se ha reexaminado considerando el ambiente sedimentario para explicar la ausencia de algunas especies guía. Se confirma la edad Plioceno temprano hasta Plioceno terminal del Grupo Shimajiri en Miyakojima, correlativo con la Zona Pl1 (Formación Oura), zonas Pl1 a Pl2 (Formación Onogoshi), zonas Pl2 a Pl4 (Formación Yonahama) y la Zona Pl5 (Formación Minebari), respectivamente.
Palabras clave: taxonomía; foraminíferos; Ryukyu; Plioceno; micrografías ópticas
Traducción: Enrique Peñalver
Résumé en Français
Guide illustré des foraminifères du Pliocène de Miyakojima, Arc volcanique de Ryukyu, avec des commentaires sur la biostratigraphie
Ceci est le premier rapport systématique complet entièrement illustré sur les foraminifères à la fois planctoniques et benthiques provenant du Groupe Shimajiri du Pliocène sur l'île de Miyakojima, dans le sud de l'Arc volcanique de Ryukyu. Un total de 47 espèces planctoniques dans 18 genres et 267 taxons benthiques dans 151 genres ont été identifiés dans 31 échantillons de matrice couvrant presque tous les horizons dans les sections de l'île. Toutes les espèces, ainsi que leurs variétés morphologiques, sont illustrés en utilisant des logiciels de mise au point d'empilage, en assemblant des images d'appareils photo numériques prises en microscopie optique. Ces illustrations à multiples distances focales peuvent montrer la couleur naturelle et la texture (réflexion et transmission), et les structures internes, y compris la forme du septum, qui ne sont pas disponibles en microscopie électronique à balayage. Les notes systématiques comprennent des commentaires sur les synonymes d'espèces ubiquistes / bien établies décrites dans d'autres régions. Le présent rapport complet avec de nouvelles illustrations fournit un guide efficace pour la recherche future des foraminifères dans les régions environnantes.
La biostratigraphie des foraminifères planctoniques dans l'île de Miyakojima a également été réexaminé en tenant compte de l'environnement sédimentaire pour expliquer l'absence de certaines espèces indices. L'âge du début jusqu'à la fin du Pliocène du Groupe Shimajiri sur l'île de Miyakojima, en corrélation avec la zone Pl1 (Formation d'Oura), les zones Pl1 à PL2 (Formation d'Onogoshi), les zones Pl2 à PI4 (Formation de Yonahama) et la zone PL5 (Formation de Minebari), respectivement, est confirmée.
Mots-clés: taxonomie; foraminifères; Ryukyu; Pliocène; micrographies optiques
Translator: Kenny J. Travouillon
Deutsche Zusammenfassung
Ein illustrierter Führer zu den pliozänen Foraminiferen von Miyakojima, Ryukyu Inselbogen, mit Bemerkungen zur Biostratigrafie
Dies ist der erste umfassende und komplett illustrierte bericht über planktonische und benthische Foraminiferen aus der pliozänen Shimajiri Gruppe der Miyakojima Insel im südlichen Ryukyu Inselbogen. Insgesamt wurden 47 planktonische Arten in 18 Gattungen und 267 benthische Taxa in 151 Gattungen in 31 Matrixproben, die fast alle Horizonte der Inselsektionen abdecken, identifiziert. Alle Arten, auch die morphologischen Varietäten, wurden mit Focus-Stacking-Software durch Zusammensetzen von digitalen Bildern, aufgenommen mit optischer Mikroskopie, illustriert. Diese Multi-Fokus-Illustrationen können die natürliche Farbe und Textur zeigen (Reflektion und Transmission) sowie innere Strukturen wie Form des Septums, was mit Rasterelektronenmikroskopie nicht möglich ist. Systematische Anmerkungen enthalten Hinweise auf Synonyme von ubiquitären/etablierten Arten die aus anderen Gegenden beschrieben wurden. Der vorliegende umfassende Bericht mit neuartigen Illustrationen stellt einen aktuellen Leitfaden für zukünftige Forschung an Foraminiferen in umliegenden Regionen dar. Die Biostratigrafie planktonischer Foraminiferen auf der Miyakojima Insel wurde ebenso erneut unter Berücksichtigung der Sedimente geprüft, um die Abwesenheit einiger Indexarten zu erklären. Das früh-bis spätpliozäne Alter der Shimajiri Gruppe auf der Miyakojima Insel, das mit der Pl1 Zone (Oura Formation), den Pl1 bis Pl2 Zonen (Onogoshi Formation), den Pl2 bis Pl4 Zonen (Yonahama Formation) und der Pl5 Zone (Minebari Formation) korreliert, wird bestätigt.
Schlüsselwörter: Taxonomie; Foraminifera; Ryukyu; Pliozän; optische Aufnahmen
Translator: Eva Gebauer
Arabic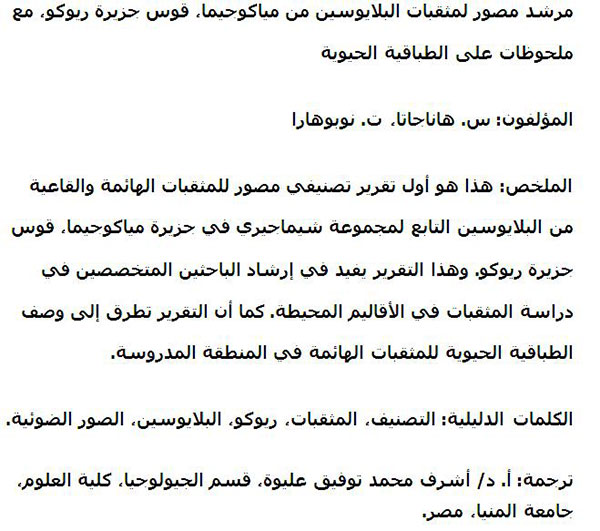 Translator: Ashraf M.T. Elewa