Late Pleistocene-Holocene amphibians from Okinawajima Island in the Ryukyu Archipelago, Japan: Reconfirmed faunal endemicity and the Holocene range collapse of forest-dwelling species
Plain Language Abstract
In this paper, we report amphibian fossils excavated from two Late Pleistocene-Holocene sites on Okinawajima Island of the Ryukyu Archipelago, southwestern Japan. The identified species (eight frogs and two newts) were mostly those currently confined to this island or to this and adjacent islands of the Central Ryukyus. Two mainland Japanese frog species and one Southeast Asian frog species, previously reported from one of the study sites (Minatogawa Fissure) are considered misidentifications. This study also revealed occurrences of five forest-dwelling frogs in the southern part of Okinawajima during the Late Pleistocene that are currently strictly confined to the northern forested area of the island, suggesting that the former area was also largely covered by humid forests with abundant lotic habitats in the Late Pleistocene. Such an environment seems to have been lost in the southern part of the island by the middle Holocene, because amphibian species identified from the middle Holocene deposits there did not include those five species at all.
Abstract in Japanese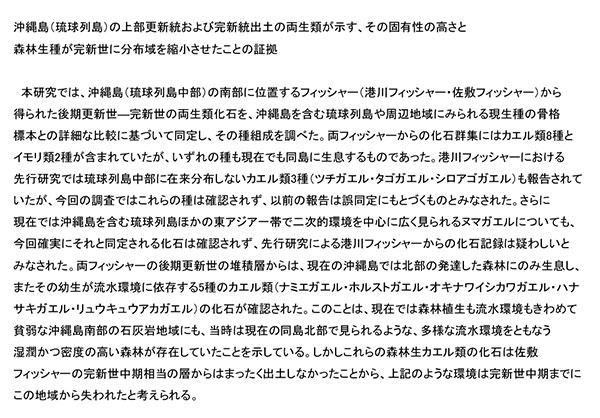 Translation by author
Resumen en Español
Los anfibios del Pleistoceno tardío-Holoceno de la isla de Okinawajima en el archipiélago de Ryukyu, Japón: endemicidad faunística reconfirmada y disminución del rango de hábitats de las especies de bosque durante el Holoceno
Los fósiles de anfibios obtenidos de dos fisuras del Pleistoceno tardío-Holoceno en la parte sur de la isla de Okinawajima, del archipiélago de Ryukyu, fueron identificados por la comparación detallada con especímenes óseos de taxones existentes. Las especies identificadas (ocho ranas y dos tritones) se limitaron a ciertas especies actuales de la isla, las cuales eran en su mayoría endémicas de la isla o de la parte central del archipiélago con inclusión de la misma. Como consecuencia, se consideran errores de identificación los registros anteriores del Pleistoceno de una de las localidades de estudio (la Fisura Minatogawa) de especies de ranas de otras áreas de distribución (dos especies continentales japonesas [Glandirana rugosa and Rana tagoi] y una rana del sudeste asiático actualmente naturalizada en el archipiélago Ryukyu [Polypedates leucomystax]). Este también puede ser el caso de Fejervarya kawamurai, una rana sinantrópica actualmente con una distribución amplia en el este de Asia, incluyendo las islas de Ryukyu Central. De las especies obtenidas de los depósitos del Pleistoceno tardío en estas localidades, cinco ranas (Limnonectes namiyei, Babina holsti, Odorrana ishikawae, O. narina, y Rana ulma) son habitantes de los bosques y están actualmente confinadas en la zona boscosa del norte de Okinawajima. Además, ninguna de estas especies fue hallada en los depósitos del Holoceno medio de una de las localidades, la Fisura Sashiki. Nuestros resultados indican que, en el Pleistoceno tardío, el área sur de terreno calizo de Okinawajima albergaba un bosque denso y húmedo con diversos hábitats lóticos, similar al de la zona norte boscosa de la isla en la actualidad, y que estas condiciones ambientales se perdieron alrededor del punto medio del periodo Holoceno.
Palabras clave: Biogeografía; ranas; caliza; tritones; paleoambiente
Traducción: Enrique Peñalver
Résumé en Français
Amphibiens du Pléistocène supérieur-Holocène de l'île Okinawajima dans l'archipel de Ryukyu, au Japon: reconfirmé l'endémicité de la faune et l' effondrement de la gamme d'espèces vivantes dans les forêts de l'Holocène
Des fossiles d'amphibiens découverts dans deux fissures Pléistocène-Holocène dans la partie sud de l'île Okinawajima de l'archipel de Ryukyu ont été identifiés grâce à des comparaisons détaillées avec des spécimens squelettiques de taxons actuels. Les espèces identifiées (huit grenouilles et deux tritons) ont été confinées à des éléments existants sur l'île et étaient pour la plupart endémiques à l'île ou à la partie centrale de l'archipel qui l'inclut. Les registres précédents du Pléistocène supérieur de grenouilles hors-limites (deux espèces japonaises continentales [Glandirana rugosa et Rana tagoi] et une grenouille d'Asie du Sud actuellement naturalisés dans les Ryukyus [Polypedates leucomystax]) provenant de l'un des sites d'étude (la Fissure Minatogawa) sont donc considérés comme des erreurs d'identification. Cela peut également être le cas avec Fejervarya kawamurai, une grenouille synanthropique actuellement distribué largement en Asie de l'Est, y compris les Ryukyus centraux. Parmi les espèces obtenues à partir des dépôts du Pléistocène supérieur à ces sites, cinq grenouilles (Limnonectes namiyei, Babina holsti, Odorrana ishikawae, O. narina, et Rana ulma) sont des espèces vivantes dans les forêts, actuellement confinées dans la zone boisée du nord de Okinawajima. En outre, aucune de ces espèces ont été détectés dans les dépôts Holocène moyen à l'un des sites, la Fissure Sashiki. Nos résultats indiquent que la zone calcaire sud de Okinawajima dans le Pléistocène supérieur abritait une forêt dense et humide avec divers habitats lotiques, similaires à la zone boisée nord de l'île à l'heure actuelle, et que ces conditions environnementales ont été perdus au milieu de l'Holocène.
Mots-clés: Biogéographie; grenouilles; calcaire; tritons; paléoenvironnement
Translator: Kenny J. Travouillon
Deutsche Zusammenfassung
Spätpleistozän-holozäne Amphibien der Okinawajima Insel im Ryukyu Archipelago, Japan: eine Wiederbestätigung der Faunenendemität und der holozäne Kollaps der waldbewohnenden Arten
Es werden fossile Amphibien von zwei spätpleistozänen-holozänen Spalten im südlichen Teil der Okinawajima Insel im Ryukyu Archipelago durch detaillierten Vergleich mit heutigen Taxa identifiziert. Die identifizierten Stücke (acht Frösche und zwei Molche) wurden auf heute vorkommende Elemente auf der Insel beschränkt und waren meist endemisch, entweder auf der Insel oder im zentralen Teil des die Insel umfassenden Archipelagos. Vorherige Nachweise aus dem späten Pleistozän über Frösche außerhalb der Grenze (zwei Arten von den japanischen Hauptinseln [Glandirana rugosa and Rana tagoi] und ein südostasiatischer Frosch der zurzeit in den Ryukyus eingebürgert wird [Polypedates leucomystax]) aus einem der untersuchten Gebiete (die Minatogawa-Spalte) werden daher als Misidentifikationen angesehen. Dies könnte auch mit Fejervarya kawamurai der Fall sein, ein synanthropischer Frosch der momentan in Ostasien weit verbreitet ist, einschließlich der zentralen Ryukyus. Von den Arten aus den spätpleistozänen Ablagerungen dieser Fundstellen sind fünf Frösche (Limnonectes namiyei, Babina holsti, Odorrana ishikawae, O. narina und Rana ulma) waldbewohnend und momentan auf das nordöstliche bewaldete Gebiet von Okinawajima beschränkt. Darüber hinaus wurde keine dieser Arten in den mittelholozänen Ablagerungen in einer dieser Fundstellen, der Sashiki-Spalte gefunden. Unsere Funde zeigen, dass das südliche Kalkgebiet von Okinawajima im späten Pleistozän einen dichten und feuchten Wald mit diversen lotischen Habitaten beherbergte, ähnlich dem nördlichen bewaldeten Gebiet der heutigen Insel und dass diese Umweltbedingungen in der Mitte des Holozäns verloren gingen.
Schlüsselwörter: Biogeographie; Frösche; Kalkstein; Molche; Paläoumwelt
Translator: Eva Gebauer
Arabic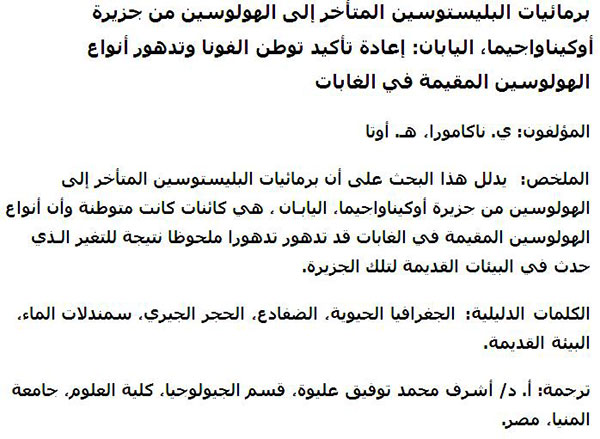 Translator: Ashraf M.T. Elewa