An ameghinornithid-like bird (Aves, Cariamae, ?Ameghinornithidae) from the early Oligocene of Egypt
Plain Language Abstract
We describe a new avian fossil from ~33 million year old (Oligocene) deposits in northern Egypt. This new fossil is tentatively referred to Ameghinornithidae, an extinct group of potentially flightless birds with a geographic range that was restricted previously to Europe. The potential presence of Ameghinornithidae in Africa during the Oligocene suggests that this group of birds was more widely distributed geographically and may have survived longer than previously thought.
Resumen en Español
Un ave tipo ameghinornítido (Aves, Cariamae, ?Ameghinornithidae) del Oligoceno temprano de Egipto
Los Ameghinornithidae son un enigmático grupo de potenciales aves no voladoras del Paleógeno conocido actualmente por tres especies europeas. Se presenta un nuevo fósil que representa el primer registro de un ave de tipo ameghinornítido proveniente de África. El nuevo espécimen se halló en la Formación Jebel Qatrani del Oligoceno temprano, expuesta en la Depresión Fayum al norte de Egipto, el cual puede representar el registro más reciente del clado. El nuevo espécimen exhibe muchas similitudes con los ameghinornítidos europeos, entre ellas la falta de un puente supratendinoso osificado en el tibiotarso, un cóndilo lateral circular del tibiotarso, y un gran epicóndilo medial. El espécimen de Fayum es intermedio en tamaño en comparación con los Ameghinornithidae europeos y se caracteriza por la ausencia de una proyección del cóndilo medial del cráneo al cóndilo lateral y la presencia de crestas pareadas (y surcos asociados) proximales respecto al cóndilo lateral. La presencia de Ameghinornithidae en el Oligoceno temprano de África tendría implicaciones en relación a la edad y el patrón de los intercambios biogeográficos a través de la vía marítima del Tetis.
Palabras clave: evolución aviar; ave fósil; Formación Jebel Qatrani; Paleógeno; Strigogyps
Traducción: Enrique Peñalver
Résumé en Français
Un oiseau ressemblant à un ameghinornithide (Aves, Cariamae, ?Ameghinornithidae) provenant de l'Oligocène inférieur de l'Egypte
Ameghinornithidae est un groupe énigmatique d'oiseaux du Paléogène potentiellement non-volant, actuellement connus à partir de trois espèces européennes. Ici, nous rapportons un nouveau fossile qui représente le premier registre d'un oiseau ressemblant à un ameghinornithide en Afrique. Les nouveaux spécimens ont été recueillis dans la Formation Jebel Qatrani de l'Oligocène inférieur, exposée dans la dépression du Fayoum au nord de l'Egypte, et peuvent représenter le plus jeune registre de ce clade. Les nouveaux spécimens présentent de nombreuses similitudes avec les ameghinornithides européens, y compris l'absence d'un pont supratendinale ossifié sur le tibiotarse, un condyle latéral circulaire du tibiotarse, et un grand épitrochlée. Le spécimen du Fayum est de taille intermédiaire par rapport aux ameghinornithides européens et se caractérise par l'absence d'une saillie du condyle médial, crânien au condyle latéral et la présence de nervures appariées (et de rainures associées) à proximité du condyle latéral. L'apparition d'Ameghinornithidae durant l'Oligocène inférieur de l'Afrique aurait des implications concernant le timing et la structure des échanges biogéographiques dans la voie maritime Téthys.
Thomas A Stidham. Key Laboratory of Vertebrate Evolution and Human Origins, Institute of Vertebrate Paleontology and Paleoanthropology, Chinese Academy of Sciences, Beijing 100044, Chine.
Mots-clés: évolution aviaire; fossile d'oiseau; Formation Jebel Qatrani; Paléogène; Strigogyps
Translator: Kenny J. Travouillon
Deutsche Zusammenfassung
Ein ameghinornithiden-ähnlicher Vogel (Aves, Cariamae, ?Ameghinornithidae) aus dem frühen Oligozän von Ägypten
Die Ameghinornithidae sind eine rätselhafte Gruppe von möglicherweise flugunfähigen paläogenen Vögeln, die momentan mit drei europäischen Arten bekannt sind. Hier berichten wir über ein neues Fossil, das den ersten Nachweis eines ameghinornithiden-ähnlichen Vogels aus Afrika darstellt. Das neue Stück kommt aus der Jebel Qatrani Formation (frühes Oligozän), dort aus der Fayum Depression in Nordägypten und repräsentiert möglicherweise den jüngsten Nachweis dieser Klade. Das neue Stück weist viele Ähnlichkeiten mit europäischen Ameghinornithiden auf, einschließlich der fehlenden verknöcherten supratendinalen Brücke auf dem Tibiotarsus, eines runden lateralen Condylus auf dem Tibiotarsus und eines großen medialen Epicondylus. Das Fayum-Stück hat eine mittlere Größe im Vergleich mit den europäischen Ameghinornithiden und ist gekennzeichnet durch das Fehlen eines vorspringenden medialen Condylus cranial zum lateralen Condylus und durch das Vorhandensein von paarigen Graten (und assoziierte Rillen) proximal zum lateralen Condylus. Das Auftreten von Ameghinornithidae im frühen Oligozän von Afrika würde Folgen für die Zeitberechnung und das Muster des biogeografischen Austauschs über den Tethys-Seeweg haben.
Schlüsselwörter: Vogelevolution; fossiler Vogel; Jebel Qatrani Formation; Paläozän; Strigogyps
Translator: Eva Gebauer
Arabic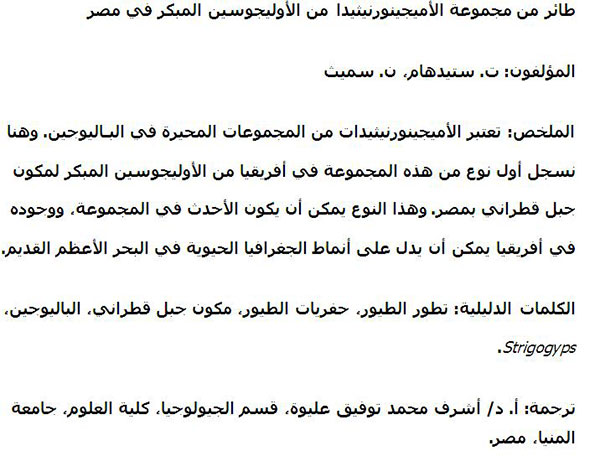 Translator: Ashraf M.T. Elewa