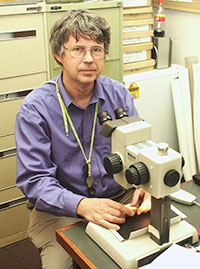 Stefan Bengtson
Department of Palaeobiology and Nordic Center for Earth Evolution
Swedish Museum of Natural History
Box 50007
SE-104 05 Stockholm
Sweden
This email address is being protected from spambots. You need JavaScript enabled to view it.
Stefan Bengtson is emeritus Professor of Palaeozoology at the Swedish Museum of Natural History. His main interests concern the origins and early evolution of multicellular organisms, including animals. This involves working with various kinds of fossils (and colleagues) in the Proterozoic and early Phanerozoic. Stefan's early studies focused on Cambrian 'small shelly fossil' (SSFs; they are commonly neither small nor shelly, but the expression has stuck like glue) and the focus has now widened (some say blurred) to include Proterozoic and Cambrian embryos, embryo-like fossils, algae, and fungi, using the revelatory technique of X-ray tomographic microscopy.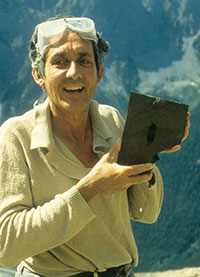 Desmond Collins
501−437 Roncesvalles Ave.
Toronto, Ontario M6R 3B9
Canada
This email address is being protected from spambots. You need JavaScript enabled to view it.
Desmond Collins served as Curator of Invertebrate Palaeontology and Head of Palaeobiology at the Royal Ontario Museum. His earlier career as an expert on fossil cephalopods took a turn in 1972 during a brief visit to Walcott's Quarry on an IGC field excursion where he saw talus specimens which were of better quality than the ones in the ROM collection being assembled for a new gallery display. He finally got permission to collect talus specimens for display, in 1975. At the time, there was no intention to collect specimens for research. Surprisingly, specimens of new and rare species were collected, indicating that there were probably other fossil-bearing levels still to be discovered on Fossil Ridge.

Thus began a series of another 17 field seasons of reconnaissance and excavation from 1981 to 2000, mostly on Fossil Ridge and Mount Stephen, yielding a collection of over 150,000 specimens, the largest collection of Burgess Shale fossils in the world.