Taxonomy, ecology and biogeographical trends of dominant benthic foraminifera species from an Atlantic-Mediterranean estuary (the Guadiana, southeast Portugal)
Plain Language Abstract
Foraminifera are single celled marine organisms that possess a hard shell which often remains preserved in the sediments after death. In estuaries, foraminifera have a high ecological value, as they are distributed according to environmental conditions. Once preserved in the estuarine sediments, their fossils can provide relevant information about the evolution of the estuary's condition and tell us more about the reasons for environmental change, both natural and anthropogenic.
The Guadiana Estuary belongs to one of the biggest river systems on the Iberian Peninsula. The estuary is controlled by two countries (Portugal and Spain) and has a Mediterranean climate, which means that extreme seasonal environmental variations occur. In our study, the foraminiferal assemblages and their occurrence within the estuary were analyzed in order to improve their value as environmental indicators. Allied to the study of the ecological distribution of the most important estuarine species, a photographic and systematic inventory was created in order to serve as a basis for future studies of environmental management and reconstructions of past environments.
Resumen en Español
Taxonomía, ecología y tendencias biogeográficas de las especies de foraminíferos bentónicos dominantes de un estuario del Atlántico-Mediterráneo (Guadiana, sureste de Portugal)
Este estudio analiza la taxonomía, ecología y biogeografía de las especies de foraminíferos bentónicos que viven en los márgenes intermareales del estuario del Guadiana (SE de Portugal, SW de España). De los 54 taxones identificados durante las campañas de muestreo de invierno y verano, 49 son listados sistemáticamente e ilustrados mediante fotografías de microscopio electrónico de barrido (SEM). Ammonia spp. fueron los taxones calcáreos más ubicuos en ambas temporadas. El análisis morfológico y las imágenes de SEM sugirieron tres morfotipos distintos del género Ammonia, dos de los cuales resultaron ser Ammonia aberdoveyensis sobre la base de los análisis de rRNA parcial. Jadammina macrescens y Miliammina fusca fueron los taxones aglutinados más ubicuos en el estuario. Jadammina macrescens domina las zonas de humedal superior casi exclusivamente, con muy altas densidades. Ammonia spp. son los taxones más abundantes en las zonas de humedal inferior y de plataforma de marea del curso inferior del estuario del Guadiana, aunque están distribuidas por todo el estuario, especialmente durante el verano cuando las condiciones ambientales favorecen su proliferación. Miliammina fusca domina las zonas de humedal inferior y de plataforma de marea con escasa vegetación del curso superior, donde se asocia con especies calcáreas. Debido a su posición geográfica, el sistema del Guadiana comparte características tanto de estuarios del Atlántico como del Mediterráneo. Esto se refleja en las asociaciones de foraminíferos, con un predominio de especies termófilas y una zonación ecológica típica de la zona climática mediterránea.
Palabras clave: foraminíferos bentónicos; taxonomía; biogeografía; zonación ecológica; análisis genético; estuario del Guadiana
Traducción: Enrique Peñalver
Résumé en Français
Taxonomie, écologie et tendances biogéographiques des espèces de foraminifères benthiques dominants de l'estuaire de l'Atlantique-Méditerranée (le Guadiana, au sud du Portugal)
Cette étude analyse la taxonomie, l'écologie et la biogéographie des espèces de foraminifères benthiques vivant sur les marges intertidales de l'estuaire du Guadiana (SE Portugal, SW Espagne). Parmi les 54 taxons identifiés pendant l'échantillonnage des campagnes en hiver et en été, 49 sont systématiquement répertoriés et illustrés par des photographies de microscope électronique à balayage (MEB). Ammonia spp. étaient les taxons calcaires les plus omniprésent dans les deux saisons. L'analyse morphologique et les images MEB suggéré trois morphotypes distincts du genre Ammonia, dont deux se sont avérés d'être Ammonia aberdoveyensis sur la base des analyses d'ARNr partielle. Jadammina macrescens et Miliammina fusca étaient les taxons agglutiné les plus omniprésent dans l'estuaire. Jadammina macrescens domine les zones supérieures de marais presque exclusivement, se produisant à des densités très élevées. Ammonia spp. sont les plus abondants dans les bas et replats de marais de la partie inférieure de l'estuaire du Guadiana, mais sont très répandus dans l'estuaire, surtout pendant l'été lorsque les conditions environnementales favorisent leur prolifération. Miliammina fusca domine la végétation clairsemée des bas de marais et les zones de replats de marée de la partie supérieure, où il est associé avec des espèces calcaires. En raison de sa position géographique, le système de Guadiana partage des caractéristiques avec les estuaires de l'Atlantique et de la Méditerranée. Cela se reflète dans les foraminifères, avec une dominance des espèces thermophiles et d'un zonage écologique typique de la zone climatique méditerranéenne.
Mots-clés: foraminifères benthiques; taxonomie; biogéographie; zonation écologique; analyse génétique; estuaire du Guadiana
Translator: Kenny J. Travouillon
Deutsche Zusammenfassung
Taxonomie, Ökologie und biogegrafische Tendenzen von domonanten benthischen Foraminiferenaten aus einem Atlantisch-Mediterranen Ästuar (Guadiana, Südost-Portugal)
Diese Studie analysiert die Taxonomie, Ökologie und Biogeografie der Arten von benthischen Foraminiferen, die an den intertidalen Rändern des Guardiana Ästuars (Südost-Portugal, Südwest-Spanien) leben. Von den 54 Taxa, die während der Sammlungskampagnen im Sommer und Winter identifiziert wurden, sind 49 systematisch gelistet und via Rasterelektronen-mikroskopie-Fotos (REM) illustriert. Ammonia spp. waren die am meist verbreiteten kalzitischen Taxa in beiden Jahreszeiten. Morphologische Analysen und REM-Aufnahmen deuteten auf drei distinkte Morphotypen der Gattung Ammonia hin, von denen zwei sich auf der Basis von partiellen RRNA-Analysen als Ammonia aberdoveyensis herausstellten. Jadammina macrescens und Miliammina fusca waren die am meisten verbreiteten agglutinierten Taxa im Ästuar. Jadammina macrescens dominiert fast alleine die oberen Marschzonen und tritt bei hoher Dichte auf. Ammonia spp. kommen am häufigsten in der niederen Marsch und der Gezeitenzone der Unterläufe des Guadiana Ästuars vor, sind aber auch weit verbreitet im gesamten Ästuar, besonders während des Sommers wenn Umweltbedingungen die Ausbreitung begünstigen. Miliammina fusca dominiert die spärlich bewachsene niedere Marsch und Gezeitenzonen der Oberläufe wo sie mit kalzitischen Arten assoziiert ist. Wegen seiner geografischen Position teilt das Guardiana-System Merkmale mit sowohl atlantischen als auch mediterranen Ästuaren. Dies spiegelt sich in den Foraminiferen-Assemblagen wieder mit einer Dominanz von thermophilen Arten und einer ökologischen Zonierung die typisch für die mediterrane Klimazone ist.
Schlüsselwörter: benthische Foraminifera; Taxonomie; Biogeographie; ökologische Zonierung; genetische Analyse; Guadiana Ästuar
Translator: Eva Gebauer
Arabic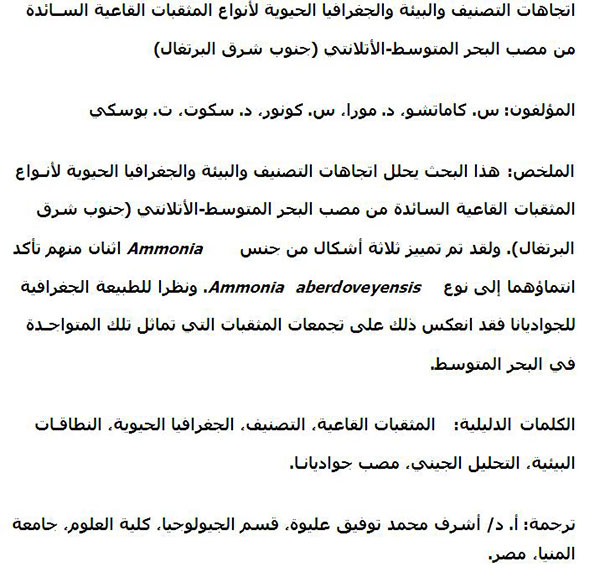 Translator: Ashraf M.T. Elewa