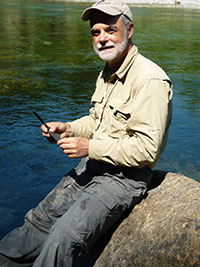 Dale E. Greenwalt
Department of Paleobiology
NMNH, Smithsonian Institution
Washington, District of Columbia,
USA 20013-7012

Dale Greenwalt received his B.A. from the University of Minnesota, an M.Sc. from Bemidji State University and his Ph.D. from Iowa State University. He was an Assistant Professor of Biochemistry at San Jose State University before moving to the biotechnology industry, working at Human Genome Sciences and Poietic Technologies, the latter at which he was Director of Research. He is currently a Research Collaborator at the Smithsonian National Museum of Natural History where he is establishing a collection of fossil insects from the Eocene Kishenehn Formation in northwestern Montana.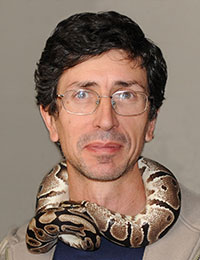 Ľubomír Vidlička
Institute of Zoology
Slovak Academy of Sciences
Dúbravská cesta 9
845 06 Bratislava
Slovakia

and Department of Zoology
Faculty of Natural Sciences
Comenius University
Mlynská dolina
Bratislava, 811 04
Slovakia
Ľubomir Vidlička graduated from the Faculty of Natural Sciences of Comenius University in Bratislava with a degree in systematic entomology. In 1997 he defended PhD thesis 'Revision of the Central European cockroaches of the genera Phyllodromica and Ectobius (Blattaria: Ectobiidae: Ectobiinae)' at the Institute of Experimental Phytopathology and Entomology of the Slovak Academy of Sciences in Ivanka pri Dunaji. Now is a senior researcher at the Institute of Zoology of the Slovak Academy of Sciences in Bratislava.
Current interests: taxonomy, systematic, faunistics and ethology of the cockroaches (Blattaria) and neuropterans (Neuroptera).
Up to now he described 13 new species of the recent and fossil cockroaches from Europe (Hungary, Romania, Bulgaria and Russia), Asia (Laos, Thailand) and America (USA, Mexica, Ecuador) and published 3 monographs and more then 70 papers and short notes on cockroaches and neuropteran insects.