Description of the stylohyal bone of a giant sloth (Lestodon armatus)
Plain Language Abstract
The hyoid apparatus is a series of articulated bones rarely preserved in fossil Xenarthrans. It functions in food intake and intraoral processing, as well as in the modulation of sounds. The largest bone, the stylohyal is the most frequently found as an isolated element. It is known for some species of Pleistocene ground sloths (Megalonyx jeffersonii, Megatherium americanum, Paramylodon harlani, Nothrotheriops shastensis, Glossotherium robustum, and Scelidotherium leptocephalum) but not for the largest mylodontid Lestodon armatus. Here we describe a right stylohyal found in the megafaunal bonebed of the Arroyo del Vizcaíno site, Uruguay. The specimen is inferred to have belonged to a juvenile individual because it lacks both the distal and proximal surfaces that articulate with the skull and the epihyal, respectively. Instead, both ends show an irregular surface as those seen in the contact with the growth cartilage. Its maximum length is 105 mm, which is larger than the equivalent part of the stylohyal of Glossotherium. These observations allow us to infer that the stylohyal of the Arroyo del Vizcaíno belongs to a juvenile Lestodon. The expanded proximal end in Glossotherium and Scelidotherium have a large fossa that cannot be observed in the juvenile specimen; this could be due to a taxonomic difference, to the stage of growth or both of them. The bone shows several marks, some of them are interpreted as caused by trampling and at least one has features as those left by human tools.
Resumen en Español
Descripción del hueso estilohial de un perezoso gigante (Lestodon armatus)
El aparato hioideo de los xenartros fósiles raramente se preserva. Su hueso mayor, el estilohial, es el que se encuentra más frecuentemente como elemento aislado. Se lo conoce para algunas especies de perezosos gigantes pleistocenos (Megalonyx jeffersonii, Megatherium americanum, Paramylodon harlani, Nothrotheriops shastensis, Glossotherium robustum y Scelidotherium leptocephalum) pero no para el milodóntido de mayor tamaño, Lestodon armatus. Aquí se describe un estilohial derecho encontrado en el sitio fosilífero pleistoceno del Arroyo del Vizcaíno, Uruguay, como dos piezas distantes pocos centímetros una de otra y que encajan perfectamente. Una pequeña hendidura, posiblemente una fractura concoidal lascada, se observa en la cara lateral. El ejemplar, cuya forma general es la de un cilindro sinusoide con el extremo próximo expandido y aplastado, debe de haber pertenecido a un individuo juvenil, puesto que carece de las superficies distal y proximal que articulan respectivamente con el cráneo y el epihial. En vez de ello, ambos extremos muestran una superficie irregular como las que se ven en el contacto con el cartílago de crecimiento. Además, su longitud máxima es de 105 mm, es decir, más larga que la parte equivalente del estilohial de un Glossotherium adulto. En el extremo proximal expandido que articula con el cráneo, no se puede observar la gran fosa presente en Glossotherium y Scelidotherium. Esto puede ser debido a una diferencia taxonómica, al estado de crecimiento o a ambos factores. El hueso muestra marcas, varias interpretadas como causadas por pisoteo y al menos una con características como las que dejan las herramientas humanas.
Palabras clave: perezoso gigante; hueso estilohial; reconstrucción tridimensional; Pleistoceno
Traducción: Authors and Enrique Peñalver
Résumé en Français
Description de l'os stylohyale d'un paresseux géant (Lestodon armatus)
L'appareil hyoïde chez les Xénarthres fossiles est rarement conservée. Son plus grand os, le stylohyale, est le plus souvent trouvé comme un élément isolé. Il est connu pour certaines espèces de paresseux terrestres du Pléistocène (Megalonyx jeffersonii, Megatherium americanum, Paramylodon harlani, Nothrotheriops shastensis, Glossotherium robustum et Scelidotherium leptocephalum) mais pas pour le plus grand mylodontide, Lestodon armatus. Ici, nous décrivons un stylohyale droit trouvé dans un dépôt de mégafaune de la fin du Pléistocène du site Arroyo del Vizcaíno, Uruguay, comme deux pièces parfaitement appariées qui étaient à quelques centimètres l'une de l'autre. Une petite encoche, peut-être un effritement conchoïdal d'une fracture perimortem, est observée dans la face latérale. Le spécimen, dont la forme générale est un cylindre sinusoïde avec l'extrémité proximale expansé et comprimé, doit appartenir à un individu juvénile, car il manque les deux surfaces distale et proximale qui s'articulent avec le crâne et l'épihyale, respectivement. Au lieu de cela, les deux extrémités présentent une surface irrégulière comme celles observées dans le contact avec le cartilage de croissance. En outre, sa longueur maximale est de 105 mm, plus grande que la partie équivalente du stylohyale chez les adultes de Glossotherium. A l'extrémité proximale élargie, qui s'articule avec le crâne, la grande fosse trouvée chez Glossotherium et Scelidotherium n'est pas observée, ce qui pourrait être dû à une différence taxonomique, le stade de croissance ou les deux. L'os montre plusieurs marques, interprétés comme causée par le piétinement et au moins une avec des caractéristiques laissées par des outils humains.
Mots-clés: paresseux terrestres; stylohyale; reconstruction tridimensionnelle; Pléistocène
Translator: Kenny J. Travouillon
Deutsche Zusammenfassung
Beschreibung des stylohyalen Knochens eines Riesenfaultiers (Lestodon armatus)
Der Hyoid-Apparat ist bei fossilien Xenarthra selten erhalten. Der größte Knochen des Apparates, das Stylohyale ist das am meisten gefundene isolierte Element. Es ist bei einigen Arten von pleistozänen Riesenfaultieren wie (Megalonyx jeffersonii, Megatherium americanum, Paramylodon harlani, Nothrotheriops shastensis, Glossotherium robustum und Scelidotherium leptocephalum) bekannt, jedoch nicht bei dem größten Mylodontiden Lestodon armatus. Hier beschreiben wir ein rechtes Stylohyale, das als zwei perfekt zusammenpassende Teile, nur wenige Zentimeter voneineder entfertnt im spätpleistozänen Megafaunen-Bonebed der Arroyo del Vizcaíno Fundstelle von Uruguay gefunden wurde. Auf der lateralen Seite ist eine kleine Kerbe, möglicherweise ein conchoidaler abgeblätterter perimortaler Bruch, sichtbar. Das Stück das die Form eines sinusoiden Zylinders hat und dessen proximales Endstück verbreitert und zusammengedrückt ist muss zu einem Jungtier gehört haben, da sowohl die distalen als auch proximalen Oberflächen fehlten, die mit dem Schädel und dem Epihyale artikulierten. Stattdessen zeigen beide Enden eine irreguläre Oberfläche wie man sie beim Kontakt mit Knorpel kennt. Zusätzlich ist der Knochen 105mm lang, was länger ist als der entsprechende Teil des Stylohyales beim adulten Glossotherium. Am verbreiterten proximalen Endstück, welches mit dem Schädel artikuliert, tritt die große Grube, die bei Glossotherium und Scelidotherium zu finden ist nicht auf. Dies kann an einem taxonomischen Unterschied, an den Wachstumsphasen oder an beidem liegen. Der Knochen zeigt Markierungen, einige werden dahingehend interpretiert, das darübergetrampelt wurde und mindestens eine weist Merkmale von menschlichen Werkzeugen auf.
Schlüsselwörter: Riesenfaultiere; Stylohyale; dreidimensionale Rekonstruktion; Pleistozän
Translator: Eva Gebauer
Arabic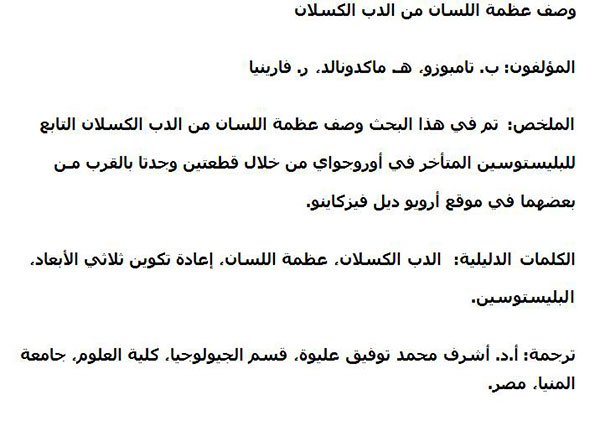 Translator: Ashraf M.T. Elewa