A shelduck coracoid (Aves: Anseriformes: Tadorna) from the arid early Pleistocene of the Qinghai-Tibetan Plateau, China
Plain Language Abstract
A fossil specimen from the early Pleistocene Qigequan Formation in the high elevation (near 2800 m) Qaidam Basin in Qinghai Province on the Qinghai-Tibetan Plateau in China appears to be derived from the shoulder girdle of a shelduck (genus Tadorna). This fossil is one of the few fossil birds known from the Qinghai-Tibet Plateau. Two species of shelducks inhabit these high elevation areas today (the Ruddy Shelduck and Common Shelduck), and the presence of a fossil member of this group suggests that shelducks may have inhabited this region since the early Pleistocene. Furthermore, this fossil demonstrates, along with some tooth fragments of an extinct elephant found nearby, that either the early Pleistocene climate of the Qaidam Basin was not as arid as previously thought or that the vertebrate response to the climate change and aridification was more gradual than the published fossil record would suggest.
Resumen en Español
Un coracoides de tarro (Aves: Anseriformes: Tadorna) del Pleistoceno temprano árido de la meseta tibetana-Qinghai, China
Un coracoide aviano del Pleistoceno temprano de la Formación Qigequan en la Cuenca Qaidam, Provincia de Qinghai, China, en la region septentrional de la meseta tibetana-Qinghai, representa uno de los pocos fósiles avianos de la región. El espécimen pertenece a un individuo del grupo de los tarros (Tadorna sp.), y su posición filogenética es respaldada por la presencia de una muesca procoracoides (donde el foramen procoracoides se encuentra enormemente reducido) y otros caracteres osteológicos. La hipótesis previa de aridez extrema en la Cuenca Qaidam durante el Pleistoceno temprano se ve disminuida por la presencia de un tarro (junto con el registro fósiles de proboscídeos) que es parte de un clado que se encuentra presente y se multiplica en la meseta tibetana-Qinghai en la actualidad. Además, la presencia de tarros chinos en ambientes áridos actuales probablemente evolucionó en combinación con el incremento de la elevación y la intensificación de la aridez en la región de la meseta desde el Pleistoceno temprano.
Palabras clave: Qinghai; Aves; Tadorna; tarro; Pleistoceno; cuenca Qaidam
Traducción: Diana Elizabeth Fernández
Résumé en Français
Un coracoïde de tadorne (Aves : Anseriformes : Tadorna) du Pléistocène ancien aride du Plateau du Qinghai-Tibet, Chine
Un coracoïde du Pléistocène ancien de la formation de Qiqequan (bassin du Qaidam, province de Qinghai, partie nord du Plateau du Qinghai-Tibet, Chine) représente un des seuls fossiles d'oiseaux de cette région. Le spécimen appartient à un individu de tadorne (Tadorna sp.), et sa position phylogénétique est soutenue par plusieurs caractères ostéologiques, notamment par la présence d'une encoche procoracoïde (correspondant à un foramen procoracoïde très fortement réduit). L'hypothèse émise précédemment d'une aridité extrême dans le bassin du Qaidam pendant le Pléistocène ancien est affaiblie par, outre le registre fossile des proboscidiens, la présence d'un tadorne faisant partie d'un clade qui est présent et se reproduit aujourd'hui sur le Plateau aride du Qinghai-Tibet. De plus, la présence de tadornes chinois dans des environnements arides aujourd'hui a probablement évolué avec l'augmentation de l'altitude et de l'aridité dans la région du Plateau depuis le Pléistocène ancien.
Mots-clés : Qinghai ; Aves ; Tadorna ; tadorne ; Pléistocene ; bassin du Qaidam
Translator: Antoine Souron
Deutsche Zusammenfassung
Ein Brandenten-Coracoid (Aves: Anseriformes: Tadorna) aus dem ariden frühen Pleistozän des Qinghai-Tibet Plateaus, China
Ein Vogel-Coracoid aus dem frühen Pleistozän der Qigequan Formation im Qaidam Becken, Qinghai Provinz, China, im nördlichen Teil des Qinghai-Tibet Plateaus stellt eines der wenigen Vogelfossilien aus der Region dar. Das Stück stammt von einer Brandente (Tadorna sp.). Die phylogenetische Position wird durch das Vorhandensein einer procoracoidalen Kerbe (wo das procoracoid Foramen deutlich verkleinert ist) und anderen osteologischen Merkmalen unterstützt. Die vorhergehende Hypothese einer extremen Aridität im Quaidam Becken während des frühen Pleistozän wird durch das Vorkommen einer Brandente abgeschwächt (zusammen mit dem Fossilrekord der Rüsseltiere) die Teil einer Klade ist, welche im heutigen ariden Qinghai-Tibet Plateau vorkommt und brütet. Zusätzlich entwickelten sich die chinesischen Brandenten der ariden Umgebungen von heute wahrscheinlich in Verbindung mit der Höhenzunahme des Gebirges und der zunehmenden Aridität in der Plateauregion während des frühen Pleistozän.
Schlüsselwörter: Qinghai; Vögel; Tadorna; Brandente; Pleistozän; Qaidam Becken
Translator: Eva Gebauer
Arabic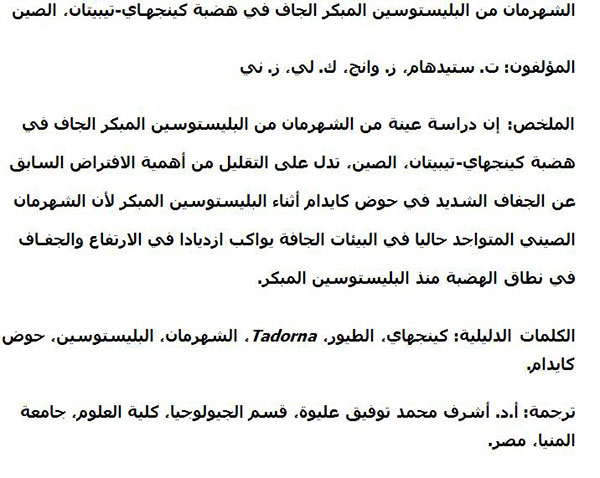 Translator: Ashraf M.T. Elewa