Burrowing and mud-mound building life habits of fiddler crab Uca lactea in the Bay of Bengal coast, India and their geological and geotechnical importance
Plain Language Abstract
Shallow marine fiddler or calling crab genus Uca is represented by nearly 100 species. All are semi-aquatic (intertidal), mud-loving, high salinity tolerant, prolific burrowers and important sediment recycling agents. They have wide zoogeographic distribution over tropical-subtropical coasts, especially in soft silty to muddy substrates of beaches, brackish inter-tidal mudflats, lagoons, backswamps, mangroves, salt marshes, estuaries and creek banks. Barring a few, their burrowing life habits are not known. This article provides firsthand information on construction of simple I-shaped burrows, mud-mounds, mud chimneys and feeding pellets by Uca lactea selectively in estuary-mouth mudflats of the Bay of Bengal coast of eastern India. A very specific substrate condition (soft mud superficially covered by moist rigid sand in the clearing of mangrove forest) is required for construction of mud-mounds. The crabs extend their burrow base into subsurface soft mud for respiratory water. Mud slur accumulated at the burrow base is pushed up by the crab and oozes out forming a simple mud-mound around the burrow opening, especially in high ground with thin burrow population. In low ground with thick burrow population several simple mounds amalgamate to form a compound mud-mound. Substrate moistness is reflected in the nature (viscosity) of mud ejected. Accordingly mud tongues, mud lumps and mud rods are produced. The mound-building process operates during tidal recession that controls moistness of subsurface mud. After each high tide some of the mounds collapse. Rolled out mud balls, mud lumps and clasts are produced. The crabs strike an immediate balance between the loss of dwelling place and construction of new domiciles and mounds during next low tide. The mounds are microbially stabilized and partially preserved under freshly deposited sand layers. They form natural association with Turritella spp. (gastropod) trails and worm burrows. Uca marionis in this coast produces mud volcanoes. Although the basic mechanism and substrate condition remain the same, there are several subtle differences between them especially in morphological parameters, stabilization factor, tidal influence, ground level control and internal burrow connectivity.
Fiddler crabs, especially Uca, have a long geological history as prolific burrowers in post-Jurassic shallow marine intertidal sediments. Although fossil evidences of sand mounds, pellet mounds, burrows and chimneys of crab origin together with microbial stabilization favor preservation of U. lactea mud-mounds, to date their exact ancient analogues are surprisingly missing or unidentified in geologic records. The present study provides several morphological, associational, sedimentological and environmental criteria to recognize fossilized Uca lactea mud-mounds or their preservational variants as diagnostic of palaeoshoreline, especially coastal mudflats and indicator of palaeoenvironmental conditions, especially tidal hydrodynamics. Modern U. lactea mud-mounds are a biological indicator of coastal instability, i.e., data useful in geotechnical programing. Their wide distribution greatly increases the application potential of the tool.
Resumen en Español
Hábitos de vida excavador y constructor de montículos de fango del cangrejo violinista Uca lactea en la costa de la Bahía de Bengala, India, y su importancia geológica y geotecnológica
En este trabajo se tratan los hábitos de vida excavador y constructor de montículos de fango del cangrejo violinista semi-terrestre Uca lactea de la costa de Bengala bajo condiciones específicas de sustrato (fango acuoso blando que, engañosamente, subyace a arena rígida), hidrodinamia (inundación somera y de baja energía) y geomorfología (planicies de fango costeras en torno a la boca de un estuario), con la intención de evaluar la importancia geológica y geotecnológica. Estos cangrejos construyen montículos de fango (simples, en forma de "I" y no ramificados) en el extremo de las excavaciones durante la baja marea, sacando material fangoso desde la base de la excavación. El alcance de la inundación mareal y las ondulaciones del sustrato controlan la población, el tamaño y los tipos de montículos (dominancia de montículos bajos y simples en áreas altas vs. montículos altos y compuestos en áreas bajas, facilitando la respiración subaérea). La pérdida la vivienda a través del colapso de montículos durante la marea alta es rápidamente compensado por nuevas construcciones. La estabilización microbiana de los montículos a través de florecimientos algales estacionales favorece la preservación de los mismos bajo capas de arena recientemente depositadas. Los cangrejos también producen chimeneas de fango y pellets de alimentación en asociación con pistas de Turritella spp. y excavaciones de vermes.
A pesar del considerable potencial de preservación de los montículos de fango de Uca, no se conocen aún sus análogos fósiles. El estudio provee criterios de primera mano para el reconocimiento de excavaciones y montículos de fango fósiles de Uca y un análisis comparativo entre los volcanes de fango de U. marionis y los montículos de fango de U. lactea. Morfológicamente son lo suficientemente idénticos como para constituir un único icnotaxón. La icnocenosis estudiada se corresponde a registros fósiles de la asociación Skolithos-Taphrhelminthopsis-Ophiomorpha-Planolites-Thalassinoides dentro de la icnofacies marina somera Psilonichnus, dentro de la cual participan ahora los montículos de fango de Uca como diagnósticos de línea de paleocosta, especialmente del nivel de alta marea en planicies de fango en costas someras. Los montículos de fango de Uca, debido al requerimiento de condiciones del sustrato singulares, son considerados indicadores icnológicos de segmentos costeros propensos a la erosión. Su distribución zoogeográfica global permite una amplia aplicación de esta herramienta icnológica.
Palabras clave: Uca lactea; excavaciones; montículo de fango; costa de la Bahía de Bengala; geología; geotecnología
Traducción: Diana Elizabeth Fernández
Résumé en Français
Habitudes de construction de terriers et de monticules de boue du crabe violoniste Uca lactea sur la côte de la Baie du Bengale, Inde, et leur importance géologique et géotechnique
Cet article aborde les habitudes de construction de terriers et de monticules de boue des crabes violonistes (Uca lactea) quasi-terrestres dans des substrats spécifiques (boue aqueuse molle située sous du sable dur) et dans des conditions hydrodynamiques (énergie faible et inondations de faible amplitude) et géomorphiques (plaines boueuses costales autour de la bouche de l'estuaire) spécifiques, et ce afin d'évaluer leur importance géologique et géotechnique. Ces crabes construisent des monticules de boue à l'extrémité de leurs terriers (simples, en forme de I, et non bifurqués) pendant les marées basses en faisant suinter de la boue de la base du terrier. La hauteur de marée et les ondulations du substrat contrôlent le nombre, la hauteur, et le type des monticules (dominance des monticules simples et bas sur les terrains élevés ; dominance des monticules composés et hauts sur les terrains bas, permettant la respiration subaérienne). La perte d'habitats causée par des effondrements de monticules pendant les marées hautes est rapidement compensée par de nouvelles constructions. La stabilisation microbienne des monticules due à la poussée saisonnière des algues favorise leur préservation sous des couches de sables fraichement déposées. Les crabes produisent également des cheminées de boue et des pellets fécaux associés à des pistes de Turritella spp. et des terriers de vers.
Malgré le potentiel de préservation considérable des monticules de boue d'Uca, il ne leur est pas encore connu d'analogue ancien exact. Cette étude fournit des critères directs pour reconnaître les terriers fossiles et les monticules de boue d'Uca, ainsi qu'une analyse comparative des monticules de boue d'U. lactea et des volcans de boue d'U. marionis. Morphologiquement, ils sont suffisamment similaires pour constituer un ichnotaxon unique. L'ichnocénose étudiée correspond dans le registre fossile aux associations Skolithos-Taphrhelminthopsis-Ophiomorpha-Planolites-Thalassinoides au sein des ichnofaciès marins peu profonds à Psilonichnus. Dans ces faciès, les monticules de boue d'Uca constituent de nouveaux éléments diagnosiques des paléolignes de rivage, et particulièrement des plaines boueuses côtières peu profondes aux marées hautes. Les monticules de boue d'Uca, nécessitant des conditions uniques de substrat, sont considérés comme des indicateurs ichnologiques de segments côtiers enclins à l'érosion. Leur distribution zoogéographique globale permet des applications larges de cet outil ichnologique.
Mots-clés : Uca lactea ; terriers ; monticules de boue ; côte de la Baie du Bengale ; géologie ; géotechnologie
Translator: Antoine Souron
Deutsche Zusammenfassung
Grabende und Schlammhügel-bildende Lebensgewohnheiten der Winterkrabbe Uca lactea an der Bay-of-Bengal-Küste, Indien, und ihre geologische und geotechnische Bedeutung
Die grabenden und Schlammhügel-bildenden Lebensgewohnheiten der quasi-terrestrischen Winterkrabbe Uca lacteaan der Küste von Bengalen in spezifischem Substrat (weiche, wasserhaltige Tone, irreführenderweise auftretend unter festem Sand), hydrodynamische (niedrige Energie und flache Überflutung) und geomorphe (Wattgebiete um Flussmündungen) Konditionen werden abgehandelt, um die geologische und geotechnische Bedeutung zu evaluieren. Die Krabben fertigen bei zurückweichendem Wasser Schlammhügel an Gangenden an (einfach, I-förmig und unverzweigt) indem sie den Schlamm aus der Basis des Baus herauspressen. Tidenhöhe und Substratbewegung kontrollieren die Anzahl der Hügel, Höhe und Typen (Vorherrschaft von kurzen einfachen Hügeln gegenüber hohen, zusammengesetzten Hügeln in niedrigen Bereichen, mit subaerischer Zirkulation). Wird der Lebensraum während des Tidenhöchststandes zerstört, wird sofort mit einem neuen Bau begonnen. Mikrobielle Stabilisierung der Hügel durch saisonale Algenblüten erhöht den Erhalt unter frisch abgelagerten Sandschichten. Sie produzieren auch Schlammschlote und Kot-Pellets, zusammen mit Spuren von Turritella spp. und Wurmbauten. Obwohl das Erhaltungspotential der Uca-Schlammhügel relativ hoch ist, sind entsprechende fossile Gegenstücke bisher nicht bekannt. Diese Untersuchung liefert direkte Anhaltspunkte zur Erkennung von fossilen Bauten und Schlammhügel von Uca und eine Vergleichsanalyse zwischen den Schlammvulkanen von U. marionis und den Schlammhügeln von U. lactea. Sie sind morphologisch hinreichend identisch um ein eindeutiges Ichnotaxon aufzustellen. Die untersuchte Ichnozönose korrespondiert im Fossilbericht mit der Skolithos-Taphrhelminthopsis-Ophiomorpha-Planolites-Thalassinoides Gesellschaft innerhalb der flachmarinen Psilonichnus-Ichnofazies. Zu dieser sind Uca-Schlammhügel neue Komponenten, die eine Paläoküstenlinie anzeigen, und hier besonders flache Wattbereiche mit hohem Tidenniveau. Uca-Schlammhügel werden aufgrund ihrer einzigartigen Substratbedingungen als ichnologische Indikatoren von erosionsanfälligen Küstensegmenten betrachtet. Ihre globale zoogeografische Verbreitung erlaubt eine breite Anwendung dieses ichnologischen Werkzeugs.
Schlüsselwörter: Uca lactea; Bauten; Schlammhügel; Bay-of-Bengal Küste; Geologie; Geotechnologie
Translator: Eva Gebauer
Arabic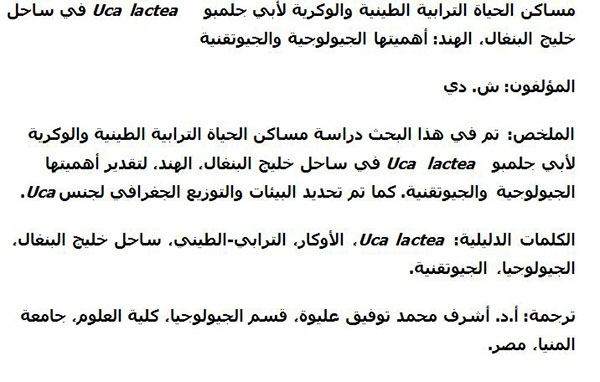 Translator: Ashraf M.T. Elewa