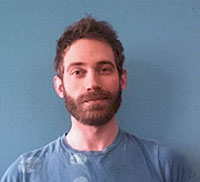 Douglass S. Rovinsky
Biology Department
Grand Valley State University
Allendale, Michigan 49401
USA
This email address is being protected from spambots. You need JavaScript enabled to view it.
Douglass S. Rovinsky received his B.Sc. in biology from Grand Valley State University in 2011. His research currently focuses on the comparative anatomy and functional morphology of carnivoran postcrania. He is currently an Adjunct Instructor in the Biology Department of Grand Valley State University.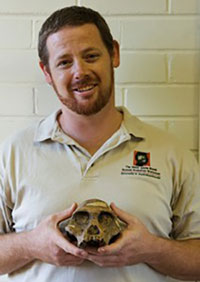 Andy I.R. Herries
The Australian Archaeomagnetism Laboratory
Dept. Archaeology and History
La Trobe University, Melbourne Campus
Bundoora, Victoria 3086
Australia
This email address is being protected from spambots. You need JavaScript enabled to view it.
and Centre for Anthropological Research
Humanities Research Village
University of Johannesburg
Auckland Park 2006
South Africa
Dr. Andrew I.R. Herries obtained his Ph.D. at the University of Liverpool Geomagnetism Laboratory and Dept. Archaeology in 2003 working on a magnetostratigraphy of South African early hominin palaeocaves. He remains an Honorary Research Fellow of the Geomagnetism Laboratory at Liverpool through the School of Environmental Sciences. He has worked in South Africa since 1997 and has a wide ranging background in the excavation of palaeolithic and fossil bearing caves, palaeoanthropology, geoarchaeology, speleology, geochronology, karst geology, archaeological geophysics, & archaeomagentism (inc. Palaeomagnetism, Mineral [Rock] Magnetism & Environmental Magnetism). He is the head of the Australian Archaeomagnetism Laboratory (TAAL) and an Associate Professor and ARC Future Fellow in the Geochronology of Human and Marsupial Evolution in the Dept. Archaeology, Environment and Community Planning at La Trobe University.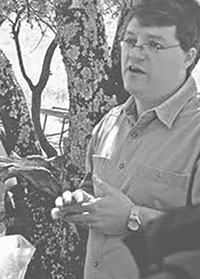 Colin G. Menter
Centre for Anthropological Research, Humanities Research Village
University of Johannesburg
Auckland Park 2006
South Africa
This email address is being protected from spambots. You need JavaScript enabled to view it.
Dr. Colin G. Menter received his Ph.D. from the University of the Witwatersrand and currently is director and project leader of the Drimolen hominin site through the Centre for Anthropological Research at the University of Johannesburg. His research focuses on the palaeobiology of hominins and the site-based significance of the Drimolen deposits for understanding the early Pleistocene landscape of the Cradle of Humankind UNESCO World Heritage Site.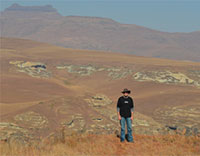 Justin W. Adams
Department of Anatomy and Developmental Biology
Monash University
Clayton, Victoria 3800
Australi
This email address is being protected from spambots. You need JavaScript enabled to view it.
Dr. Justin W. Adams received his Ph.D. in physical anthropology from Washington University in St. Louis in 2006. His research focus is on the evolution of African mammals in southern Africa and the paleoecology and taphonomy of the South African primate-bearing cave deposits. He has excavated and described mammalian assemblages from several Pliocene and Pleistocene fossil localities including Gondolin, Luleche, and Hoogland. He is currently a Senior Lecturer in the Department of Anatomy and Developmental Biology at Monash University.