Neogene Benthic Foraminifera from the southern Bering Sea (IODP Expedition 323)
Plain Language Abstract
Foraminifera are unicellular amoeboid protists. Many groups of foraminifera produce a shell, or a test, that can be preserved as a fossil. High diversity, abundance, and ubiquity of foraminifera make them an important tool in various fields of Earth Sciences, such as stratigraphy, palaeoceanography, and palaeoclimatology. We carried out a detailed taxonomic analysis of 95 foraminiferal species found in the Pliocene–Pleistocene recovered by Integrated Ocean Drilling Program Hole 1341B drilled in the Bering Sea in order to provide a taxonomic guide for future foraminiferal research in the Bering Sea and surrounding North Pacific regions.
Resumen en Español
Foraminíferos bentónicos del Neógeno del sur del mar de Bering (IODP Expedición 323)
Este estudio describe un total de 95 taxones de foraminíferos bentónicos calcáreos del Plioceno-Pleistoceno recuperados del sondeo IODP Hole U1341B en el sur del mar de Bering, con ilustraciones realizadas con un microscopio óptico y SEM. Las asociaciones de foraminíferos bentónicos están dominadas principalmente por taxones calcáreos, y las formas aglutinadas poco diversificadas son raras o a menudo ausentes, las cuales comprenden únicamente los componentes menores. Los morfotipos infaunales que son alargados, cónicos, y/o aplanados planoespirales son comunes o dominan las asociaciones lo cual refleja la persistente alta productividad y las condiciones de hipoxia que se dan en las profundidades del mar de Bering. La mayor parte de las especies que se encuentran en los testigos son de largo alcance temporal, pero observamos la extinción de varias formas cilíndricas que desaparecieron durante la Transición Climática del Pleistoceno medio.
Palabras clave: mar de Bering; Bioestratigrafía; Foraminíferos; Paleoceanografía; Plioceno-Pleistoceno; Taxonomía
Traducción: Enrique Peñalver
Résumé en Français
Foraminifera benthiques néogènes du sud de la mer de Béring (Expédition IODP 323)
Cette étude décrit un total de 95 taxons de foraminifères benthiques à tests carbonatés provenant des sédiments plio-pléistocènes mis à jour par le sondage IODP U1341B dans le sud de la mer de Béring, avec des illustrations produites à l'aide d'un microscope optique et d'un microscope électronique à balayage (MEB). Les assemblages benthiques de foraminifères sont principalement dominés par des taxons à tests carbonatés, et des formes agglutinées peu diversifiées sont rares ou fréquemment absentes, ne représentant que des éléments mineurs. Les morphotypes endobiontes allongés, effilés, et/ou planispiralés aplatis sont communs ou dominent les assemblages, reflétant une productivité élevée et des conditions hypoxiques persistantes dans les milieux profonds de la mer de Béring. La plupart des espèces trouvées dans les carottes ont des répartitions stratigraphiques importantes, mais nous observons l'extinction de plusieurs formes cylindriques qui disparaissent pendant la transition climatique du Pléistocène moyen.
Mots-clés : mer de Béring ; biostratigraphie ; Foraminifera ; paléocéanographie ; Pliocène-Pléistocène ; taxonomie
Translator: Antoine Souron
Deutsche Zusammenfassung
Neogene benthische Foraminiferen aus der südlichen Bering See (IODP Expedition 323)
Diese Untersuchung beschreibt insgesamt 95 kalzitische benthische Foraminiferen-Taxa aus dem Plio-Pleistozän aus der IODP Bohrung U1341B in der südlichen Bering See mit Illustrationen, erstellt mit Lichtmikroskop und SEM. Die benthischen Foraminiferen-Assemblagen sind überwiegend von kalzitischen Taxa geprägt und wenig diversifizierte agglutinierte Formen sind selten oder fehlend und umfassen nur geringfügige Mengen. Längliche, kegelförmige und/oder planspirale infaunale Morphotypen sind häufig oder dominieren die Assemblagen. Sie spiegeln eine anhaltende hohe Produktivität und hypoxische Bedingungen der tiefen Bering See wieder. Die meisten der in den Bohrungen gefundenen Arten sind langlebig, wir konnten jedoch ein Aussterben einiger zylindrischer Formen während des mittelpleistozänen Klimawechsels beobachten.
Schlüsselwörter: Bering See; Biostratigraphie; Foraminifera; Paläoozeanographie; Plio-Pleistozän; Taxonomie
Translator: Eva Gebauer
Arabic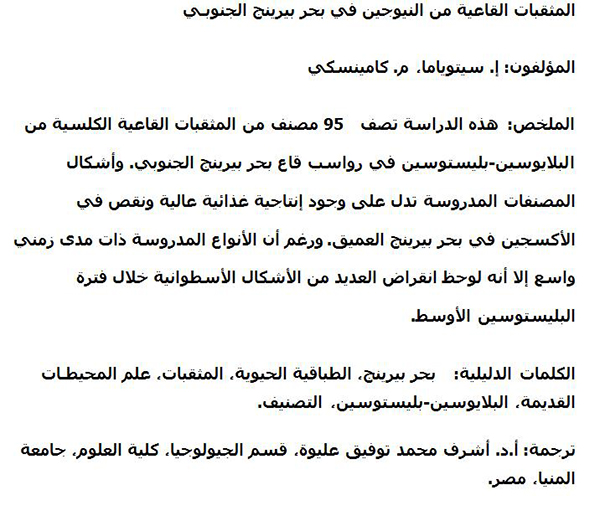 Translator: Ashraf M.T. Elewa