A new Miocene deep-sea chiton and early evidence for Teredinidae-sustained wood-fall communities
Sunken wood in deep-sea environments provide interesting biodiversity hot spots in the recent as well in the fossil record. They represent an important case study for chemically reducing habitats hosting chemosynthetic communities, where the trophic chain is based on inorganic chemical reactions to produce food and where solar energy is not necessary to turn carbon dioxide and water into sugar and oxygen. Several specialized species are involved in these "unusual" communities and molluscs are not an exception. Here we describe a new species of mollusc, the chiton Leptochiton lignatilis n. sp., from a Miocene (Langhian and Tortonian) deep-sea environment of northern Italy. This chiton belongs to a typical genus from wood-fall communities in deep-sea tropical waters and was found with the gastropods Pseudonina bellardii and Homalopoma sp., and the bivalve Idas sp., which are also common in this particular chemosynthetic ecosystem. It was known that among the shipworm bivalves only the family Xylophagidae play an important role in sustaining the chemosynthetic wood-fall communities. Unexpectedly, only other shipworm bivalves belonging to Teredinidae were found in the studied sites. This suggests that the Teredinidae bivalves could be a counterpart of Xylophagidae, able to sustain wood-fall-derived communities. The Emilia Romagna deposits of northern Italy will likely continue to provide other insights into Neogene wood-fall communities, with several of these deposits still under study.
Riassunto in Italiano
Un nuovo chitone miocenico e prime evidenze di comunità wood fall sostenute da bivalvi Teredinidae
Le comunità di animali marini legate ai legni affondati (wood-fall) in ambienti profondi rappresentano dei punti di estremo interesse per la biodiversità. Inoltre, questi particolari habitat forniscono, oggi come nel passato geologico, dei casi assai interessanti per lo studio delle (paleo)comunità chemosintetiche, dove la catena trofica è basata sulla chimica inorganica, e l'energia solare non è necessaria alla trasformazione di anidride carbonica e acqua in zuccheri e ossigeno. Tra le numerose specie che hanno sviluppato particolari adattamenti a questi ambienti, quelle appartenenti al phylum dei molluschi sono tra le più abbondanti e caratteristiche.
In quest'articolo gli autori descrivono una nuova specie di mollusco, il chitone Leptochiton lignatilis n. sp., proveniente da depositi profondi del Miocene (Langhiano-Tortoniano) del nord Italia. Questa specie appartiene ad un genere tipico dei wood fall delle acque profonde tropicali. È inoltre discussa una caratteristica associazione di bivalvi e gasteropodi trovati insieme alla nuova specie descritta. Quest'associazione, tipica dei wood fall profondi, è rappresentata dai gasteropodi Pseudonina bellardii e Homalopoma sp., e dal bivalve Idas sp. Inaspettatamente, nel materiale studiato, non sono stati trovati rappresentanti della famiglia Xylophagidae. Tali bivalvi sono noti per avere un ruolo importante nel sostentamento delle comunità chemosintetiche che si formano in ambienti di wood fall. Gli unici bivalvi xilofagi rinvenuti appartengono alla famiglia Teredinidae. Non risulta ancora chiaro se questi bivalvi abbiano colonizzato il legno al fondo o durante il suo galleggiamento; tuttavia appare chiaro che, contrariamente a quanto noto in letteratura, anche i bivalvi teredinidi potessero, al pari degli xilofagidi, sostenere le comunità chemosintetiche di wood fall.
Da questo e da altri studi ancora in fase preliminare su depositi neogenici, l'area del preappennino emiliano si sta dimostrando particolarmente interessante per indagini paleoecologiche su queste comunità profonde.
Parole chiave: wood-fall; Polyplacophora; nuova specie; bivalvi Teredinidae; Miocene; area mediterranea
Autori: Luca Bertolaso e Vittorio Garilli
Resumen en Español
Un nuevo quitón marino profundo de edad miocena y evidencia temprana de comunidades de madera sumergida sustentadas por Teredinidae
Las maderas sumergidas de ambiente marino profundo son áreas de biodiversidad importantes para la comprensión de comunidades basadas en la quimiosíntesis. El estudio de paleocomunidades relacionadas a maderas sumergidas de ambiente marino profundo del Néogeno del norte de Italia clarifican las interesantes asociaciones del Mioceno de Torrente Cinghio (Tortoniense) y de Moncasale di Casina (Langhiense). Los componentes más comunes de esta asociación son moluscos quimiosintetizadores/de madera sumergida, tales como los gastrópodos Homalopoma sp. y Pseudonina bellardii, los bivalvos Idas sp. y teredos, y el quitón Leptochiton lignatilis n. sp., el cual pertenece a un género típico de maderas recientemente sumergidas en aguas tropicales. Esta nueva especie descripta es comparada con otras fósiles y cóngeneres actuales, especialmente con aquellas que comparten el mismo tipo de ornamentación del tegumento, completamente cubierto con gránulos dispuestos azarosamente o en arreglo quincuncial. Se provee un resumen de los quitones relacionados a maderas sumergidas. Sorprendentemente, en el sitio estudiado no se ha encontrado ningún taxón de bivalvos perforadores de la familia Xylophagidae, cuyas especies son fundamentales en el sostén de este tipo de ecosistema quimiosintético marino profundo; sin embargo, se han recuperado en abundancia otros bivalvos Teredinidae perforadores. Esto sugiere que, contrariamente a lo que ha sido observado previamente en comunidades de maderas sumergidas, los Teredinidae pueden ser vistos como equivalentes en el mantenimiento de ecosistemas de maderas sumergidas de ambiente marino profundo.
Palabras clave: madera sumergida; Polyplacophora; especie nueva; bivalvos perforadores Teredinidae; Mioceno; área mediterránea
Traducción: Diana Elizabeth Fernández
Résumé en Français
Un nouveau chiton miocène de mer profonde et premières indications de communautés de bois immergés maintenues par des Teredinidae
Les bois immergés en mer profonde sont d'importants points chauds de biodiversité pour la connaissance des communautés basées sur la chimiosynthèse. L'étude des paléocommunautés associées aux bois immergés en mer profonde du Néogène du nord de l'Italie met en lumière des associations intéressantes du Miocène de Torrente Cinghio (Tortonien) et de Moncasale di Casina (Langhien). Les élements les plus communs de cette association sont des mollusques chimiotrophes habitant les bois immergés, tels que les gastropodes Homalopoma sp. et Pseudonina bellardii, les bivalves du genre Idas sp. et de la famille des tarets (Teredinidae), et le chiton Leptochiton lignatilis n. sp., qui appartient à un genre typique des bois récemment coulés dans les eaux tropicales. La nouvelle espèce décrite est comparée avec d'autres espèces fossiles et actuelles du même genre, et spécialement avec ceux qui présentent les mêmes sortes de sculptures du tegmentum, complètement couvert de granules arrangés en quiconce ou de manière aléatoire. Une synthèse des chitons associés aux bois coulés est fournie. Chose étonnante, aucun taxon de bivalve perceur de la famille Xylophagidae, dont les espèces sont connues pour être fondamentales au maintien de ce genre d'écosystèmes chimiotrophes de mer profonde, n'a été trouvé dans le site étudié. Cependant, d'autre bivalves perceurs de la famille Teredinidae ont été trouvés en abondance. Cela suggère que, contrairement à ce qui avait été observé précédemment sur les communautés de bois coulés, les Teredinidae pourraient être considérés comme les pendants des Xilophagidae pour la maintenance des écosystèmes de bois immergés en mer profonde.
Mots-clés : bois immergés ; Polyplacophora ; nouvelle espèce ; bivalves perceurs Teredinidae ; Miocène ; zone de la Méditerranée
Translator: Antoine Souron
Deutsche Zusammenfassung
Eine neue Tiefsee-Käferschnecke aus dem Miozän und früher Nachweis für Teredinidae-gestützte Totholzgemeinschaften
Tiefsee-Tothölzer sind wichtige Biodiversitäts-Hot-Spots um Einblicke in chemosynthese-basierte Gemeinschaften zu bekommen. Untersuchungen von mit Tiefsee-Tothölzern in Verbindung stehenden Paläogemenischaften aus dem Neogen von Norditalien erhellten interessante Vergesellschaftungen aus dem Miozän von Torrente Cinghio (Tortonium) und von Moncasale di Casina (Langhium). Die häufigsten Komponenten dieser Vergesellschaftung sind typische chemosynthetische/Totholz-Mollusken, wie die Gastropoden Homalopoma sp. und Pseudonina bellardii, the Muscheln Idas sp. und Schiffsborwürmer und die Käferschnecke Leptochiton lignatilis n. sp., die zu einer Gattung gehört, die in tropischen Gewässern typisch ist für frisch gesunkene Hölzer. Die neue beschriebene Art wird mit anderen fossilen und rezenten Kongeneren verglichen, besonders mit denen die die gleiche Art tegmentaler Skulptur teilen, die komplett bedeckt ist mit zufällig oder quincuncial angeordneten Körnchen. Es wird ein Überblick über die Totholz-bezogenen Käferschnecken gegeben. Überraschenderweise wurden im untersuchten Gebiet keine Taxa der bohrenden Muscheln der Familie Xylophagidae gefunden, deren Arten normalerweise tragend sind für diese Arten von chemosynthetischem Tiefsee-Ökosystem. Es wurden jedoch andere bohrende teredinide Muscheln in großer Zahl geborgen. Dies legt nahe, dass gegenteilig zu bisherigen Untersuchungen an gesunkenen Holz-Gemeinschaften, Teredinidae als Gegenpart zur Erhaltung von Tiefsee-Totholzökosystemen angesehen werden können.
Schlüsselwörter: Totholz; Polyplacophora; neue Art; Teredinidae; Bohrmuscheln; Miozän; Mittelmeergebiet
Translator: Eva Gebauer
Arabic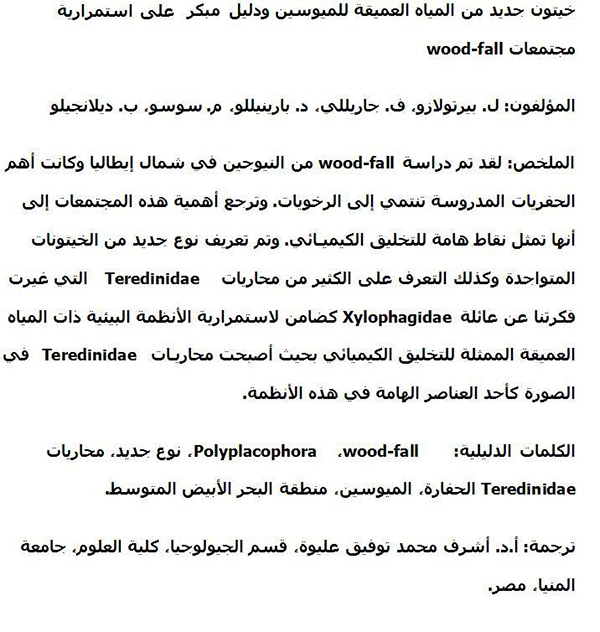 Translator: Ashraf M.T. Elewa