Paleocene fishes from Palenque, Chiapas, southeastern Mexico
This paper represents the first news about two Mexican Paleocene fossil localities, the División del Norte and the Belisario Domínguez quarries, located near Palenque, State of Chiapas; southeastern Mexico. These are marine outcrops belonging to Paleocene strata previously named as the Tenejapa Formation (toward the West) and the Lacandón Formation (toward the East and in Guatemala); hence, referred herein to the Paleocene Tenejapa-Lacandón Unit. In these sites the fossil fishes, particularly abundant and well preserved, constitute an assemblage that includes potential new species of Pycnodontiformes, Osteoglossiformes, Anguillifromes, Clupeiformes, and "serranids" that might expand their temporal and paleogeografical distribution worldwide and therefore become important elements to understand the historical processes of these groups previously known from continental and marine Eocene localities around the world. These 63 my fish localities are the closest, temporally and geographically, sites to the Chicxulub Crater, a crater intimately associated to the Mass Extinction Event at the Cretaceous-Paleogene boundary (K/P); therefore the accurate study of these fossil will contribute to achieve a better understanding of the marine vertebrate communities throughout this important geological event.
Resumen en Español
Peces del Paleoceno de Palenque, Chiapas, Sudeste de México

Este trabajo brinda los primeros datos geológicos y paleontológicos de dos localidades mexicanas de fósiles paleocenos recientemente descubiertas en las cercanías de Palenque, que aquí son formalmente nombradas como las canteras División del Norte y Belisario Domínguez. Ambos sitios representan afloramientos de rocas marinas a lo largo del estado de Chiapas que anteriormente fueron referidos a las formaciones Tenejapa (hacia el Oeste) y Lacandón (hacia el Este y en Guatemala); sus límites son poco claros en la zona de Palenque y por eso las localidades señaladas son referidas aquí como parte de la Unidad de Tenejapa-Lacandón. Los fósiles más abundantes y mejor conservados en estos sitios son peces representantes de grupos bien conocidos en localidades continentales y marinas del Eoceno de otras regiones del planeta. Otros elementos de este conjunto son restos de tortugas, cangrejos e impresiones carbonosas de plantas. Esta peculiar asociación fósil incluye posibles nuevas especies de Pycnodontiformes, Osteoglossiformes, Anguilliformes, Clupeiformes, y Percoidei primitivos o "serránidos" que amplían la distribución temporal y paleogeográfica de sus respectivos grupos, convirtiéndose así en elementos adicionales a ser analizados para comprender sus distintos procesos evolutivos. Geográfica y temporalmente, estas localidades de peces de 63 ma son las más cercanas al punto del impacto del asteroide Chicxulub, cuyos efectos están ligados a una de las extinciones en masa más importantes y al establecimiento del límite Cretácico-Paleógeno (K/P); y por eso son un escenario paleontológico importante para entender la recuperación de las comunidades marinas en este importante episodio de la vida.
Palabras clave: Paleoceno, fósiles, Palenque, Tenejapa, Chiapas, México.
Traducción: Enrique Peñalver and authors
Résumé en Français
Poissons paléocènes de Palenque, Chiapas, sud-est du Mexique
Ce papier présente les premières données géologiques et paléontologiques sur les carrières de la División del Norte et de Belisario Domínguez, deux localités fossilifères paléocènes, découvertes récemment près de Palenque dans l'État de Chiapas au Mexique. Ces deux localités font partie d'affleurements marins précédemment décrits comme les formations de Tenejapa (vers l'ouest) et de Lacandón (vers l'est et au Guatemala). Puisque les limites de ces formations ne sont pas claires dans la zone de Palenque, l'association géologique de ces localités est attribuée à l'unité paléocène de Tenejapa-Lacandón. Les poissons fossiles sont particulièrement abondants et bien préservés dans ces sites ; ils représentent des taxons déjà connus mondialement dans des localités éocènes dont les strates ont été déposées sous des conditions continentales et marines. Ce nouvel assemblage est particulier car il inclut de potentielles nouvelles espèces de Pycnodontiformes, Osteoglossiformes, Anguilliformes, Clupeiformes, et "serranidés". Ces nouvelles espèces pourraient étendre les distributions temporelles et paléogéographiques de ces groupes mondialement et pourraient donc constituer des éléments importants pour comprendre leur évolution. Ces localités, datant de 63 Ma, sont les plus proches, temporellement et géographiquement, des sites du cratère du Chicxulub, un cratère intimement lié à l'évènement d'extinction de masse de la limite Crétacé-Paléogène (K/P). Ces nouvelles localités nourrissent un scénario paléontologique important qui va permettre une meilleure compréhension des communautés de vertébrés marins au cours de cet évènement géologique majeur.
Mots-clés : Paléocène ; fossiles ; Palenque ; Tenejapa ; Chiapas ; Mexique
Translator: Antoine Souron
Deutsche Zusammenfassung
Paläozäne Fisch aus Palenque, Chiapas, südöstliches Mexiko
Diese Abhandlung liefert die ersten geologischen und paläontologischen Daten über zwei mexikanische Fossil-Fundstellen, die División del Norte und die Belisario Domínguez Steinbrüche, die kürzlich nahe Palenque im Staat Chiapas entdeckt wurden. Beide sind Teil der marinen Aufschlüsse, die bisher als Tenejapa (nach Westen) und Lacandón Formationen (nach Osten und in Guatemala) bekannt waren. Da die Grenzen dieser Formationen im Palenque-Gebiet unklar sind, werden diese Lokalitäten der paläozänen Tenejapa-Lacandón Einheit geologisch zugeordnet. Besonders die fossilen Fische kommen hier häufig vor und sie sind zudem sehr gut erhalten. Sie repräsentieren Taxa die bisher von eozänen Fundstellen in der ganzen Welt bekannt waren und deren Strata unter kontinentalen und marinen Bedingungen abgelagert wurden. Diese neue Assemblage ist besonders da sie mögliche neue Arten von Pycnodontiformen, Osteoglossiformen, Anguillifromen, Clupeiformen und "Serraniden" enthält, was ihre zeitliche und paläogeografische Verteilung ausdehnten könnte und die dadurch wichtige Komponenten zum Verständnis der Evolution dieser Gruppen werden. Diese 63 Mio. Jahre alte Fisch-Lokalitäten sind die nächsten Fundstellen - sowohl zeitlich als auch geografisch - zum Chicxulub-Krater, einem Krater, der in engem Zusammenhang mit dem Massenaussterbeereignis an der Kreide-Paläogen Grenze (K/P) in Zusammenhang steht. Diese neuen Fundstellen stellen ein wichtiges paläontologisches Szenario dar, das dazu beitragen wird, die marinen Wirbeltier-Gesellschaften während dieses wichtigen geologischen Ereignisses besser zu verstehen.
Schlüsselwörter: Paläozän; Fossilien; Palenque; Tenejapa; Chiapas; Mexiko
Translator: Eva Gebauer
Arabic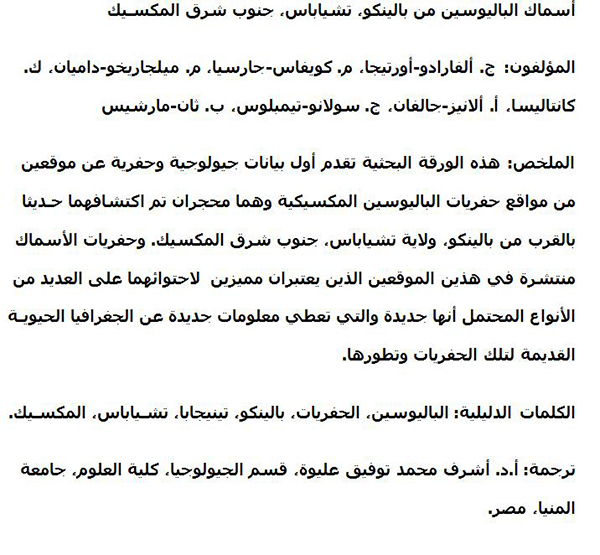 Translator: Ashraf M.T. Elewa