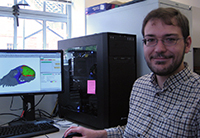 Ethan L. Fulwood. Department of Anthropology, University of Tennessee, Knoxville, Tennessee 37865 USA
Current Address: Department of Evolutionary Anthropology, Duke University, Durham, North Carolina 27708 USA
Ethan Fulwood is a PhD student in Evolutionary Anthropology at Duke University, since 2014. His work is focused on primate and mammalian evolution in the Paleogene and using phylogenetic comparative methods to better understand macroevolution.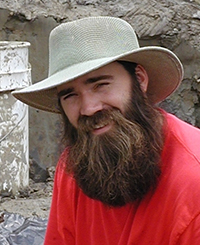 Steven C. Wallace. Department of Geosciences, Don Sundquist Center of Excellence in Paleontology, East Tennessee State University, Johnson City, Tennessee 37614 USA
Dr. Steven C. Wallace has been on faculty at the East Tennessee State University (ETSU) since completing his PhD at the University of Iowa in 2001. Currently, he is a Full Professor in the Department of Geosciences. In addition, he serves as a Curator at the East Tennessee State University and General Shale Brick Natural History Museum, and the Site Director of the Gray Fossil Site, Washington Co., TN. Current research interests include small carnivorans (particularly Musteloids), but also Felids, Canids, and Perissodactyls (Tapirs and Rhinos).