Conicocassis, a new genus of Arcellinina (testate lobose amoebae)
Plain Language Abstract
Arcellinina (also informally known as testate lobose amoebae or thecamoebians) are a group of shelled microorganisms that are well-preserved in most Quaternary lake sediments, and are found from the equator to poles in a variety of fresh to brackish aquatic and terrestrial environments. More than 130 arcellininid species have been placed in the genus Centropyxis Stein, 1857, which is characterized by species with flattened, beret-like shells. Centropyxis pontigulasiformis Beyens et al., 1986 is distinct from the type species of genus Centropyxis, Centropyxis aculeata (Ehrenberg, 1832), in having a shell that is comprised of two distinctive components; an ovoid to subspherical main shell body with a pronounced funnel-like visor that extends from a small circular opening (aperture). Aside from its single-chambered shell that forms by binding various foreign materials, like sand particles and diatom shells, the species bears no similarity to C. aculeata. The new genus Conicocassis with type species Co. pontigulasiformis is proposed to include species with shells characterized by spherical to subspherical main test bodies and asymmetrically positioned funnel-like visor extending from around a small circular aperture.
Resumen en Español
Conicocassis, un nuevo género de Arcellinina (amebas lobosas testadas)
La superfamilia Arcellinina (informalmente conocida como tecamebas o amebas lobosas testadas) es un grupo de protistas bentónicos con testa comunes en la mayoría de los sedimentos lacustres cuaternarios. Se encuentran en todo el mundo, desde el ecuador a los polos, y viven en una gran variedad de hábitats terrestres y acuáticos de agua dulce a salobre. Más de 130 especies y cepas de Arcellinina se han atribuido al género Centropyxis Stein, 1857 dentro de la familia Centropyxidae Jung, 1942, que incluye las especies que se caracterizan por tener una testa (concha) orientada dorsoventralmente y que recuerda a una boina aplastada. Conicocassis es un nuevo género de la familia Centropyxidae (Arcellinina) que se diferencia de otros géneros de la familia, específicamente del género Centropyxis y su especie tipo C. aculeata (Ehrenberg, 1932), por tener una testa única formada por dos componentes distintos; un cuerpo de testa generalmente orientado dorsoventralmente y ovoide a subesférico, con un borde tipo embudo posicionado de forma notablemente asimétrica y que se extiende desde una pequeña abertura circular. La especie tipo del nuevo género, Conicocassis pontigulasiformis (Beyens et al., 1986) ha sido previamente encontrada en las turberas de Alemania, los Países Bajos y Austria, así como en musgos muy húmedos y ambientes acuáticos de las regiones del Alto Ártico de Europa y América del Norte . La presencia de la especie en ambientes lacustres en los Territorios del Noroeste centrales amplía la distribución geográfica conocida del género considerablemente hacia el sur en América del Norte.
Palabras clave: Arcellinina; Canadá; Conicocassis gen. nov.; Territorios del Noroeste; Cuaternario; amebas lobosas testadas
Traducción: Enrique Peñalver
Résumé en Français
Conicocassis, un nouveau genre d'Arcellinina (amibes lobées à thèque)
La superfamille des Arcellinina (aussi connue sous le nom de thécamibiens ou amibes lobées à thèque) est un groupe de protistes benthiques à coquilles communs dans la plupart des sédiments lacustres quaternaires. Ils sont trouvés dans le monde entier, de l'équateur aux pôles, habitant une variété d'habitats terrestres et aquatiques d'eau douce à saumâtre. Plus de 130 espèces et souches de thécamibiens sont attribuées au genre Centropyxis Stein, 1857 au sein de la famille Centropyxidae Jung, 1942, qui inclut des espèces caractérisées par une thèque (coquille) orientée dorso-ventralement et aplatie en forme de béret. Conicocassis, un nouveau genre de thécamibien Centropyxidae, diffère des autres genres de la famille, et en particulier du genre Centropyxis et de son espèce-type C. aculeata (Ehrenberg, 1932), par une thèque unique comprenant deux composantes distinctes : un corps de thèque généralement ovoïde à subsphérique et orienté dorso-ventralement, avec un prolongement en forme d'entonnoir, positionné de manière très asymétrique, et s'étendant à partir d'une petite ouverture circulaire. L'espèce-type du nouveau genre, Conicocassis pontigulasiformis (Beyens et al., 1986) a été signalée précédemment dans des tourbières en Allemagne, aux Pays-Bas, et en Autriche, ainsi que dans des des mousses très humides et des environnements aquatiques des régions du Haut-Arctique d'Europe et d'Amérique du Nord. La présence de cette espèce dans des environnements lacustres de la partie centrale des Territoires du Nord-Ouest étend considérablement vers le sud la distribution géographique connue de ce genre en Amérique du Nord.
Mots-clés : Arcellinina ; Canada ; Conicocassis gen. nov. ; Territoires du Nord-Ouest ; Quaternaire ; amibes lobées à thèque
Translator: Antoine Souron
Deutsche Zusammenfassung
In progress
Translator: Eva Gebauer
Arabic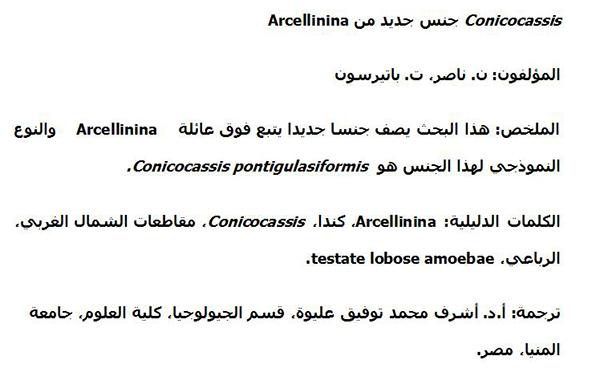 Translator: Ashraf M.T. Elewa