An outline of the European Quaternary localities with freshwater gastropods: data on geography and updated stratigraphy
Plain Language Abstract
Fossil and subfossil freshwater gastropods of the European Quaternary have been studied extensively by numerous authors during the nineteenth and twentieth centuries. Despite the wealth of information, these papers usually focus on regional aspects. Geographic names, however, may have changed due to politics and the stratigraphy is outdated in many cases. Since then, numerous papers improved the taxonomic understanding of certain groups of freshwater gastropods and revised the often confused nomenclatural history. Nevertheless, no efforts were made to collect and summarize the data on a pan-European scale in order to compare them. This study focuses specifically on recording Pleistocene and Holocene localities of Europe and some adjacent Asian countries bearing freshwater gastropods, combined with updated stratigraphic information when available. This resulted in a dataset of 1473 localities, which may serve as a base for future analyses of Eurasian post-Pliocene freshwater systems and their biota.
Resumen en Español
Un resumen de las localidades del Cuaternario europeo con gasterópodos de agua dulce: datos sobre la geografía y la estratigrafía actualizada
Los fósiles y los subfósiles de gasterópodos de agua dulce del Cuaternario europeo han sido ampliamente estudiados por numerosos autores en los siglos XIX y XX. A pesar de la gran cantidad de información acumulada, por lo general estos documentos se centran en los aspectos regionales. Los nombres geográficos, sin embargo, pueden haber cambiado debido a razones políticas y a que la estratigrafía es anticuada en muchos casos. Desde entonces, numerosos trabajos han mejorado la comprensión taxonómica de ciertos grupos de gasterópodos de agua dulce y han revisado la historia nomenclatural que a menudo ha sido confusa. Sin embargo, no se hicieron esfuerzos para recopilar y resumir los datos a escala paneuropea con el fin de compararlos. Este estudio se centra específicamente en el registro de localidades del Pleistoceno y Holoceno de Europa y algunos países asiáticos adyacentes que proporcionan gasterópodos de agua dulce, adjuntando la información estratigráfica actualizada cuando está disponible. Esto dio como resultado un conjunto de datos de 1473 localidades, que puede servir como base para futuros análisis de los sistemas de agua dulce euroasiáticos post-pliocenos y su biota.
Palabras clave: gasterópodos de agua dulce; base de datos; puntos de geo-referencia; Pleistoceno; Holoceno
Traducción: Enrique Peñalver
Résumé en Français
Une brève synthèse des localités à gastropodes d'eau douce du Quaternaire d'Europe : données concernant la géographie et les mises à jour de la stratigraphie
Les gastropodes d'eau douce fossiles et subfossiles du Quaternaire d'Europe ont été étudiés en détail par de nombreux auteurs pendant les XIXème et XXème siècles. Malgré l'abondance d'informations, ces articles se concentrent généralement sur des aspects régionaux. Les noms géographiques peuvent cependant avoir changé pour des raisons géopolitiques et la stratigraphie est obsolète dans de nombreux cas. Depuis lors, de nombreux articles ont amélioré la compréhension de la taxonomie de certains groupes de gastropodes d'eau douce et ont révisé leur histoire nomenclaturale, souvent embrouillée. Néanmoins, aucun effort n'a été fait pour collecter et effectuer la synthèse des données afin de les comparer à l'échelle pan-européenne. La présente étude se concentre précisément sur l'inventaire des localités à gastropodes d'eau douce du Pléistocène et de l'Holocène d'Europe et de certains pays adjacents d'Asie, combiné si possible avec une mise à jour des informations stratigraphiques. Cela a abouti à un jeu de données de 1473 localités, qui peut servir de base pour de futures analyses des systèmes d'eau douce post-pliocènes et de leurs biota.
Mots-clés : gastropodes d'eau douce ; base de données ; points géoréférencés ; Pléistocène ; Holocène
Translator: Antoine Souron
Deutsche Zusammenfassung
In progress
Translator: Eva Gebauer
Arabic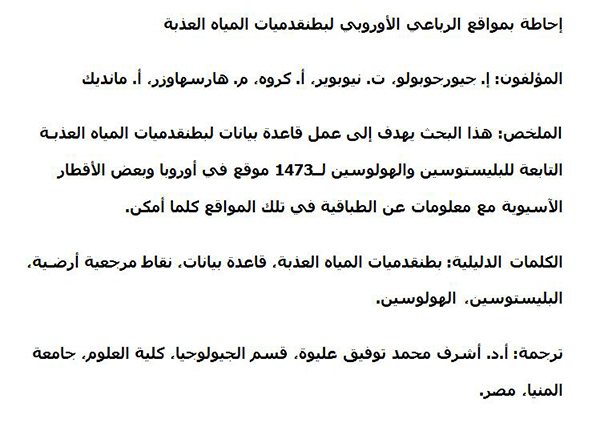 Translator: Ashraf M.T. Elewa