Elongated theropod tracks from the Cretaceous Apenninic Carbonate Platform of southern Latium (central Italy)
Plain Language Abstract
Tetrapod tracks are significant fossils, which reveal data about anatomy, locomotion, and behaviour in extinct animals. New dinosaur footprints, recently discovered in central Italy, are characterized by elongate impression left by the animal's hind limb. The footprints were probably produced by a medium-sized, non-avian theropod dinosaur performing a complex movement during, which the animal adopted a squatting stance, then rested on the ground and finally resumed locomotion. The new data shed more light on the importance of trace fossil studies for better understanding the biology of extinct animals.
Resumen en Español
Pistas alargadas de terópodos de la plataforma carbonatada del Cretácico de los Apeninos en el sur del Lacio (centro de Italia)
Recientemente se han descubierto nuevas huellas de dinosaurios en el sur del Lacio (Italia). Todas las pistas parecen preservadas de manera ligeramente diferente y se caracterizan por las impresiones de los metatarsianos que son alargadas, registrando el comportamiento locomotor complejo de un terópodo de tamaño mediano. La distribución espacial y las características de las huellas indican que el productor de las mismas adoptó una posición "en cuclillas", como parte de algún tipo de actividad, así como una fase de reposo que es sugerida por pistas sub-paralelas con apoyo de los talones. Estos nuevos datos ponen de relieve una vez más el gran potencial de la evidencia icnológica en el estudio de la biología y comportamiento de los tetrápodos extintos.
Palabras clave: huellas de terópodos; rastros de metatarsianos; postura en cuclillas; Italia; fotogrametría
Traducción: Enrique Peñalver
Résumé en Français
Pistes de théropodes de la plateforme carbonatée crétacée des Apennins dans le sud du Latium (Italie centrale)
Des nouvelles empreintes de pas de dinosaures ont été découvertes récemment dans le sud du Latium (Italie). Les pistes sont toutes préservées de manières légèrement différentes et sont caractérisées par des empreintes allongées des métatarses, témoignant du comportement locomoteur complexe d'un théropode de taille moyenne. La distribution spatiale et les caractéristiques de ces empreintes de pas indiquent que l'animal à l'origine de ces pistes a adopté une position accroupie pendant une partie d'une de ses activités ainsi que pendant une phase de repos suggérée par des pistes subparallèles calcigrades (en appuyant sur les talons). Ces nouvelles données soulignent encore une fois le fort potentiel des données ichnologiques pour l'étude de la biologie et du comportement des tétrapodes disparus.
Mots-clés : empreintes de pas de théropodes ; empreintes de métatarses ; posture accroupie ; Italie ; photogrammétrie
Translator: Antoine Souron
Deutsche Zusammenfassung
Längliche Theropdenspuren aus der kretazischen apenninischen Karbonatplattform des südlichen Latium (Zentralitalien)
Neue Dinosaurierfußspuren wurden kürzlich im südlichen Latium (Italien) entdeckt. Die Spuren scheinen alle leicht verschieden erhalten zu sein und sind durch längliche metatarsale Eindrücke charakterisiert, was das komplexe Bewegungsverhalten eines mittelgroßen Theropoden dokumentiert. Die räumliche Verteilung und die Eigenschaften der Fußspuren weisen darauf hin, dass der Spurenverursacher als Teil einer Aktivität eine "hockende" Position einnahm, genauso wie eine Ruhephase die durch sub-parallele, calcigrade Spuren angezeigt wird. Diese neuen Daten stellen erneut das große Potential ichnologischer Nachweise für die Untersuchung der Biologie und des Verhaltens von ausgestorbenen Tetrapoden heraus.
Schlüsselwörter: Theropodenfußspuren; metatarsale Spuren; hockende Position; Italien; Photogrammetrie
Translator: Eva Gebauer
Arabic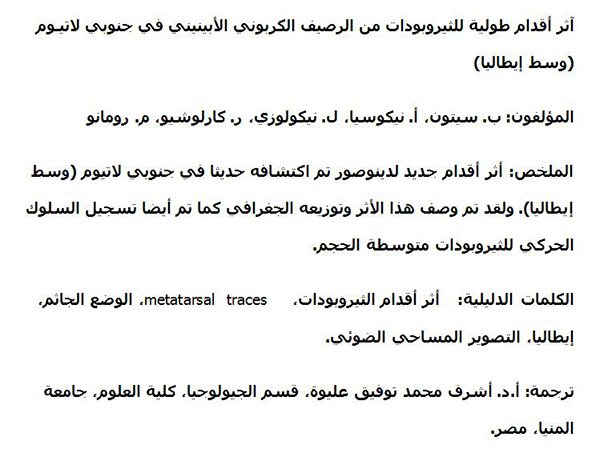 Translator: Ashraf M.T. Elewa