Reappraisal of the primitive crab Eodromites, with description of three new species from European localities (Decapoda: Brachyura: Goniodromitidae)
Plain Language Abstract
An exquisite, recently acquired collection of crabs from the Upper Jurassic (about 7 000 specimens) is situated in Museum of Natural History of Institute of Systematics and Evolution of Animals, Polish Academy of Sciences. It is one of the biggest collections of Jurassic crabs in the world, possibly except the collection in the Naturhistorisches Museum in Vienna. The specimens come from eight Upper Jurassic localities in the region of the Polish Jura Chain. Such a great number of specimens allows us to identify more repetitive features, which are significant in distinguishing species and genera.
Resumen en Español
Reevaluación de los primitivos cangrejos Eodromites, con la descripción de tres nuevas especies de localidades europeas (Decapoda: Brachyura: Goniodromitidae)
El género de braquiuros Eodromites es abundante en localidades del Jurásico de Europa. Hasta ahora se han atribuido siete especies a Eodromites, pero solo se conoce el material tipo de tres de ellas. Cuatro especies están presentes en localidades del Oxfordiense de Polonia, incluyendo dos nuevas especies: E. rotundus n. sp. y E. hyznyi n. sp. Se describe una nueva especie del Kimmeridgiense de Alemania - E. guenteri n. sp. Se describen nuevas características para el género y las especies (ranuras anteriores, grupos de fosas hepáticas, tubérculos hepáticos, tres pares de fosas, y la longitud y la forma de la estructura denominada augenrest o falsa órbita).
Palabras clave: Eodromites, Homolodromioidea, Brachyura, Decapoda, nuevas especies, Jurásico, Oxfordiense
Traducción: Enrique Peñalver or Diana Elizabeth Fernández
Résumé en Français
Révision du crabe primitif Eodromites (Decapoda : Brachyura : Goniodromitidae) incluant la description de trois nouvelles espèces provenant de localités européennes
Le genre de brachyoure Eodromites est trouvé en abondance dans les localités jurassiques d'Europe. Jusqu'à présent, sept espèces avaient été attribuées à Eodromites, mais le matériel type de seulement trois d'entre elles est connu. Quatre espèces sont présentes dans les localités oxfordiennes de Pologne, notamment deux nouvelles espèces : E. rotundus n. sp. et E. hyznyi n. sp. Une nouvelle espèce du Kimméridgien d'Allemagne est également décrite : E. guenteri n. sp. De nouveaux caractères (sillons antérieurs, groupes de ponctuations hépatiques, tubercules hépatiques, trois paires de ponctuations, longueur et forme de l'augenrest) pour le genre et les espèces sont décrits.
Mots-clés : Eodromites ; Homolodromioidea ; Brachyura ; Decapoda ; nouvelle espèce ; Jurassique ; Oxfordien
Translator: Antoine Souron
Deutsche Zusammenfassung
Neubewertung der primitive Krabbe Eodromites, mit einer Beschreibung von drei neuen Arten aus europäischen Fundstellen (Decapoda: Brachyura: Goniodromitidae)
Die brachyure Gattung Eodromites kommt in jurassischen Fundstellen von Europa häufig vor. Sieben Arten sind Eodromites bis jetzt zugeschrieben, jedoch ist nur das Typenmaterial von dreien bekannt. Vier Arten treten in Fundstellen des polnischen Oxfordiums auf, inklusive zwei neue: E. rotundus n. sp. und E. hyznyi n. sp. Eine neue Art aus dem Kimmeridgium von Deutschland wird beschrieben - E. guenteri n. sp. Neue Merkmale (anteriore Furchen, Gruppen von hepatischen Gruben, hepatische Tuberkel, drei Paare von Gruben, Länge und Form des Augenrests) der Gattung und Art werden beschrieben.
Schlüsselwörter: Eodromites, Homolodromioidea, Brachyura, Decapoda, neue Art, Jura, Oxfordium
Translator: Eva Gebauer
Arabic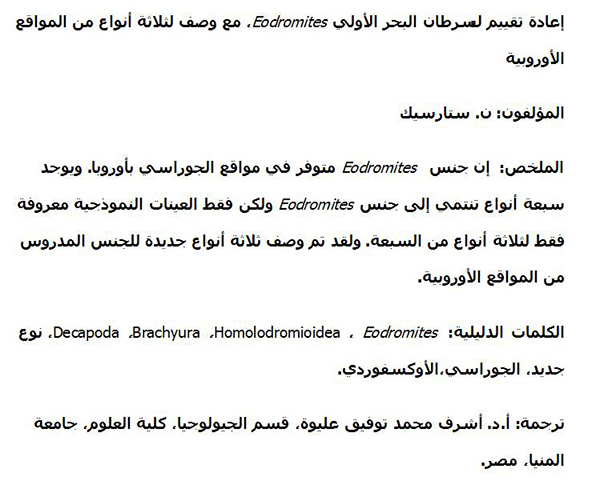 Translator: Ashraf M.T. Elewa