Two new and disparate fossil bee flies
(Bombyliidae: Anthracinae) from the Americas
and reassessment of Anthrax dentoni Lewis, 1969
Plain Language Abstract
Bee flies are one of the most successful groups of modern flies, but their fossil record is relatively poor. In this study, two new species of bee flies are described. Anthrax succini is the first fossil of the very large genus Anthrax to be described and only the second bee fly to be described from Dominican amber. Anthrax dentoni, previously thought to belong to this genus, is shown to be insufficiently preserved to allow assignment to any genus. A second new species, Eoanomala melas, was discovered in 46 million-year-old oil shale from northwest Montana. While in the same subfamily as Anthrax, this unique new species contains a number of characteristics that are not found together in any of the subfamily's extant genera.
Resumen en Español
Dos nuevos y dispares bombílidos fósiles (Bombyliidae: Anthracinae) de las Américas y reevaluación de Anthrax dentoni Lewis, 1969
En este estudio, se describen dos nuevas especies de bombílidos de la subfamilia Anthracinae y se reevalúa una especie previamente descrita. Anthrax succini Greenwalt y Evenhuis sp. nov. es la primera especie del extenso género Anthrax que es descrita del ámbar dominicano y corresponde al segundo bombílido conocido de dicho ámbar. La especie previamente descrita Anthrax dentoni Lewis, 1969 fue reexaminada y considerada un Anthracinae incertae sedis debido a que carece del suficiente detalle morfológico para su asignación al nivel de género. Se describe Eoanomala melas Greenwalt y Evenhuis gen. et sp. nov. a partir de las ritmitas laminadas bituminosas del Eoceno Medio de la Formación Kishenehn. Eoanomala melas muestra un conjunto de caracteres de interés en cladística que no se encuentra en ningún género existente y, aunque puede adscribirse a la tribu Villini, no parece estar estrechamente relacionada con los taxones actuales de ese clado.
Palabras clave: Bombyliidae; Anthrax; ámbar dominicano; Formación Kishenehn; nueva especie
Traducción: Enrique Peñalver
Résumé en Français
Deux nouveaux bombyles fossiles (Bombyliidae : Anthracinae) appartenant à des genres différents et provenant des Amériques, et une révision d'Anthrax dentoni Lewis, 1969
Dans cette étude, deux nouvelles espèces de bombyles anthracinés sont décrites et une espèce décrite précédemment est révisée. Anthrax succini Greenwalt et Evenhuis sp. nov. est seulement le second bombyliidé et le premier représentant du genre très diversifié Anthrax à être décrit dans l'ambre dominicain. L'espèce précédemment décrite, Anthrax dentoni Lewis, 1969, a été révisée et est attribuée à Anthracinae incertae sedis, car sa morphologie n'est pas connue suffisamment en détail pour proposer une attribution générique. L'espèce Eoanomala melas Greenwalt et Evenhuis gen. et sp. nov. est décrite à partir de matériel provenant des argiles bitumineuses de l'Eocène moyen de la formation de Kishenehn. Elle présente une combinaison d'états de caractères qui n'est trouvée chez aucun des genres actuels, et bien qu'elle pourrait appartenir à la tribu Villini, elle ne semble être apparentée de manière étroite à aucun des représentants actuels de ce clade.
Mots-clés : Bombyliidae ; Anthrax ; ambre dominicain ; formation de Kishenehn ; nouvelle espèce
Translator: Antoine Souron
Deutsche Zusammenfassung
Zwei neue und unterschiedliche fossile Hummelfliegen (Bombyliidae: Anthracinae) vom amerikanischen Kontinent und Neubewertung von Anthrax dentoni Lewis, 1969
In dieser Untersuchung werden zwei neue Arten von anthracinen Hummelfliegen beschrieben und eine vorangehend beschriebene Art wird neu bewertet. Anthrax succini Greenwalt und Evenhuis sp. nov. ist die erste der sehr artenreichen Gattung Anthrax und erst die zweite Bombyliide die aus dem Dominikanischen Bernstein beschrieben wurde. Die zuvor beschriebene Anthrax dentoni Lewis, 1969 wurde neu untersucht und zu Anthracinae incertae sedis gestellt da morphologische Details zur generischen Bestimmung fehlen. Eoanomala melas Greenwalt und Evenhuis gen. und sp. nov. aus den mitteleozänen Ölschiefern der Kishenehn Formation wird beschrieben. Eoanomala melas umfasst eine Anzahl an Merkmalsausprägungen, die zusammen in keiner heutigen Gattung auftauchen. Wenngleich E. melas dem Stamm der Villini zugeordnet werden könnte, scheint sie mit den heute lebenden Vertretern dieser Klade nicht nahe verwandt zu sein.
Schlüsselwörter: Bombyliidae; Anthrax; Dominikanischer Bernstein; Kishenehn Formation; neue Art
Translator: Eva Gebauer
Arabic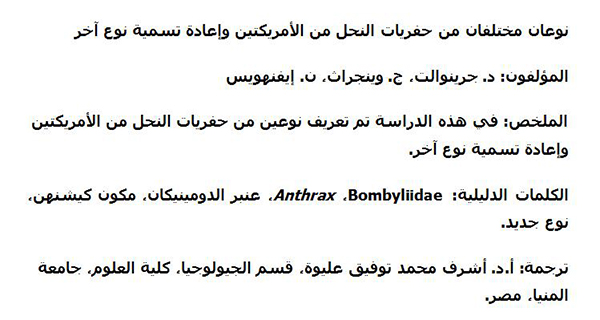 Translator: Ashraf M.T. Elewa