Late Jurassic jaw bones of Halecomorph fish (Actinopterygii: Halecomorphi) studied with X-ray microcomputed tomography
Plain Language Abstract
We present the recently discovered two jaw bones of Jurassic halecomorph fish studied in details with X-ray microcomputed tomography (XMT) – a method allowing for three-dimensional imaging of investigated fossils within the rock without the risk of damage during preparation. Creation of virtual cross-sections and precise volumetric measurements based on digital tomography data makes it possible to study and describe rare specimens at levels unattainable with traditional methods. The specimens came from a new paleontological site, Owadów-Brzezinki, located in central Poland, so geological and paleontological settings of the site are given in brief.
Resumen en Español
Huesos de la mandíbula de peces halecomorfos (Actinopterygii: Halecomorphi) del Jurásico tardío estudiados con tomografía microcomputarizada por rayos X
Se han investigado nuevos hallazgos de restos de peces Halecomorphi en calizas del Jurásico tardío de Owadów-Brzezinki (Polonia) mediante tomografía microcomputarizada por rayos X (XMT) lo que ha revelado detalles de los huesos de la mandíbula para histología de peces actinopterigios. La reconstrucción tridimensional (3-D) permite la correcta verificación taxonómica. La posibilidad de la impresión 3-D da la oportunidad de trabajar con un modelo en cualquier escala deseada sin riesgo de dañar la muestra.
Palabras clave: peces halecomorfos; Jurásico tardío; tomografía microcomputarizada por rayos X (XMT)
Traducción: Enrique Peñalver
Résumé en Français
Étude par tomodensitométrie des os des mâchoires de poissons halécomorphes (Actinopterygii : Halecomorphi) du Jurassique récent
De nouveaux restes de poissons Halecomorphi découverts dans les calcaires du Jurassique récent d'Owadów-Brzezinki (Pologne) sont étudiés par micro-tomodensitométrie (μTMD), révélant les détails des os des mâchoires nécessaires dans l'optique d'une étude de l'histologie des poissons actinoptérygiens. La reconstruction tridimensionnelle (3D) permet de vérifier que les identifications taxonomiques sont correctes. L'impression 3D permet de travailler sur un modèle quelle que soit l'échelle désirée, et ce, sans risquer d'endommager le spécimen.
Mots-clés : poissons halécomorphes ; Jurassique récent ; micro-tomodensitométrie (μTMD)
Translator: Antoine Souron
Deutsche Zusammenfassung
Spätjurassische Kieferknochen halecomorpher Fische (Actinopterygii: Halecomorphi) untersucht mit Röntgen-Mikro-Computertomographie
Neue Funde halecomorpher Fische aus den spätjurassischen Kalken von Owadów-Brzezinki (Polen), die mit Röntgen-Mikro-Computertomographie untersucht wurden, zeigen Details der Kieferknochen-Histologie von Actinopterygiern. Dreidimensionale (3D) Rekonstruktion erlaubt eine korrekte taxonomische Verifizierung. Die Option des 3D-Drucks eröffnet die Möglichkeit mit einem Modell beliebigen Maßstabs zu arbeiten ohne einen Schaden am Stück zu riskieren.
Schlüsselwörter: Halecomorphe Fische; später Jura; Röntgen-Mikro-Computertomographie
Translator: Eva Gebauer
Arabic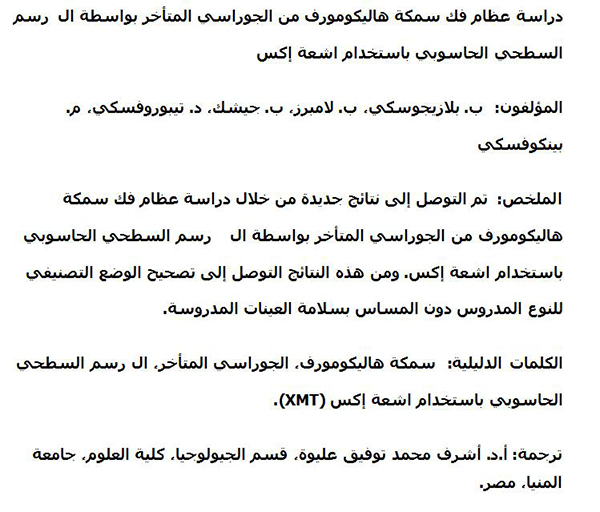 Translator: Ashraf M.T. Elewa