Positive allometry for exaggerated structures in the ceratopsian dinosaur Protoceratops andrewsi supports socio-sexual signaling
Plain Language Abstract
Many dinosaurs had large and often elaborate bony crests on their heads. The function of these crests has been much discussed but little consensus has been reached. Here we analyse the changes in the shape of the large 'frill' on the head of specimens of a small horned dinosaur from Mongolia called Protoceratops. We show that the frill started at a small size in young animals and only grew large when the animal was close to maturity. Therefore, the frill must have a function that operates in adults, but not juveniles. Such growth patterns are typical for features under sexual selection where animals compete for the best mates. We conclude that the frill was likely a structure used by adults in dominance contests.
Resumen en Español
La alometría positiva para estructuras exageradas en los dinosaurios ceratópsidos Protoceratops andrewsi corrobora la señalización socio-sexual
Se evalúa la alometría en los salientes del collar óseo y del yugal de los pequeños dinosaurios ornitisquios Protoceratops andrewsi. El análisis de 37 ejemplares, que abarca cuatro clases de tamaños diferentes de animales, muestra que el collar (en longitud y anchura) y yugal de esta especie experimentan una alometría positiva durante la ontogenia. Esto apoya, junto con otros datos, que estas características estaban bajo selección como señales de dominación socio-sexuales.
Palabras clave: ceratópsidos; selección sexual; comportamiento; gregarismo
Traducción: Enrique Peñalver
Résumé en Français
L'allométrie positive des structures disproportionnées du dinosaure cératopsien Protoceratops andrewsi supporte un signal socio-sexuel
L'allométrie de la collerette et des protubérances jugales du petit dinosaure ornitischien Protoceratops andrewsi est examinée. Une analyse de 37 spécimens, englobant quatre classes de taille distinctes, montre que la collerette (à la fois en termes de longueur et de largeur) et les jugaux de cette espèce suivent une allométrie positive pendant l'ontogénie. En accord avec d'autres données, cela supporte l'hypothèse selon laquelle ces caractéristiques sont soumises à la sélection en tant que signaux de dominance socio-sexuelle.
Mots-clés : Ceratopsia ; sélection sexuelle ; comportement ; grégarisme
Translator: Kenny J. Travouillon or Antoine Souron
Deutsche Zusammenfassung
Positive Allometrie von verlängerten Strukturen bei dem ceratopsiden Dinosaurier Protoceratops andrewsi unterstützt die sozio-sexuelle Signalgebung
Die Allometrie des Nackenschildes und der Wangenhörner des kleinen Vogelbeckensauriers Protoceratops andrewsi wird bewertet. Eine Analyse von 37 Stücken, die vier klar getrennte Größengruppen unterscheidet, zeigt dass das Nackenschild (sowohl in der Länge als auch in der Breite) und die Wangen dieser Art während der Ontogenie eine positive Allometrie erfahren. Zusammen mit anderen Daten unterstützt dies die Annahme, dass diese Merkmale als sozio-sexuelle Dominanzsignale unter Selektion waren.
Schlüsselwörter: Ceratopsier; sexuelle Selektion; Verhalten; Herdentier
Translator: Eva Gebauer
Arabic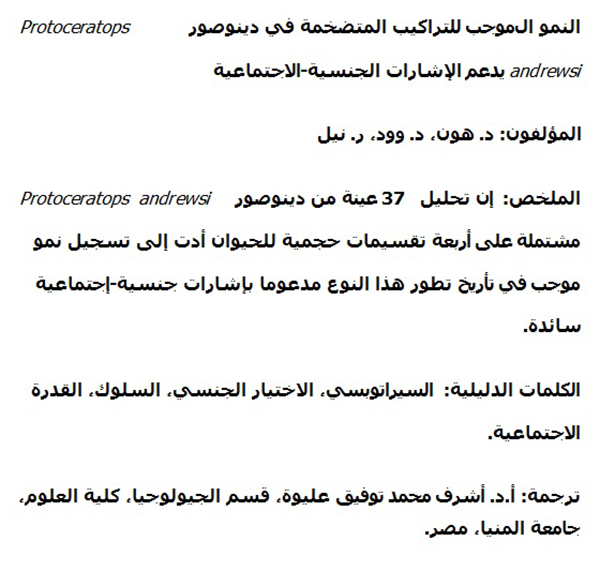 Translator: Ashraf M.T. Elewa