Late Devonian and Early Carboniferous chondrichthyans from the Fairfield Group, Canning Basin, Western Australia
Plain Language Abstract
Little is known of the sharks that inhabited latest Devonian and Early Carboniferous environments of the Canning Basin in north-western Australia. This work details a diverse shark fauna from a shallow water environment during an important time in the evolution of vertebrates. This period saw the extinction of numerous jawless and jawed vertebrates at the end of the Late Devonian, followed by an increase in shark diversity in the Carboniferous. Detailed taxonomic analyses of 18 shark taxa in this work have revealed 12 previously undescribed taxa and extended the geographic range of sharks previously described from North Gondwana and southern Laurentia. The widespread occurrence of many sharks has allowed for a relationship between certain genera, and the environment in which they inhabited, to be established. This relationship, described for the Late Devonian, is shown to also be applicable in the Carboniferous shallow water environments of the Canning Basin. This work provides an important data set for understanding changes in vertebrate populations over major extinction events at the end of the Devonian. In addition, the location of the Canning Basin between major faunal provinces, aids in understanding the movements of shark species and faunal exchanges between Late Devonian and Early Carboniferous terranes.
Resumen en Español
Condrictios del Devónico Tardío y Carbonífero temprano del Grupo Fairfield, cuenca Canning, Australia Occidental
Se describen dientes de 18 taxones de tiburones de estratos del Devónico Superior a Carbonífero inferior de la plataforma Lennard, cuenca Canning, Australia Occidental. Muestras puntuales de facies de barra en la Formación Gumhole de edad fameniana temprana y en facies de plataforma carbonática somera en la Formación Laurel de edad tournaisiana, produjeron una fauna de condrictios incluyendo varias especies conocidas, en particular Thrinacodus ferox, Cladodus thomasi, Protacrodus aequalis y Deihim mansureae. Adicionalmente, se recuperaron dientes protacrodontes que se asemejan a dientes formalmente descriptos pero aún sin nombrar provenientes de depósitos tournasianos de terrenos del norte de Gondwana. Aquí se muestra como las relaciones faunales cercanas previamente observadas en los taxones de condrictios del Devónico Tardío en la cuenca de Canning y en los márgenes de Gondwana septentrional se continúan también durante el Carbonífero. Sin embargo, es evidente una reducción en la superposición de especies de la fauna de aguas someras de microvertebrados tournaisianos, lo cual apoya estudios previos que documentan una separación de las comunidades faunales y de plantas terrestres entre estas regiones ya en ese entonces. La fauna de condrictios aquí descripta se encuentra dominada por dientes de tipo triturantes similares a las biofacies de condrictios de aguas someras establecidas para el Fameniano y sugiere que algunas de estas biofacies también se extendieron hasta el Carbonífero temprano.
Palabras clave: Fameniano; Tournaisiano; microvertebrado; dientes; biogeografía; biofacies
Traducción: Diana Elizabeth Fernández
Résumé en Français
Chondrichtyens du Dévonien récent et du Carbonifère ancien du groupe de Fairfield, bassin de la Canning, Australie occidentale
Les dents de 18 taxons de requins sont décrites à partir de fossiles provenant des strates du Carbonifère inférieur de la plate-forme de Lennard, bassin de la Canning, Australie occidentale. Des échantillons ponctuels de faciès de bancs de sable de la formation de Gumhole du Famménien supérieur et de faciès de plate-forme carbonatée de la formation de Laurel du Tournaisien ont livré une faune de chondrichtyens incluant plusieurs espèces connues, en particulier Thrinacodus ferox, Cladodus thomasi, Protacrodus aequalis, et Deihim mansureae. Des dents protacrodontes ont également été trouvées et ressemblent à des dents précédemment décrites, mais non nommées, provenant de dépôts tournaisiens des terranes du Gondwana Nord. Il est démontré dans cet article que les relations fauniques étroites précédemment observées entre les taxons chondrichtyens du Dévonien récent du bassin de la Canning et des marges du Gondwana Nord se poursuivent dans le Carbonifère. Cependant, il est évident que les faunes à microvertébrés d'eau peu profonde du bassin de la Canning et du sud de la Chine présentent un recoupement d'espèces moins important, ce qui soutient les études précédentes documentant une séparation des communautés de plantes terrestres et d'animaux de ces régions dès cette période. La faune de chondrichtyens décrite dans cet article est dominée par des dents de type broyeur similaires à celles des biofaciès à chondrichtyens d'eau peu profonde définis pour le Famménien et suggère que certains de ces biofaciès se sont étendus dans le Carbonifère ancien.
Mots-clés : Famménien ; Tournaisien ; microvertébrés ; dents ; biogéographie ; biofaciès
Translator: Antoine Souron
Deutsche Zusammenfassung
Spätdevonische und frühkarbonische Knorpelfische auf der Fairfield Gruppe, Canning Becken, westliches Australien
Es werden Zähne von 18 Hai-Taxa aus Schichten des oberen Devons bis zum unteren Karbon des Lennard Schelfs (Canning Becken, westliches Australien) beschrieben. Stichproben in einer Sandbankfazies in der oberen Gumhole Formation (Famennium) und in einer Flachwasserkarbonatplattform-Fazies in der Laurel Formation (Tournaisium) ergaben eine Knorpelfischfauna mit einigen neuen Arten, besonders Thrinacodus ferox, Cladodus thomasi, Protacrodus aequalis und Deihim mansureae. Zusätzlich wurden protacrodonte Zähne gefunden, die formal beschriebenen, jedoch unbenannten Zähnen aus Ablagerungen aus dem Tournaisium nordgondwanischer Terranes ähneln. Die engen faunischen Verwandtschaftsbeziehungen die bisher zwischen spätdevonischen Taxa von Chondrichthyes im Canning Becken und an den Rändern von Nordgondwana gesehen wurden, werden hier bis in das Devon fortgeführt. Jedoch ist eine geringere Artenüberschneidung für Flachwasser-Mikrovertrebratenfaunen aus dem Tournaisium zwischen dem Canning Becken und Südchina sichtbar, was eine vorangehende Untersuchung unterstützt, die eine Trennung von Faunengemeinschaften und Landpflanzengemeinschaften zwischen diesen Regionen zu dieser Zeit dokumentierte. Die hier beschriebene Chondrichthyer-Fauna wird von Typen mit Quetschzähnen dominiert, die denen der Flachwasser Chondrichthyer-Biofazies ähnlich ist, die für das Famennium aufgestellt wurde und legt nahe, dass einige dieser Biofazies bis in das frühe Karbon hineinreichten.
Schlüsselwörter: Famennium; Tournaisium; Mikrovertebraten; Zähne; Biogeographie; Biofazies
Translator: Eva Gebauer
Arabic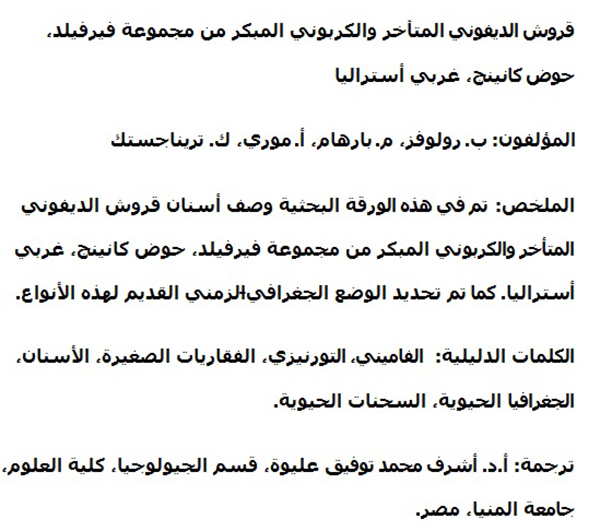 Translator: Ashraf M.T. Elewa