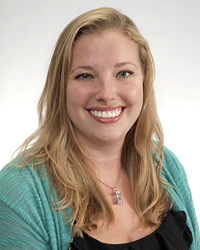 Sara J. Elliott. Department of Geosciences, Pennsylvania State University, University Park, PA 16802, USA; Bureau of Economic Geology, University of Texas, Austin, TX 78758, USA. (corresponding author)
Sara J. Elliott is a Research Scientist Associate II at the Bureau of Economic Geology, part of the Jackson School of Geosciences, University of Texas at Austin. She received her B.S. in Geosciences and Biology from the University of Miami in 2010, and her M.S. in Geosciences from Penn State University in 2012 working in P.Wilf's Paleobotany Lab. Previous research includes interpretation of Miocene mixed-marine clinoforms based on benthic Foraminifera paleoecology in the Dominican Republic, and identifying/reconstructing the pre-European settlement upslope old-growth forest communities in southeastern Pennsylvania using subfossil leaves. She currently specializes in SEM-Cathodoluminescence and runs the Fracture Research and Application Consortium's Zeiss SIGMA Field Emission Scanning Electron Microscope at the J.J. Pickle Research Campus in Austin. Current research includes bedding-parallel calcite veins in shales, diagenetic evolution of deformation bands in sandstones, pre- and postkinematic fracture cements in carbonate and siliciclastic rocks, and quartz vein textures in subduction zones. She was recently awarded a BEG Career-Development Publication Award grant for her work on coupled chemical-mechanical diagenetic processes in deformation bands of the southwestern USA.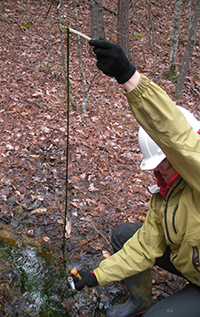 Christen L. Grettenberger. Department of Geosciences, Pennsylvania State University, University Park, PA 16802, USA.
Christy Grettenberger (B.A., Western Washington University; M.S. and Ph.D. Pennsylvania State University) is an ecologist and biogeochemist. Her M.S. research at Penn State focused on the pre-European settlement flora in the Piedmont region. She also examined the role that microbial species can play in acid mine drainage remediation. She is currently a post-doctoral researcher at the University of California, Davis, where her research focuses on microbial communities in ice-covered Antarctic lakes as analogs for assemblages thriving during Neoproteozoic 'Snowball Earth' events.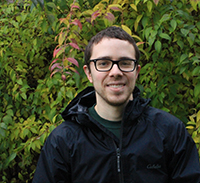 Michael P. Donovan. Department of Geosciences, Pennsylvania State University, University Park, PA 16802, USA.
Michael Donovan is a PhD student in the Geosciences Department at Penn State University interested in the evolution of plant-insect associations. He received a B.S. in Integrative Biology from University of Illinois in 2010, and a M.S. in Geosciences from Penn State University in 2013. His current research focuses on the recovery of herbivorous insects in Patagonia and the western USA after the Cretaceous-Paleogene extinction.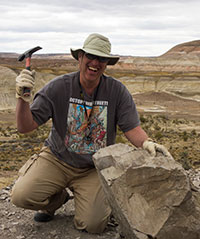 Peter Wilf. Department of Geosciences, Pennsylvania State University, University Park, PA 16802, USA.
After an eclectic and non-geological undergrad career (B.A. Penn 1985), I spent three years teaching junior high school in New Jersey and then four years freelancing with my guitars in West Philly. I discovered geology and then paleobotany at the early age of 29 and have never looked back. I somehow moved from the street, almost literally, onto the doctoral track in Penn Geology and defended in 1998. Most of my thesis research was done in residence at the Smithsonian, on megafloral and paleoclimatic change across the Paleocene-Eocene boundary in southern Wyoming. During this time and in an ensuing Smithsonian postdoc, I began developing two major subsequent themes of my research: the fossil history of plant-insect associations and the unbelievable riches of Patagonian fossil floras. I spent three terrific years at Michigan, 1999-2002, as a Michigan Fellow and happily joined the Penn State Geosciences faculty in 2002, where I have been developing these and several other wonderful research projects with my students and colleagues all over the world.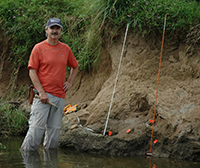 Robert C. Walter. Department of Earth and Environment, Franklin and Marshall College, Lancaster, PA 17604, USA.
Robert Walter (B.A., Franklin and Marshall College; Ph.D. Case Western Reserve University) is a geologist, geochemist and geochronologist. He has conducted field research in East Africa (human origins, sediment basin analyses, and volcanology), North America (Quaternary geology and environmental geology), and around the Pacific Rim (neotectonics). He was elected a Fellow of the California Academy of Science in 1989 and a Fellow of the Geological Society of America in 2011. He is a former American Association for the Advancement of Science (AAAS) Diplomacy Fellow to the U.S. Department of State, where he conducted research on complex humanitarian emergencies. Currently, he is an Associate Professor of Geosciences at Franklin and Marshall College, where his research has focused on water quality, soil-sediment-bedrock-water interactions, and human disturbances of these systems. In 2008, he and his colleague, Prof. Dorothy Merritts, were the recipients of Pennsylvania State Senate Resolution 283 for outstanding contributions to stream restoration and water quality improvements in the Chesapeake Bay Watershed. In 2011 he and Dorothy received the Kirk Bryan Award from the Geological Society of America for outstanding scholarship. In the 2011-2012 academic year he recieved the Allen B. Cox Visiting Distinguished Professorship at Stanford University. He directs the Big Spring Run Restoration Experiment (see http://www.bsr-project.org), is the author over 80 peer-reviewed publications, and co-wrote and co-directed five short documentary films on human evolution.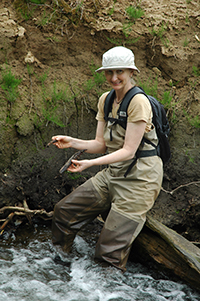 Dorothy J. Merritts. Department of Earth and Environment, Franklin and Marshall College, Lancaster, PA 17604, USA.
Dorothy Merritts (B.Sc. Indiana University of Pennsylvania; M.Sc. Stanford University, Ph.D. University of Arizona) is a geologist with expertise in Earth surface processes and landforms. Her current research in the United States is in the Appalachian region, where she is investigating the role of alternating Quaternary cold glacial/periglacial and warm climate conditions on landscape evolution. In addition, she examines how recent human activity has transformed valley bottom landscapes of Eastern North America since European settlement. She has been a professor in the Department of Earth and Environment at Franklin Marshall College in Lancaster, Pennsylvania since 1987. In 2004-2005 she was the Flora Stone Mather Visiting Distinguished Professor at Case Western Reserve University in Cleveland, Ohio. She was chair of the 2008-10 National Academy of Science Committee on Earth Surface Processes, served on the Steering Committee for the NSF National Center for Airborne Laser Mapping from 2008-11, and currently is chair of the National Academies/National Research Council Committee on Landscape Conservation Cooperatives. She was the co-recipient (with Robert Walter) of the 2011 Kirk Bryan Award for outstanding research from the Geological Society of America, and was the Allen Cox Visiting Professor at Stanford University in 2011-12. She is an author of two textbooks on environmental geosciences, author or co-author on more than 60 scientific articles, and the editor and contributing writer for numerous scientific books.