Fossil clitellate annelid cocoons and their microbiological inclusions from the Eocene of Seymour Island, Antarctic
Plain Language Abstract
Three new types of fossil cocoons belonging to clitellate annelids (the group including crayfish worms, leeches and earthworms) are described from 50-million-year-old sedimentary rocks on Seymour Island, Antarctica. The cocoons were probably produced by freshwater animals but were washed into, and buried within, nearshore marine sediments. These cocoons, composed of robust protein threads arranged in various architectures, provide an opportunity to investigate the evolutionary history of clitellate annelids—a group that otherwise has a meagre body-fossil record. Moreover, a range of fossil micro-organisms and the oldest preserved examples of animal sperm cells are fossilized as moulds within the hardened walls of the cocoons in a manner similar to entombment in amber. Thus, fossil cocoons potentially provide a window into the evolutionary history of associated soil and freshwater micro-organisms. They also may enhance palaeoenvironmental interpretations of sediments, advance correlations between continental and shallow marine strata, and improve understanding of the evolution of clitellate annelids.
Resumen en Español
Capullos fósiles de anélidos clitelados y sus inclusiones microbiológicas del Eoceno de la Isla Seymour, la Antártida
Los anélidos clitelados tienen un registro escaso de fósiles corporales, pero secretan capullos proteínicos para la protección de los huevos, los cuales, después del endurecimiento, tienen un cierto potencial de fosilización y pueden constituir una fuente no explorada para la evaluación de la historia evolutiva de este grupo. Se describen tres especies de capullos de clitelados (a saber, Burejospermum seymourense sp. nov., B. punctatum sp. nov. y Pegmatothylakos manumii gen. et sp. nov.) del Eoceno inferior de la Formación La Meseta, Isla Seymour, la Antártida. Los capullos probablemente provienen de medios continentales y fueron transportados a ambientes marinos costeros o estuarinos. Los capullos proporcionan la primera evidencia de relaciones de comensalismo o parasitismo en los ecosistemas continentales del Eoceno de la Antártida. Por otra parte, dentro de las paredes consolidadas de los capullos se encuentran en forma de moldes numerosos microorganismos y los ejemplos fosilizados más antiguos de espermatozoides animales. Los capullos fósiles de anélidos potencialmente ofrecen una mejor interpretación paleoambiental de los sedimentos, la correlación entre los estratos continentales y los marinos de ambiente somero, y una mejor comprensión del desarrollo de los rasgos reproductivos de los anélidos clitelados y la historia evolutiva de microorganismos de cuerpo blando en general.
Palabras clave: Branchiobdellida, nuevo género, nuevas especies, espermatozoides, Formación La Meseta, Península Antártica
Traducción: Enrique Peñalver (Sociedad Española de Paleontología)
Résumé en Français
Des cocons d'annélides clitellates fossiles de l'Éocène de l'île Seymour, Antarctique, et leurs inclusions microbiologiques
Le registre fossile du corps des annélides clitellates est pauvre mais les cocons protéiques qu'ils secrètent pour protéger leurs œufs sont facilement fossilisés après durcissement et offrent une ressource largement inexploitée pour évaluer l'histoire évolutive de ce groupe. Nous décrivons ici trois espèces de cocons de clitellates (Burejospermum seymourense sp. nov., B. punctatum sp. nov., et Pegmatothylakos manumii gen. et sp. nov.) provenant de l'Éocène inférieur de la formation de La Meseta, île Seymour, Antarctique. Les cocons dérivent probablement de milieux continentaux et ont été transportés vers des environnements marins côtiers à estuariens au sein desquels ils ont été préservés. Les cocons constituent les premières preuves de relations commensales ou parasitaires dans les écosystèmes continentaux d'Antarctique à l'Éocène. De plus, de nombreux micro-organismes et les plus anciens exemples de spermatozoïdes animaux fossilisés sont préservés sous forme de moules au sein des murs consolidés des cocons. Les cocons d'annélides ont le potentiel pour améliorer les interprétations paléoenvironnementales des sédiments et les corrélations entre les strates continentales et marines de faible profondeur, et pour mieux comprendre le développement des traits reproductifs des annélides clitellates et, de manière plus générale, l'histoire évolutive des micro-organismes à corps mou.
Mots-clés : branchiobdellidés ; nouveau genre ; nouvelle espèce : spermatozoïdes ; formation de La Meseta ; péninsule Antarctique
Translator: Antoine Souron
Deutsche Zusammenfassung
Fossile clitellate Annelidenkokons und deren mikrobiologische Einschlüsse aus dem Eozän von Seymour Island, Antarktika
Clitellate Anneliden haben einen spärlichen Nachweis an Körperfossilien. Sie scheiden jedoch eiweißhaltige Kokons zum Schutz ihrer Eier ab, die nach der Aushärtung gut fossilisieren und eine noch weitgehend ungenutzte Quelle zur Beurteilung der Evolutionsgeschichte dieser Gruppe sind. Wir beschreiben drei Arten clitellater Kokons (Burejospermum seymourense sp. nov., B. punctatum sp. nov und Pegmatothylakos manumii gen. et sp. nov.) aus dem unteren Eozän der La Meseta Formation, Seymour Island, Antarktika. Die Kokons entstanden vermutlich auf dem Kontinent und wurden zu küstennahen Meeres- oder Mündungsgebieten transportiert, wo sie auch konserviert wurden. Die Kokons sind der erste Nachweis einer kommensalen oder parasitischen Beziehung in einem eozänen kontinentalen Ökosystem von Antarktika. Darüber hinaus sind zahleiche Mikroorganismen und die ältesten fossilen Beispiele von tierischen Spermatozoa innerhalb der verfestigten Kokonwände erhalten. Fossile Annelidenkokons bieten die Möglichkeit einer erweiterten Interpretation der Paläoumwelt durch Sedimente, der Korrelation zwischen kontinentalen und flachmarinen Schichten und eine bessere Kenntnis über die Entwicklung der Reproduktionsmerkmale von clitellaten Anneliden und der Evolutionsgeschichte von Weichkörper-Mikroorganismen im Allgemeinen.
Schlüsselwörter: Branchiobdelliden, neue Gattung, neue Art, Spermatozoa, La Meseta Formation, antarktische Halbinsel
Translator: Eva Gebauer
Arabic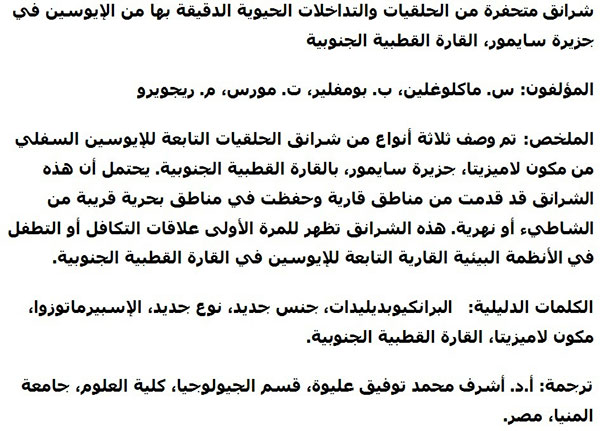 Translator: Ashraf M.T. Elewa