New dental material and redescription of Agerinia roselli (Primates, Adapiformes) from Les Saleres (early Eocene, NE Iberian Peninsula)
Plain Language Abstract
The study of Eocene primates is especially significant for understanding the first steps of primate evolution. In the Iberian Peninsula, early Eocene primate remains are scarce and were mostly described in relatively old works. For this reason, a revision of classical collections is necessary in order to emend some inaccuracies made in their first studies. Moreover, the advances in the knowledge about the first members of the order Primates made in the last decades allow an exhaustive comparison of this classical material with recent findings and a better understanding of the relationships between different taxa.
In this work, new remains of Agerinia roselli, an early primate belonging to the group of the Adapiformes, are described. The material consists of several lower teeth recovered from Les Saleres, an early Eocene fossil site from Northeastern Spain. In addition, a detailed description of all the previously studied material of A. roselli from that locality is also provided, which has pointed out some inaccuracies made in the first descriptions of this species made in the 1960 decade. The body mass of this primate is also estimated on the basis of the size of its lower teeth (it weighted between 650 and 900 g). Finally, a detailed comparison with other Eocene primates has revealed marked differences with all of them, demonstrating that A. roselli is a valid species clearly distinguishable from other cercamoniines.
Resumen en Español
Nuevo material dental y redescripción de Agerinia roselli (Primates, Adapiformes) de Les Saleres (Eoceno temprano, NE de la Península Ibérica)
Joan Gual-Femenias, Raef Minwer-Barakat, Judit Marigó y Salvador Moyà-Solà
En este trabajo se describe nuevo material dental de Agerinia roselli procedente de su localidad tipo, Les Saleres (NE de España). Se proporciona una diagnosis enmendada de la especie, junto con una nueva descripción del hipodigma completo de esa localidad, lo cual era necesario debido a algunas imprecisiones en las descripciones precedentes. El material estudiado incluye 12 dientes (de P3 a M3); las raíces de los premolares anteriores que se han conservado en un fragmento de mandíbula son presentadas por primera vez. Se han identificado algunas características no descritas anteriormente, después del nuevo análisis de este material, tal como son el P4 con distintivos hipocónido y entocónido y el pequeño paracónido en el M1. Se ha realizado una comparación detallada con otros cercamoniines. Se ha estimado la masa corporal de A. roselli, la cual abarca de 650 a 900 gr.
La presencia de un paracónido minúsculo en el M1 es el criterio más fiable para distinguir este molar de M2. Esto es apoyado por la total ausencia de paracónido en cuatro M2 conservados en fragmentos de mandíbula. La longitud del trigónido parece ser menos fiable para distinguir el M1 del M2, debido a su alta variabilidad en esta especie. En conclusión, este estudio actualiza el conocimiento sobre la anatomía dental de A. roselli y demuestra que se trata de un taxón válido claramente distinguible de otros cercamoniines.
Palabras clave: Adapiformes; Notharctidae; Cercamoniinae; Paleógeno; España
Traducción: Enrique Peñalver (Sociedad Española de Paleontología)
Résumé en Français
Nouveau matériel dentaire et redescription d'Agerinia rosella (Primates, Adapiformes) de Les Saleres (Éocène ancien, nord-est de la péninsule Ibérique)
Dans ce travail, du nouveau matériel d'Agerinia roselli provenant de sa localité-type, Les Saleres (nord-est de l'Espagne), est décrit. Une diagnose émendée de l'espèce est fournie, avec une redescription de la totalité de l'hypodigme de cette localité, nécessaire en raison de certaines imprécisions des descriptions précédentes. Le matériel étudié inclut 12 dents (de P3 à M3) ; les racines des prémolaires antérieures préservées dans un fragment de mandibule sont décrites pour la première fois. La nouvelle analyse de ce matériel a permis d'identifier certains traits qui n'avaient pas été décrits jusqu'à présent, comme la P4 avec un hypoconide et un entoconide distincts et le paraconide minuscule de la M1. Une comparaison détaillée avec les autres cercamoniinés a été conduite. La masse corporelle d'A. roselli, comprise entre 650 g et 900 g, a également été estimée.
La présence d'un minuscule paraconide sur la M1 est le critère le plus fiable pour distinguer cette molaire de la M2. Cela est soutenu par l'absence complète de paraconide sur les quatre M2 préservées dans des fragments de mandibule. La longueur du trigonide semble être moins fiable pour distinguer la M1 de la M2, en raison de sa grande variabilité chez cette espèce. En conclusion, cette étude remet à jour la connaissance de l'anatomie dentaire d'A. roselli et démontre que ce taxon est valide et clairement distinguable des autres cercamoniinés.
Mots-clés : Adapiformes ; Notharctidae ; Cercamoniinae ; Paléogène ; Espagne
Translator: Antoine Souron
Deutsche Zusammenfassung
Neues Zahnmaterial und Neubeschreibung von Agerinia roselli (Primaten, Adapiformes) aus Les Saleres (frühes Eozän, nordöstliche Iberische Halbinsel)
In der vorliegenden Arbeit wird neues Zahnmaterial von Agerinia roselli aus der Typlokalität Les Saleres (Nordost-Spanien) beschrieben. Zusammen mit einer Neubeschreibung des gesamten Hypodigmas dieser Lokalität, welche wegen einiger Ungenauigkeiten vorheriger Beschreibungen notwendig geworden war, wird eine emendierte Diagnose der Art vorgelegt. Das untersuchte Material umfasst 12 Zähne (von P3 zu M3); die Wurzeln der anterioren Prämolaren in einem Unterkieferfragment werden zum ersten Mal erfasst. Einige zuvor nicht beschriebene Merkmale wurden nach der neuen Analyse des Materials identifiziert wie der P4 mit einem unverwechselbaren Hypoconid und Entoconid und das kleine Paraconid auf dem M1. Es wurde ein detaillierter Vergleich mit anderen Cercamoniines vorgenommen. Die Körpermasse von A. roselli (von 650 bis 900g) wurde ebenfalls kalkuliert.
Das Vorhandensein eines winzigen Paraconids auf dem M1 ist das verlässlichste Kriterium diesen von M2 zu unterscheiden. Diese Annahme wird unterstützt durch die komplette Abwesenheit eines Paraconids auf vier M2 aus Mandibelfragmenten. Die Länge des Trigonids scheint weniger geeignet zur Unterscheidung von M1 und M2 zu sein, da die Variabilität innerhalb dieser Art sehr groß ist. Zusammenfassend aktualisiert diese Untersuchung das Wissen über die Zahnanatomie von A. roselli und zeigt, dass es sich als valides Taxon klar von anderen Cercamoniinen unterschieden lässt.
Schlüsselwörter: Adapiformes; Notharctidae; Cercamoniinae; Paleogen; Spanien
Translator: Eva Gebauer
Arabic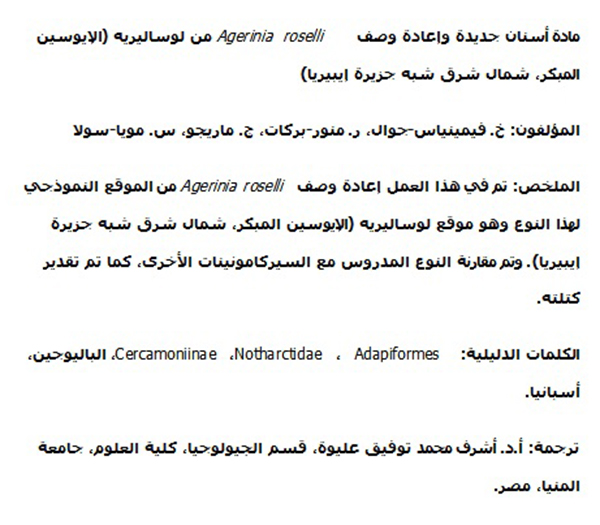 Translator: Ashraf M.T. Elewa