Towards the diversity of non-biting midges of the tribe Tanytarsini from Eocene Baltic amber (Diptera: Chironomidae)
Plain Language Abstract
The Chironomidae (non-biting midges) is the largest and most diverse family of aquatic dipterans, also known to be abundant in Eocene ambers. However, it has up till now been insufficiently studied from the fossil record for both the systematics and species diversity. The Tanytarsini, minute midges known for their mass swarming, are a tribe within the Chironomidae and a species-rich group represented by ca. 650 extant species described worldwide and 190 - in Europe. In contrast, the so far published data on Eocene Tanytarsini pertain to 17 species, all described from Baltic amber (~40-45 Ma). Our work, based on tanytarsine inclusions in amber collected by C. and H.W. Hoffeins (entomologists from Hamburg), reveals a relatively high diversity: 12 species of seven genera, including three new species. Rheotanytarsus hoffeinsorum, Tanytarsus crocota and Stempellinella fibra are new Eocene tanytarsines displaying unique characters important for both systematics and understanding phylogenetic relations in the tribe and in the family. An identification key to the adult males of all genera (8) and species (20) of the tribe Tanytarsini recorded in Eocene Baltic amber is also provided.
Resumen en Español
Hacia la diversidad de quironómidos de la tribu Tanytarsini en el ámbar eoceno del Báltico (Diptera: Chironomidae)
Este trabajo es un estudio sistemático de los quironómidos (Chironomidae) de la tribu Tanytarsini que se encuentran en ámbar del Báltico (Golfo de Gdansk, ~ 40-45 Ma) recogidos por C. y H.W. Hoffeins, Hamburgo, Alemania. Dada la rareza de las especies/especímenes de Tanytarsini registrados hasta ahora en ámbar del Eoceno de la región del Báltico, conocida la tribu en este ámbar a partir de 17 especies en ocho géneros, la colección Hoffeins se distingue por su diversidad relativamente alta. Entre los especímenes recolectados de quironómidos, se encontraron 39 machos adultos de Tanytarsini, incluyendo 28 individuos estudiados en detalle. Pertenecen a 12 especies de siete géneros distintos, incluyendo tres nuevas especies. Rheotanytarsus hoffeinsorum sp. nov. es la segunda especie del Eoceno conocida del género. Tanytarsus crocota sp. nov. y Stempellinella fibra sp. nov. muestran conjuntos de caracteres singulares para estos géneros. Se aportan las diagnosis enmendadas de Archistempellina falcifera Giłka et Zakrzewska, 2013 y A. perkovskyi Giłka et Zakrzewska, 2014, hasta ahora conocidas por solo un individuo, y también la variabilidad morfológica de especies seleccionadas del género Tanytarsus van der Wulp de 1874 de edad Eoceno. Como síntesis de nuestro trabajo y como resultado de las comparaciones realizadas con el fin de definir los taxones estudiados, se proporciona una clave para la identificación de todos los géneros de la tribu Tanytarsini (8), y de las especies (20), del Eoceno, proporcionados por el ámbar del Báltico.
Palabras clave: ámbar del Báltico; Chironomidae; Tanytarsini; sistemática; nuevas especies; clave de clasificación
Traducción: Enrique Peñalver (Sociedad Española de Paleontología)
Résumé en Français
Vers la diversité des chironomes de la tribu des Tanytarsini (Diptera : Chironomidae) de l'Éocène de l'ambre de la Baltique
Ce travail est une étude de la systématique des chironomes (Chironomidae) de la tribu des Tanytarsini trouvés dans l'ambre de la Baltique (baie de Gdańsk, ~40-45 Ma) collectés par C. et H.W. Hoffeins, Hambourg, Allemagne. Étant donné la rareté des spécimens et des espèces de Tanytarsini observés jusqu'à présent dans les ambres éocènes de la région de la Baltique (17 espèces connues dans huit genres), la collection Hoffeins se distingue par sa diversité relativement élevée. Parmi les spécimens de chironomidés collectés, 39 adultes mâles de Tanytarsini ont été trouvés, dont 28 individus étudiés en détail. Ils appartiennent à 12 espèces de sept genres, dont trois nouvelles espèces. Rheotanytarsus hoffeinsorum sp. nov. est la seconde espèce éocène connue pour ce genre. Tanytarsus crocota sp. nov. et Stempellinella fibra sp. nov. montrent des combinaisons de caractères uniques dans ces genres. Des diagnoses émendées d'Archistempellina falcifera Giłka et Zakrzewska, 2013, et A. perkovskyi Giłka et Zakrzewska, 2014, espèces connues jusqu'à présent par un seul individu chacune, et la variabilité morphologique chez une sélection d'espèces éocènes du genre Tanytarsus van der Wulp, 1874, sont également présentées. En synthèse de notre travail et des comparaisons effectuées pour définir les taxons étudiés, une clé d'identification de tous les genres (8) et espèces (20) éocènes de Tanytarsini connus dans l'ambre de la Baltique est fournie.
Mots-clés : ambre de la Baltique ; Chironomidae ; Tanytarsini ; systématique ; nouvelle espèce ; clé
Translator: Antoine Souron
Deutsche Zusammenfassung
Neue Erkenntnisse zur Diversität der Schwarzmücken vom Stamm Tanytarsini aus dem eozänen Baltischen Bernstein (Diptera: Chironomidae)
Diese Arbeit präsentiert eine systematische Untersuchung von Schwarzmücken (Chironomidae) des Stammes Tanytarsini, die im Baltischen Bernstein (Golf von Gdańsk, ~40-45 Ma) gefunden wurden und von C. und H.W. Hoffeins aus Hamburg, Deutschland, gesammelt wurden. Angesichts der bisher raren Funde und Arten von Tanytarsini aus den eozänen Bernsteinen des Baltikums – bisher sind 17 Arten in acht Gattungen bekannt - zeichnet sich die Hoffeins-Sammlung durch eine relativ hohe Diversität aus. Unter den gesammelten Chironomiden-Stücken, wurden 39 tanytarsine adulte Männchen gefunden, von denen 28 Individuen im Detail untersucht wurden. Sie gehören zu 12 Arten aus sieben Gattungen mit drei neuen Arten. Rheotanytarsus hoffeinsorum sp. nov. ist die zweite bekannte Art dieser Gattung aus dem Eozän. Tanytarsus crocota sp. nov. und Stempellinella fibra sp. nov. zeigen einen Satz von einzigartigen Merkmalen innerhalb dieser Gattungen. Verbesserte Diagnosen von Archistempellina falcifera Giłka und Zakrzewska, 2013 und A. perkovskyi Giłka and Zakrzewska, 2014, bisher nur bekannt durch einzelne Individuen und morphologische Variabilität von ausgewählten eozänen Arten der Gattung Tanytarsus van der Wulp, 1874, sind ebenfalls präsentiert. Als Synthese unserer Arbeit und der vorgenommenen Vergleiche die untersuchten Taxa zu definieren, wird ein Schlüssel zur Identifizierung aller aus dem Baltischen Bernstein bekannten eozänen tanytarsinen Gattungen (8) und Arten (20) vorgelegt.
Schlüsselwörter: Baltischer Bernstein; Chironomidae; Tanytarsini; Systematik; neue Art; Schlüssel
Translator: Eva Gebauer
Arabic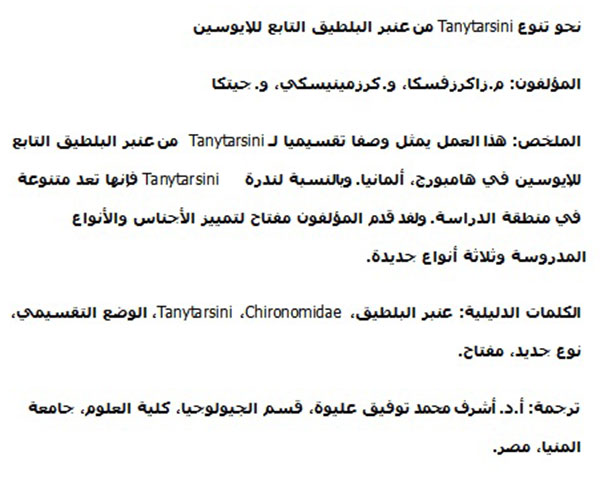 Translator: Ashraf M.T. Elewa
Schlüsselwörter: Baltischer Bernstein; Chironomidae; Tanytarsini; Systematik; neue Art; Schlüssel