New basal dinosauromorph records from the Dockum Group of Texas, USA
Plain Language Abstract
After several significant fossil discoveries, the dinosauromorphs of the Late Triassic Epoch (ca. 237-201 million years ago) have recently become one of the hot topics in vertebrate palaeontology. The dinosauromorph clade covers all dinosaurs (both avian and non-avian) and their sister groups, termed basal dinosauromorphs. The Dockum Group of Texas, USA, a thick terrestrial geological unit that is made of fluvial sediments, is one of the main areas where the Late Triassic dinosauromorphs were relatively abundant with high taxonomic diversity. This work introduces nine hitherto unpublished basal dinosauromorph specimens from the Dockum Group of Texas (from Randall and Garza counties). Most of these specimens are assigned to two species of an already known genus (Dromomeron romeri and Dromomeron gregorii), demonstrating their temporal range is wider than previously thought, and that they probably co-existed together without replacing each other during the Late Triassic. Two additional calf bone specimens display a strong resemblance to that of an Argentinean basal dinosauromorph (Marasuchus lilloensis), but around three times larger in size.
Resumen en Español
Nuevos registros de dinosauromorfos basales del Grupo Dockum de Tejas, USA
Los dinosauromorfos basales constituyen un componente importante de la diversidad de dinosauromorfos del Triásico tardío del Grupo Dockum. Este estudio presenta nueve elementos hasta ahora inéditos de las extremidades traseras de dinosauromorfos basales de los condados de Garza y Randall en Texas. La mayoría de estos especímenes consisten en fragmentos de fémur y tibia pertenecientes a Dromomeron, mientras que una fíbula completa y otra parcial tienen una morfología semejante a la que presenta Marasuchus lilloensis, pero con un tamaño mucho más grande, y se asignan a dinosauriformes indeterminados. El descubrimiento de tres especímenes de Dromomeron en la Formación Tecovas de Palo Duro Canyon es particularmente notable porque estos son los registros más antiguos de Dromomeron romeri y Dromomeron gregorii, y el primer caso de solapamiento bioestratigráfico de los dos taxones. El rango taxonómico ampliado de D. romeri desafía la propuesta que fue sugerida sobre la sustitución de D. gregorii en el cambio de fauna del Triásico tardío (Adamaniense-Revueltiense).
Palabras clave: Triásico tardío; Texas; Dockum; Dinosauromorpha; grupos basales; bioestratigrafía
Traducción: Enrique Peñalver (Sociedad Española de Paleontología)
Résumé en Français
Nouvelles occurrences de dinosauromorphes basaux du groupe de Dockum, Texas, USA
Les dinosauromorphes basaux constituent une composante importante de la diversité des dinosauromorphes du Trias récent de Dockum. Cette étude présente neuf éléments non publiés du membre postérieur de dinosauromorphes basaux provenant des comtés de Garza et Randall au Texas. La plupart de ces spécimens se composent de fragments de fémurs et de tibias attribués à Dromomeron, alors qu'un péroné complet et d'un péroné partiel montrent une morphologie ressemblant à celle de Marasuchus lilloensis, mais avec une taille plus importante, et sont attribués à des dinosauriformes indéterminés. La découverte de trois spécimens de Dromomeron dans la formation de Tecovas du canyon de Palo Duro est particulièrement remarquable car ce sont les occurrences de Dromomeron romeri et Dromomeron gregorii les plus basses stratigraphiquement, et le premier chevauchement biostratigraphique signalé pour ces deux taxons. La distribution taxinomique étendue de D. romeri remet en cause son supposé remplacement par D. gregorii lors du renouvellement faunique du Trias récent (Adamanien-Revueltien).
Mots-clés : Trias récent ; Texas ; Dockum ; Dinosauromorpha ; groupes basaux ; biostratigraphie
Translator: Antoine Souron
Deutsche Zusammenfassung
Neue Nachweise basaler Dinosauromorphen aus der Dockum Gruppe von Texas, USA
Die basalen Dinosauromorphen sind eine wichtige Komponente der spätriassischen Dockum Diversität. Diese Studie stellt neun bisher unveröffentlichte Hinterbein-Elemente von basalen Dinosauromorphen aus den Garza und Randall Counties in Texas vor. Die meisten dieser Stücke bestehen aus femoralen und tibialen Fragmenten die Dromomeron zugeschrieben werden, wohingegen eine komplette und eine partielle Fibula der Morphologie von Marasuchus lilloensis ähneln, jedoch größer sind und als Dinosauriformes indet. eingeordnet werden. Die Entdeckung von drei Dromomeron-Stücken in der Tecovas Formation des Palo Duro Canyons ist besonders bemerkenswert, da es sich hierbei um das unterste Auftreten von Dromomeron romeri und Dromomeron gregorii handelt, sowie um den ersten Nachweis einer biostratigraphischen Überlappung dieser beiden Taxa. Die erweiterte taxonomische Reichweite von D. romeri stellt seinen vorgeschlagenen Ersatz für D. gregorii im spättriassischen (Adamanium-Revueltianium) Faunen-Austausch in Frage.
Schlüsselwörter: Späte Trias; Texas; Dockum; Dinosauromorpha; basale Gruppen; Biostratigraphie
Translator: Eva Gebauer
Arabic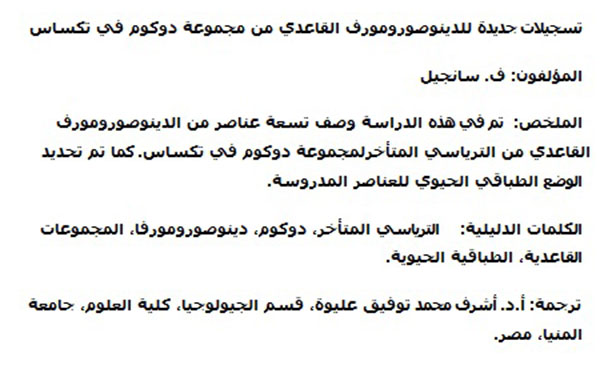 Translator: Ashraf M.T. Elewa