A fossil dung midge in Mexican amber (Diptera: Scatopsidae)
Plain Language Abstract
The dung midges is a group of small saprophagous flies. Their fossil record is, compared to many other fly families, rather poor. Two of the currently established subfamilies are still unknown as fossils. Here we describe the first fossil of one of them, the Psectrosciarinae, in Miocene Mexican amber. It belongs to a new species in a modern genus, still present in the area.
Resumen en Español
Nuevos Anthribidae (Coleoptera: Curculionoidea) en ámbares de la República Dominicana y México
Se describen dieciocho nuevas especies de la familia Anthribidae en ámbares de la República Dominicana y México. Estos incluyen: Euparius elongatus sp. nov. en la tribu Cratoparini, Toxonotus comatus sp. nov. en la tribu Platystomini, Eugonus adustus sp. nov. y E. angustus sp. nov. en la tribu Eugonini, Piesocorynus unibullus sp. nov., P. bibullus sp. nov., P. tribullus sp. nov., P. brevitectus sp. nov., P. hamus sp. nov., P. elongatus sp. nov., P. parategus sp. nov., P. villosus sp. nov., P. parvocorpus sp. nov., Piezobarra brevisensoriata sp. nov. en la tribu Piesocorynini, Choragus exsertus sp. nov. en la tribu Choragini, Neoxenus globosus sp. nov., Cyptoxenus buchelus sp. nov. y C. ovatus sp. nov. en la tribu Valenfriesiini. Estos son los primeros registros de los géneros Eugonus, Piezobarra, Choragus, Neoxenus y Cyptoxenus en la fauna de La Española. Los géneros Toxonotus, Eugonus, Piesocorynus, Piezobarra, Neoxenus y Cyptoxenus son reconocidos en el registro fósil por primera vez. Estos nuevos taxones refuerzan la alta diversidad ya conocida de Curculionoidea en ámbar del Nuevo Mundo.
Palabras clave: Anthribinae; Choraginae; nuevas especies; fósiles; Mioceno
Traducción: Enrique Peñalver (Sociedad Española de Paleontología)
Résumé en Français
Un Scatopsidae fossile de l'ambre Mexicain (Diptera)
Le premier représentant fossile des Psectrosciarinae, Psectrosciara fossilis sp. nov., est décrit et figué de l'ambre mexicain de Totolapa, daté de l'Oligocène Supérieur au Miocène moyen. Il appartient au groupe brunnescens sensu Cook, mais diffère de tous les taxons modernes de ce groupe par la présence de deux lobes foliacés à l'extrémité des gonostyles, la base de M1 clairement visible et des antennes avec dix segments.
Mots clés. Insecta, Diptera, sp. nov., ambre, Miocène, Mexique
Translator: Author
Deutsche Zusammenfassung
Eine fossile Dung-Mücke aus dem Mexikanischen Bernstein (Diptera: Scatopsidae)
Es wird der erste fosslile Vertreter der Psectrosciarinae, Psectrosciara fossilis sp. nov. aus dem spätoligozänen bis mittelmiozänen Mexikanischen Bernstein von Totolapa beschrieben und abgebildet. Er gehört zu der brunnescens-Gruppe sensu Cook, unterscheidet sich aber von allen modernen Vertretern durch das Vorhandensein von zwei blattartigen Lappen am Ende der Gonostylen, dadurch, dass die Basis des M1 klar sichtbar ist und durch 10 segmentierte Antennen.
Schlüsselwörter: Insecta; Diptera; Scatopsidae; Psectrosciarinae; erster fossiler Nachweis; Mexikanischer Bernstein
Translator: Eva Gebauer
Arabic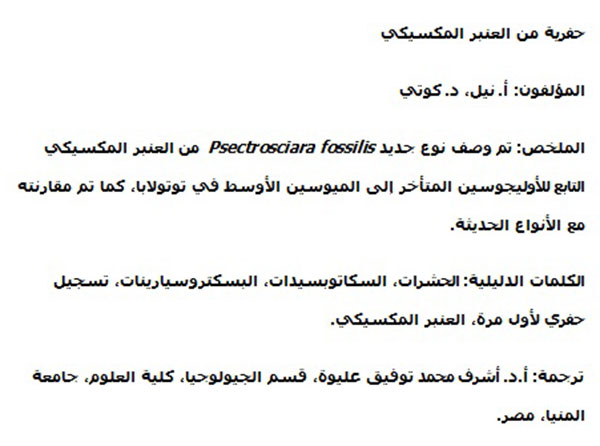 Translator: Ashraf M.T. Elewa