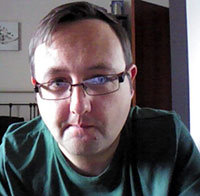 Mark T. Young. School of GeoSciences, The King's Buildings, University of Edinburgh, James Hutton Road, Edinburgh, EH9 3FE.
Dr Mark Young is an evolutionary biologist and palaeontologist at the University of Edinburgh, UK. His primary research is focused on the taxonomy, phylogeny and evolution of marine crocodylomorphs, in particular Thalattosuchia – the group which includes dolphin-like crocodylian relatives. He completed his MSc degree in Advanced Methods in Taxonomy and Biodiversity at Imperial College London, UK then his PhD at the University of Bristol, UK (both in conjunction with the Natural History Museum London).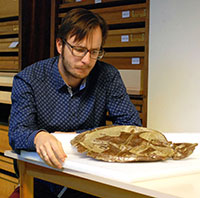 Márton Rabi. Department of Earth Sciences, University of Turin, Via Valperga Caluso 35, 10125, Turin, Italy. (2) Institut für Geowissenschaften, University of Tübingen, Hölderlinstraße 12, 72074 Tübingen, Germany.
Márton Rabi obtained his Master degree in geosciences in Budapest, Hungary and his PhD at the University of Tübingen in Germany. His general research interest lies in deep time interactions between environment and diversification in vertebrates. His focus involves the study of various macroevolutionary aspects of extinct Mesozoic and Cenozoic turtles and crocodilians, including morphological transitions, paleoecology and biogeographic history. He is currently a Marie Curie-Train2Move postdoctoral fellow at the Earth Sciences department of the University of Turin in Italy and he is investigating potential environmental drivers of Cretaceous marine turtle evolution.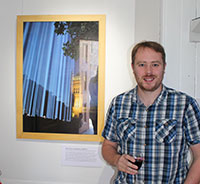 Mark A. Bell. Department of Earth Sciences, Kathleen-Lonsdale Building, University College London, Gower Street, London, WCIE 6BT.
Mark Bell graduated from the University of Glasgow with a degree in Earth Sciences and then went on to complete a PhD from the University of Bristol which focused on studying the patterns and drivers of body-size evolution of trilobites. He is currently an Assistant Statistician for the Scottish Government while continuing research as an honorary researcher at University College London. His primary research focuses on studying macroevolutionary patterns of body-size and diversity throughout the geological record. Currently, he contributes a regular column in the Palaeontological Association Newsletter called 'R for palaeontologists', aimed at teaching the basics of statistical programming with an emphasis on palaeontological techniques.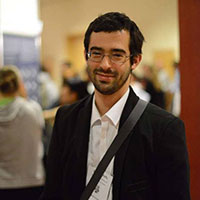 Davide Foffa. School of GeoSciences, The King's Buildings, University of Edinburgh, James Hutton Road, Edinburgh, EH9 3FE.
Davide Foffa completed his BSc in Geosciences at the University of Pisa (Italy) and his MSc in Palaeobiology at the University of Bristol (UK). He is currently a Ph.D. candidate under the supervision of Dr. Stephen L. Brusatte, Dr. Mark T. Young, Dr. Kyle G. Dexter. His research interests are the taxonomy, ecology and biomechanics of Mesozoic marine reptiles, but also late Triassic microvertebrate faunas. His PhD project focuses on macroevolution, niche partitioning and form-function of synchronous ichthyosaurs, plesiosaurs and thalattosuchians from the Middle-Late Jurassic formations of UK.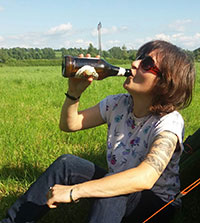 Lorna Steel. Department of Earth Sciences, Natural History Museum, Cromwell Road, London, SW7 5BD, United Kingdom.
Lorna Steel obtained her MSc in Vertebrate Palaeontology at University College London (UK) and her PhD at University of Portsmouth (UK). She is currently Senior Curator in the Fossil Reptiles Section of the Department of Earth Sciences, Natural History Museum. She has collection management responsibility for the fossil bird, crocodylomorph and pterosaur collections, and has a research background in these taxa and in bone palaeohistology. She also undertakes field-based studies of cave systems and their bone-bearing deposits.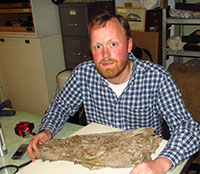 Sven Sachs. (1) Naturkundemuseum Bielefeld, Abteilung Geowissenschaften, Adenauerplatz 2, 33602 Bielefeld, Germany. (2) Im Hof 9, 51766 Engelskirchen, Germany.
Sven is an associate researcher at the Naturkundemuseum in Bielefeld, Germany. His research focuses on the anatomy and evolution of plesiosaurs and other marine reptiles of the Mesozoic.
Current projects include reassessments of plesiosaur specimens from the Lower and Middle Jurassic of Germany and Luxembourg, elasmosaurid plesiosaurs from the Western Interior Seaway (Late Cretaceous) of North America and pliosauromorph plesiosaurs from the Late Cretaceous of the USA and Germany. Furthermore Sven is involved in a study on the plesiosaurian diversity and palaeoeology in the German Wealden. He lives in Engelskirchen near Cologne, Germany.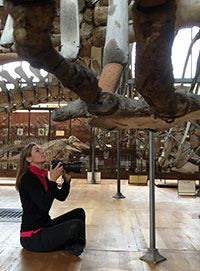 Karin Peyer. Département Histoire de la Terre, Muséum National d'Histoire Naturelle, Paris, 8 rue Buffon, CP 38, F-75005, France.
Karin Peyer is a researcher at the Muséum National d'Histoire Naturelle in Paris and Scientific Research Advisor to the "Galerie de Paléontologie et d'Anatomie comparée" at the MNHN in Paris.
She obtained her MSc at the University of North Carolina in Chapel Hill (US) and received her PhD from the MNHN in Paris (F). Her research interests include Late Triassic archosaurs, Middle-Late Jurassic theropod dinosaurs and thalattosuchians from Southern France (F), anatomy and functional morphology.