Biting midges (Diptera: Ceratopogonidae) in Fushun amber reveal further biotic links between Asia and Europe during the Eocene
Plain Language Abstract
Three new species of biting midges in Eocene Fushun amber from China are described and turn out to have their closest relatives in European Baltic amber. This not only enlarges their distribution range from Europe to Asia but also strengthens the hypothesis that dispersal between both regions took place even though they were separated by the Turgai Strait during the time of formation of the amber deposits. In addition, the fossils supply further evidence for the age determination of Baltic amber, which is still a matter of debate.
Resumen en Español
Los ceratopogónidos (Diptera: Ceratopogonidae) presentes en el ámbar de Fushun revelan más vínculos bióticos entre Asia y Europa durante el Eoceno
La investigación de fósiles en ámbar de Fushun, del Eoceno inferior de China, sigue demostrando su importancia para conocer la diversidad de insectos eocenos euroasiáticos y su distribución. Se describen tres nuevas especies de ceratopogónidos depredadores en los géneros fósiles Mantohelea y Gedanohelea. Mantohelea sinica n. sp., Gedanohelea fushunensis n. sp. y Gedanohelea liaoningensis n. sp.tienen sus parientes más cercanos en el ámbar europeo del Eoceno del Báltico. Esto no solo amplía el rango de distribución de géneros de Europa a Asia, sino que también refuerza la hipótesis de que la dispersión entre las dos regiones se llevó a cabo a pesar de que las masas de tierra euroasiáticas quedaron separadas por el estrecho de Turgai durante el Eoceno. Además, los fósiles suministran evidencias de que el ámbar Báltico tiene una edad Eoceno inferior.
Palabras clave: nuevas especies; ámbar de Fushun; ámbar del Báltico; Eoceno; Ceratopogonidae
Traducción: Enrique Peñalver (Sociedad Española de Paleontología)
Résumé en Français
Des brûlots (Diptera : Ceratopogonidae) dans l'ambre de Fushun révèlent de nouveaux liens biotiques entre l'Asie et l'Europe pendant l'Éocène
Les recherches sur les fossiles de l'Éocène inférieur de l'ambre de Fushun, Chine, continuent à être d'une importance majeure pour comprendre la diversité et la distribution des insectes éocènes européens et asiatiques. Trois nouvelles espèces de brûlots prédateurs des genres fossiles Mantohelea et Gedanohelea sont décrites : Mantohelea sinica n. sp., Gedanohelea fushunensis n. sp., et Gedanohelea liaoningensis n. sp. Les espèces les plus proches de ces nouveaux taxons proviennent de l'ambre éocène de la Baltique. Cela étend la distribution de ces genres de l'Europe à l'Asie et renforce également l'hypothèse selon laquelle une dispersion entre les deux régions a eu lieu même si les masses continentales d'Europe et d'Asie étaient séparées par le détroit de Tourgaï pendant l'Éocène. De plus, ces fossiles suggèrent un âge éocène inférieur pour l'ambre de la Baltique.
Mots-clés : nouvelle espèce ; ambre de Fushun ; ambre de la Baltique ; Éocène ; Ceratopogonidae
Translator: Antoine Souron
Deutsche Zusammenfassung
Gnitzen (Diptera: Ceratopogonidae) im Fushun Bernstein liefern weitere Hinweise auf einen Faunenaustausch zwischen Asien und Europa im Eozän
Die Untersuchung von Fossilien aus Fushun Bernstein des Unteren Eozäns Chinas erweist sich immer wieder als überaus bedeutend für die Bewertung der Diversität und Verbreitung Euro-Asiatischer Insekten im Eozän. Drei neue Arten prädatorischer Gnitzen der fossilen Gattungen Mantohelea und Gedanohelea werden beschrieben. Mantohelea sinica n. sp., Gedanohelea fushunensis n. sp. und Gedanohelea liaoningensis n. sp. haben ihre nächsten Verwandten im Baltischen Bernstein aus dem Eozän Europas. Die Funde vergrößern nicht nur das Verbreitungsgebiet dieser Gattungen von Europa nach Asien, sondern stützen auch die Hypothese, dass ein Faunenaustausch zwischen beiden Regionen stattfand, obwohl Europa und Asien zu dieser Zeit durch die Turgai Straße getrennt waren. Des Weiteren liefern die Fossilien Hinweise auf eine Entstehung des Baltischen Bernsteins im frühen Eozän.
Schlüsselwörter: neue Arten; Fushun Bernstein; Baltischer Bernstein; Eozän; Ceratopogonidae
Translator: Authors
Arabic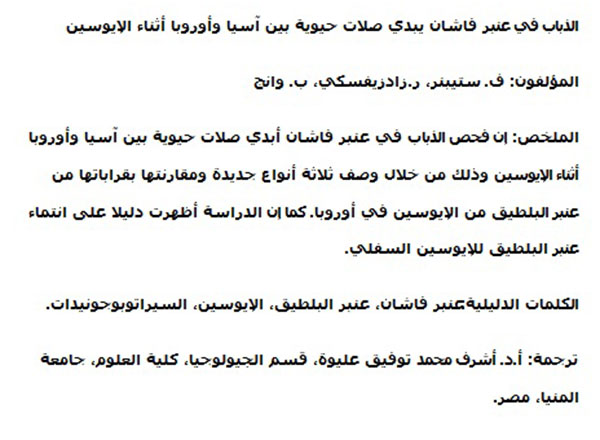 Translator: Ashraf M.T. Elewa