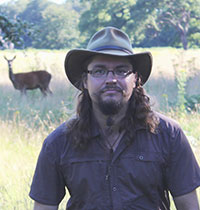 Juha Saarinen. Department of Geosciences and Geography, University of Helsinki, P.O. Box 64, Gustaf Hällströmin katu 2a, 00014 Helsinki, Finland. This email address is being protected from spambots. You need JavaScript enabled to view it. and Department of Earth Sciences, Natural History Museum, Cromwell Road, London SW7 5BD, UK.
Juha Saarinen is a palaeontologist studying palaeoecology and ecometrics of large herbivorous terrestrial mammals. He received his PhD degree in the University of Helsinki, Finland, in December 2014. In his PhD thesis he examined the evolution of body size in various terrestrial mammal lineages throughout the Cenozoic, as well as variation in diet and body size of Pleistocene European ungulates in relation to environmental conditions. As a part of his work, Juha Saarinen has developed a new palaeodietary analysis method for Proboscidea, based on mesowear of molar teeth. Palaeodietary analyses of ungulates and proboscideans, and their comparison with palaeoenvironmental proxies, mammal community structures and morphological evolution, are the focus of his current research. Juha Saarinen is also the body size data coordinator of the NOW database (http://www.helsinki.fi/science/now).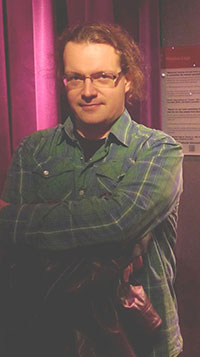 Jussi Eronen. Department of Geosciences and Geography, University of Helsinki, P.O. Box 64, Gustaf Hällströmin katu 2a, 00014 Helsinki, Finland. This email address is being protected from spambots. You need JavaScript enabled to view it.
Jussi Eronen is a researcher at the University of Helsinki and at BIOS - an independent research unit, located in Helsinki. He received his PhD in 2006. He aims his research so that the results of the work are relevant for ongoing discussion about the development of and changes in environments and ecosystems, and to the priorities of society. He is a founding member of BIOS (http://bios.fi/), and in the core team of the Scientific Consensus on Maintaining Humanity's Life Support Systems in the 21st Century (http://consensusforaction.stanford.edu/). In general his research agenda is directed towards understanding ecosystem dynamics and climate through time, including present and future. He is Chair of the iCCB (integrative Climate Change Biology, together with Jason Head, (see http://www.iccbio.org/), part of the NECLIME and ETE programmes/communities and an Associate Coordinator for the NOW database (http://www.helsinki.fi/science/now).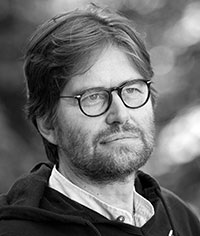 Mikael Fortelius. Department of Geosciences and Geography, University of Helsinki, P.O. Box 64, Gustaf Hällströmin katu 2a, 00014 Helsinki, Finland. This email address is being protected from spambots. You need JavaScript enabled to view it.
Mikael Fortelius is a palaeontologist with special interest in the relationships between climate, vegetation and herbivores, especially the plant-eating mammals of the last 25 million years. He has a long-standing interest in how mammalian teeth work, grow, and evolve, and how modelling functional traits can help us understand the past, present, and future states of the world. Mikael Fortelius is Professor of Evolutionary Palaeontology in the Department of Geoscience and Geography at the University of Helsinki and Kristine Bonnevie Professor at the University of Oslo, currently also Alexander von Humboldt Research Awardee at the Museum of Natural History, Berlin. For the last 20 years he has been engaged in developing and coordinating the NOW database of fossil mammals.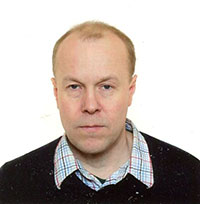 Heikki Seppä. Department of Geosciences and Geography, University of Helsinki, P.O. Box 64, Gustaf Hällströmin katu 2a, 00014 Helsinki, Finland. This email address is being protected from spambots. You need JavaScript enabled to view it.
Heikki Seppä is a palaeoclimatologist and palaeoecologist interested in Holocene and glacial climate change, theory and methods of quantitative climate reconstructions, and model-proxy comparisons in palaeoclimatology. He is also investigating the influence of past climate changes on species and ecosystems and the impact of early human populations on vegetation.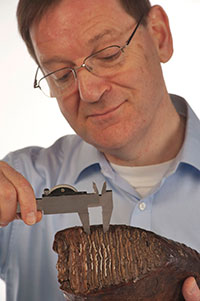 Adrian M. Lister. Department of Earth Sciences, Natural History Museum, Cromwell Road, London SW7 5BD, UK. This email address is being protected from spambots. You need JavaScript enabled to view it.
Adrian Lister is a Research Leader in the Department of Earth Sciences of the Natural History Museum in London. He obtained his BA and PhD in Zoology from the University of Cambridge, and from 1991 taught at University College London where he became Professor of Palaeobiology, before moving to the NHM in 2007. His research interests are in the evolution of mammals during the Quaternary ice ages – with special reference to large mammals such as elephants and deer. He has authored nearly 200 scientific papers and his two books on mammoths have sold over 60,000 copies in six languages. Other major research interests include the evolution of endemic island mammals, and the causes of megafaunal extinction at the end of the ice age. As well as his research on fossil mammals, Adrian Lister also studies the taxonomy of their living representatives, serving on the specialist panels of IUCN for both Asian elephants and deer, and has led expeditions to study living elephants in Nepal, India, Ghana and Borneo.