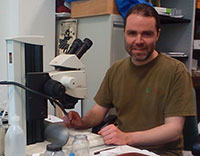 Viktor Hartung. Staatliches Museum für Naturkunde Karslruhe, Erbprinzenstrasse 13; D-76133 Karlsruhe, Germany. This email address is being protected from spambots. You need JavaScript enabled to view it.
Viktor Hartung, born 19.05.1980 in Taganrog, Russian Federation; studied biology at the Southern Federal University (Rostov-on-Don, Russian federation) and Humboldt University (Berlin, Germany) with focus on zoology, genetics and paleontology. At the moment completing the PhD in biology at the Humboldt University and working as a trainee at the Natural History Museum in Karlsruhe, Germany.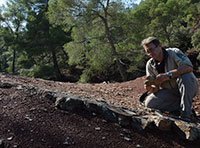 Romain Garrouste. Institut de Systématique, Évolution, Biodiversité, ISYEB - UMR 7205 - CNRS, MNHN, UPMC, EPHE, Muséum national d'Histoire naturelle, Sorbonne Universités, 57 rue Cuvier, CP 50, Entomologie, F-75005, Paris, France. This email address is being protected from spambots. You need JavaScript enabled to view it.
Romain Garrouste. Dr. at the MNHN, Paris. Evolutionary biologist, ecologist and taxonomist, RG is entomologist and palaeoentomologist, involved in several research programs including biodiversity exploration and fossil prospecting in France, Arctic (Svalbard), Neotropics (mainly French Guyana), Madagascar, Pacific (Clipperton and New-Caledonia, Australia), inventor and co-inventor of new fossil outcrops in France, Svalbard, Madagascar and New-Caledonia, and science imaging expert.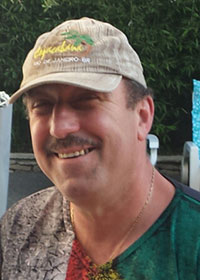 Jean-Marc Pouillon. 179 rue des Plattieres, F-38300 Nivolas Vermelle, France. This email address is being protected from spambots. You need JavaScript enabled to view it.
Jean-Marc Pouillon, Geologist(Nancy /France, President of Rhinopolis Association. 13 years Prospector for COGEMA for research of uranium deposit under sedimentary cover in Morvan area and in Permian South of France (Detroit of Rodez Permian basin). 2 years like Director technic for an Granit Company in Corrèze. 2 years like Responsible for extraction of feldspathic sandstone for glass industry for Harwane group. Sales manager for an international Diamant tools company from 23 years.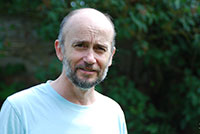 André Nel. Institut de Systématique, Évolution, Biodiversité, ISYEB - UMR 7205 - CNRS, MNHN, UPMC, EPHE, Muséum national d'Histoire naturelle, Sorbonne Universités, 57 rue Cuvier, CP 50, Entomologie, F-75005, Paris, France. This email address is being protected from spambots. You need JavaScript enabled to view it. Corresponding author
André Nel, Dr, Pr. At the MNHN, Paris. Specialist in fossil insects. Ca. 550 publications since 1983.