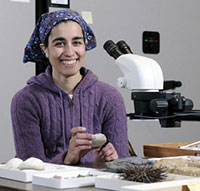 Talia S. Karim. University of Colorado Museum of Natural History, Boulder, Colorado 80503, USA. This email address is being protected from spambots. You need JavaScript enabled to view it.
Talia Karim is the Collection Manager for Invertebrate Paleontology and Paleobotany at the University of Colorado Museum of Natural History. She is also an instructor for the Museum and Field Studies graduate program at the University of Colorado. Talia received a B.S. in Geology and a B.A. in Classical Culture from the University of Oklahoma in 2001. She attended Oxford University on a Marshall Scholarship and earned an MSc in Earth Sciences in 2004. She went on to complete a PhD at the University of Iowa in 2009. Talia's main area of research is trilobite systematics and biostratigraphy, focused mainly on the Ordovician of Laurentia. She is also interested in museum collections care and management, digitization of collections, and cyber infrastructure as related to sharing museum data.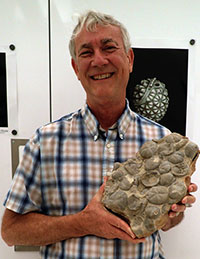 Roger Burkhalter. Sam Noble Museum, University of Oklahoma, 2401 Chautauqua Avenue, Norman, Oklahoma 73072, USA. This email address is being protected from spambots. You need JavaScript enabled to view it.
Roger Burkhalter is Collections Manager in the Department of Invertebrate Paleontology at the Sam Noble Museum. He attended the University of Oklahoma before receiving a B.S. in Geology at the University of Maryland and graduate coursework at Stanford. He has been identifying and digitizing specimens in the collections for the last eighteen years. His main interests are museum database management, digital imaging, museum collections care and management, and the digitization of collections.

Úna C. Farrell. Department of Geological Sciences, Stanford University, 450 Serra Mall, Stanford, California 94305, USA. This email address is being protected from spambots. You need JavaScript enabled to view it.
Una Farrell is a lab and data manager for the Historical Geobiology research group at Stanford University. Prior to that she was the Invertebrate Paleontology Collection Manager at the University of Kansas Biodiversity Institute. She received a B.A. in Geology from Trinity College Dublin and a PhD from Yale University, where she worked on the exceptional preservation of fossils in pyrite. Currently, her primary interests are in database design and management, digitization of paleontological and geological samples, and data accessibility.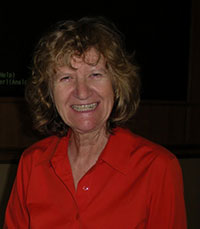 Ann Molineux. Non-vertebrate Paleontology Lab, University of Texas, 10100 Burnet Road, Austin, Texas 78758, USA. This email address is being protected from spambots. You need JavaScript enabled to view it.
Ann Molineux is the Curator and Collections manager of the Non-vertebrate Paleontology Collections (NPL) at the Jackson School of Geosciences, The University of Texas at Austin (UT). She gained her BA and MA degrees at Cambridge University, her PhD in Geology, specialty Paleontology, at UT, with major focus on the paleoenvironment and paleoecology in the later Paleozoic. Current research projects are linked to specimens within the collections; these projects are concerned with reef forming organisms such as corals, sponges and rudist bivalves. Her recent focus has been the development of digital access to large collections and management of a team focused on the upgrading of the NPL collections. These improvements, while aimed at long term archival conservation of specimens and related data, are expanding research and public access to these resources in a local and shared environment. She is active in various NSF sponsored digital programs and several scholarly organizations.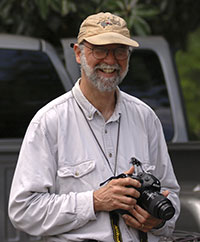 Gil Nelson. Department of Biological Sciences, Florida State University, Tallahassee, Florida 32303, USA. This email address is being protected from spambots. You need JavaScript enabled to view it.
Gil Nelson is Assistant Professor in Research and Courtesy Professor in Biology at Florida State University. He also holds a Beadel Fellowship in Botany at Tall Timbers Research Station and Land Conservancy. Gil specializes in research and implementation of biodiversity specimen digitization and data mobilization for Integrated Digitized Biocollections (iDigBio), the U.S. National Science Foundation's national coordinating center for the Advancing Digitization of Biodiversity Collections program. His botanical research emphases include biogeography of pteridophytes in the southeastern United States and systematics of temperate and tropical trees native to eastern North America.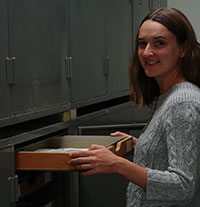 Jessica Utrup. Yale University, Peabody Museum of Natural History, Division of Invertebrate Paleontology, 170 Whitney Avenue, PO Box 208118, New Haven, Connecticut 06520, USA. This email address is being protected from spambots. You need JavaScript enabled to view it.
Jessica Utrup is a museum assistant in the Division of Invertebrate Paleontology at the Yale Peabody Museum of Natural History. She has been identifying and digitizing specimens in this division for the last ten years. She completed coursework towards a MSc in Paleontology at the University of Cincinnati and holds an MLIS from the University of Kentucky.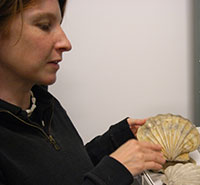 Susan H. Butts. Yale University, Peabody Museum of Natural History, Division of Invertebrate Paleontology, 170 Whitney Avenue, PO Box 208118, New Haven, Connecticut 06520, USA. This email address is being protected from spambots. You need JavaScript enabled to view it.
Susan Butts is the Senior Collections Manager for Invertebrate Paleontology at the Yale Peabody Museum and the Executive Editor for the Bulletin of the Peabody Museum.
She holds a B.A. in Geoscience from Hobart and William Smith Colleges, a Ph.D. in Geological Science, and was a Postdoctoral Fellow at Yale University (Geology and Geophysics and Yale Peabody Museum). Her scientific research focuses on taphonomy and taphonomic bias and using brachiopod paleoecology to interpret climate change. She is involved with national digitization efforts supported by the NSF ADBC program, supporting cyber infrastructure and exchange in the geological and paleontological community, and increasing public awareness of museum collections.