Condylura (Mammalia, Talpidae) reloaded: New insights about the fossil representatives of the genus
Plain Language Abstract
The star nosed mole, Condylura cristata, possesses a unique mixture of apomorphic and plesiomorphic characters such as the star-like appendages surrounding the nostrils and a forelimb arm bone with slight adaptation to digging. Despite the presence of an abundant literature about the life history of the extant star nosed mole, very little is known about the extinct species belonging to the genus. In this survey we review the fossil record of Condylura in order to provide new insights about the systematics, palaeoecology and palaeobiogeography of this genus. Furthermore, we re-evaluate a fossil Condylura from the middle Miocene of Kazakhstan. The re-description of this specimen allows to hypothesize that evolutionary lineage of star nosed moles probably originated in Eurasia rather than in North America.
Resumen en Español
Condylura (Mammalia, Talpidae) revisitado: nuevas ideas sobre los representantes fósiles del género
El topo de nariz estrellada, Condylura cristata, ha sido profundamente investigado por diferentes autores debido a sus peculiaridades morfológicas y de comportamiento. Por el contrario, se sabe muy poco sobre las relaciones filogenéticas, evolución y diversidad de los miembros fósiles de este género. En el presente estudio se aportan nuevos conocimientos sobre los especímenes fósiles atribuidos a Condylura teniendo en cuenta aspectos sistemáticos, paleobiogeográficos y paleoecológicos. Además, proporcionamos una re-descripción de un Condylura fósil del Mioceno medio de Kazakstán. Confirmamos que el fósil kazajo pertenece al género Condylura, de acuerdo con las características morfológicas del húmero, y discutimos sus implicaciones y su impacto en el escenario filogenético y la ecología de este peculiar género de tálpido. Este espécimen representa el primer registro del género, lo que sugiere un origen eurasiático en lugar del escenario más comúnmente aceptado de un origen norteamericano. La presencia tanto de caracteres plesiomórficos como apomórficos en Condylura apoya firmemente la hipótesis de que este género podría ser considerado como un clado hermano de Talpinae.
Palabras clave: Talpidae, húmero, sistemática, Mioceno, paleobiogeografía, paleoecología
Traducción: Enrique Peñalver (Sociedad Española de Paleontología)
Résumé en Français
Révision des représentants fossiles du genre Condylura (Mammalia, Talpidae)
Le condylure étoilé, Condylura cristata, a été étudié en détail par différents auteurs en raison de ses particularités morphologiques et comportementales. En revanche, les relations phylogénétiques, l'évolution, et la diversité des membres fossiles de ce genre sont très peu connues. Nous présentons ici une révision des spécimens fossiles attribués à Condylura, en abordant les aspects systématiques, paléobiogéographiques, et paléoécologiques. De plus, nous redécrivons un fossile de Condylura du Miocène moyen du Kazakhstan. Nous confirmons que le fossile kazakh appartient au genre Condylura d'après des caractères morphologiques de l'humérus, et nous discutons les implications et l'impact sur le scénario phylogénétique et l'écologie de ce genre particulier de talpidé. Ce spécimen représente la plus ancienne occurrence de Condylura, suggérant ainsi une origine eurasiatique de ce genre plutôt qu'une origine nord-américaine (le scénario généralement accepté). La présence de caractères à la fois plésiomorphes et apomorphes chez Condylura soutient fortement l'hypothèse que ce genre pourrait être le groupe-frère des Talpinae.
Mots-clés : Talpidae ; humérus ; systématique ; Miocène ; paléobiogéographie ; paléoécologie
Translator: Antoine Souron
Deutsche Zusammenfassung
Condylura (Mammalia, Talpidae) neu aufgelegt: neue Erkenntnisse über die fossilen Vertreter der Gattung
Der Sternmull, Condylura cristata, wurde wegen seiner morphologischen Besonderheiten und wegen seines Verhaltens von verschiedenen Autoren eingehend untersucht. Demgegenüber ist sehr wenig über die phylogenetischen Beziehungen, Evolution und Diversität der fossilen Vertreter dieser Gattung bekannt. In der vorliegenden Untersuchung geben wir neue Einblicke in fossile Stücke die Condylura zugeschrieben werden unter Berücksichtigung systematischer, paläobiogeografischer und paläoökologischer Aspekte. Des Weiteren offerieren wir eine Neubeschreibung eines fossilen Condylura aus dem mittleren Miozän von Kasachstan. Wir bestätigen, dass das kasachische Fossil zur Gattung Condylura gehört, basierend auf morphologischen Merkmalen im Humerus, und wir diskutieren seine Auswirkungen und seinen Einfluss auf das phylogenetische Szenario und auf die Ökologie dieser bestimmten Maulwurfsgattung. Dieses Stück stellt den ersten Nachweis dieser Gattung dar und legt somit einen eurasischen Ursprung nahe, entgegen des allgemein akzeptierten Szenarios eines nordamerikanischen Ursprungs. Das Vorkommen von sowohl plesiomorphen als auch apomorphen Merkmalen unterstützt die Hypothese, dass diese Gattung als Schwestertaxon der Klade Talpidae angesehen werden könnte.
Schlüsselwörter: Talpidae, Humerus, Systematik, Miozän, Paläobiogeographie, Paläoökologie
Translator: Eva Gebauer
Arabic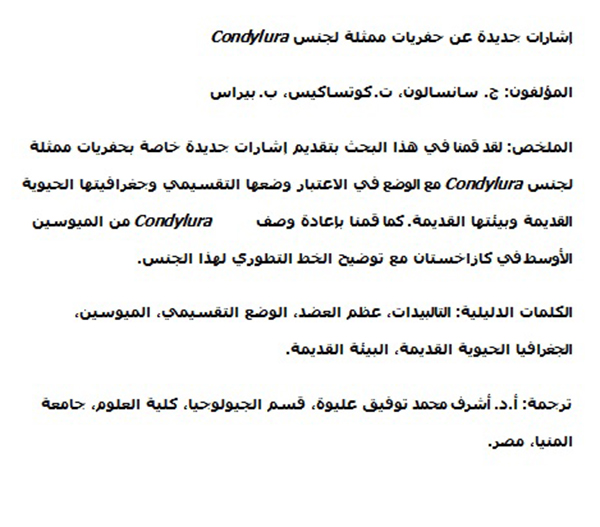 Translator: Ashraf M.T. Elewa