Three new species of the genus Tanidromites (Decapoda: Brachyura: Tanidromitidae) from the Late Jurassic (Oxfordian) of Poland
Plain Language Abstract
One of the biggest collections of Jurassic crabs in the world (about 7,000 specimens) is situated in Natural History Museum of the Institute of Systematics and Evolution of Animals, Polish Academy of Sciences. Specimens come from the Upper Jurassic. The collection is only smaller than the collection in the Naturhistorisches Museum in Vienna. The specimens come from eight Upper Jurassic localities in the Polish Jura Chain. A great number of specimens allows us to identify more repetitive features, which are significant in distinguishing species and genera. These features are localized on the anterior part of the carapace.
Polish Abstrakt
Przedstawiciele rodzaju Tanidromites są bardzo często spotykani na późnojurajskich stanowiskach południowej Polski. Do tej pory na tych stanowiskach zostały odnotowane cztery gatunki znane wcześniej z literatury i jeden nowy. W tym artykule opisane są kolejne trzy nowe gatunki: T. longinosa, T. schweitzerae i, T. wysokaensis. Wyróżniono je na podstawie cech przedniej części karapaksu. Płaskie pole spoczynkowe oka było cechą charakterystyczna dla tego gatunku do czasu opisania gatunku T. alexandrae Starzyk, 2015. Tanidromites schweitzerae n. sp., opisany tutaj, jest drugim gatunkiem z głębokim polem spoczynkowym oka. U tego gatunku oko było chronione tylko przez brzeg podorbitalny, który wystaje poza brzeg nadorbitalny. Te nowe cechy rozszerzają charakterystykę rodzaju. Większa różnorodność mogła być związana ze zmianami środowiskowymi. W publikacji znajduje się klucz do oznaczania 14 gatunków należących do rodzaju Tanidromites.
Translation by author
Resumen en Español
Tres especies nuevas del género Tanidromites (Decapoda: Brachyura: Tanidromitidae) del Jurásico Tardío de Polonia
Los representantes de Tanidromites son braquiuros muy comunes en las localidades oxfordianas del sur de Polonia. Existen cuatro especies registradas en estas localidades conocidas previamente de la literatura y una nueva. Aquí se describen otras 3 especies nuevas: T. longinosa, T. schweitzerae y T. wysokaensis. Estas especies pueden distinguirse por caracteres repetitivos de la parte anterior del caparazón. El augenrest aplanado era un rasgo característico de este género antes de que T. alexandrae Starzyk, 2015 fuera descripto. Tanidromites schweitzerae n. sp., descripta aquí, es la segunda especie del género con un margen orbital elevado. Esta especie difiere de otras por poseer solamente el margen suborbital elevado. Estos caracteres nuevos expanden el patrón del género y lo hacen más variado, y pueden estar relacionados con cambios ambientales. Se provee una clave para todas las 14 especies de Tanidromites.
Palabras clave: Brachyura; Homolodromioidea; Tanidromitidae; especie nueva; Jurásico; augenrest
Traducción: Diana Elizabeth Fernández
Résumé en Français
text
Translator: Kenny J. Travouillon or Antoine Souron
Deutsche Zusammenfassung
Drei neue Arten der Gattung Tanidromites (Decapoda: Brachyura: Tanidromitidae) aus dem späten Jura (Oxfordium) von Polen
Vertreter von Tanidromites sind häufige Brachyura in Fundstellen aus dem Oxfordium von Südpolen. Es gab bis jetzt vier Arten aus der Literatur aus diesen Fundstellen und eine neue Art. Hier werden drei neue Arten beschrieben: T. longinosa, T. schweitzerae und T. wysokaensis. Diese Arten können durch repetitive Merkmale im anterioren Bereich des Panzers unterschieden werden. Ein flacher Augenrest war das charakteristische Merkmal bis T. alexandrae Starzyk, 2015 beschrieben wurde. Tanidromites schweitzerae n. sp., der hier beschrieben wird, ist die zweite Art dieser Gattung mit einem erhöhten Orbitalrand. Diese Art unterscheidet sich von anderen dadurch, dass nur der suborbitale Rand erhöht ist. Diese neuen Merkmale erweitern das Muster dieser Gattung und machen sie vielfältiger, was möglicherweise mit veränderten Umweltbedingungen zusammenhängt. Ein Schlüssel zu allen 14 Arten von Tanidromites wird zur Verfügung gestellt.
Schlüsselwörter: Brachyura; Homolodromioidea; Tanidromitidae; neue Art; Jura; Augenrest
Translator: Eva Gebauer
Arabic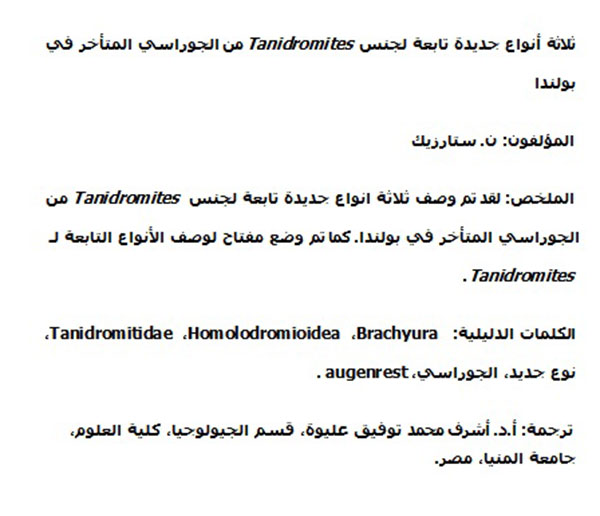 Translator: Ashraf M.T. Elewa