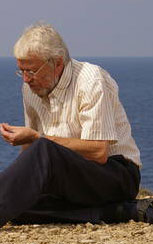 Arie W. Janssen. Naturalis Biodiversity Center, P.O. Box 9517, 2300 RA Leiden, The Netherlands.
From 1969 to early retirement in 1997 Arie W. Janssen used to be a curator of the Palaeontology Department (Cainozoic Mollusca) of the National Museum of Geology and Mineralogy (nowadays incorporated in Naturalis Biodiversity Center) at Leiden, The Netherlands). He was responsible for the large collections, amassed substantial material from all over Europe and published many papers on molluscan fauna's, mainly on those from the North Sea Basin. In 1997 he emigrated to Malta until return to the Netherlands in 2013. From c. 1980 onward he specialized on fossil holoplanktic mollusca, concentrating on systematics and biostratigraphy on a global scale. After retirement he remained an associate researcher of the Naturalis museum until the present day. Larger papers on pteripods concern assemblages from the Dominican Republic, Jamaica, SE France (Aquitaine Basin), Italy, the eastern Mediterranean, Malta, the Philippines and Iran, frequently in cooperation with other authors. He has been managing editor of Cainozoic Research, and its predecessors, ever since 1964 until now (with interruption when living in Malta).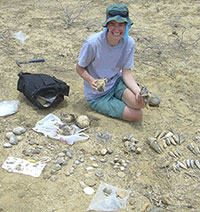 Jocelyn A. Sessa. Division of Paleontology, American Museum of Natural History, New York, NY, USA
Jocelyn A. Sessa is a paleobiologist at the American Museum of Natural History in New York City. Her research melds fossil and modern data to elucidate the response of mollusks to environmental stresses, such as climatic shifts and mass extinction events, across both space and time. She received her PhD in 2009 from Pennsylvania State University, and was a postdoctoral fellow in the Paleobiology Department of the Smithsonian National Museum of Natural History before arriving at AMNH in 2012. Mollusks are the primary focus of her research because they are well preserved and abundant in fossil and modern assemblages (and quite beautiful!). Additionally, the chemistry of mollusk shells records seasonal temperature variations, which she uses to reconstruct past climates. Jocelyn has tracked the response of mollusks to the Cretaceous-Paleogene mass extinction, to the Paleocene-Eocene Thermal Maximum, one of the best geological examples of a rapid global warming event, and to the evolution of oceanographic parameters in the Pleistocene.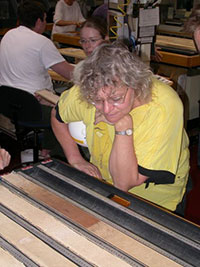 Ellen Thomas. Department of Geology and Geophysics, Yale University, New Haven CT, USA, and Department of Earth and Environmental Sciences, Wesleyan University, Middletown, CT, USA
Ellen Thomas is a micropaleontologist/paleoeanographer whose research is focused on benthic foraminifera, combining assemblage studies with trace element and stable isotope analysis. She was educated at the University of Utrecht (Netherlands), moving to the US after finishing her PhD in 1979, where she presently is employed at Yale University and Wesleyan University (Connecticut). Most of her research is based on material provided by the International Ocean Discovery Program (and its predecessors), from the Late Cretaceous through Recent, but she also studies salt marsh and estuarine foraminifera from the last few millennia. She was involved in the discovery and documentation of the Paleocene Eocene Thermal Maximum and other hyperthermal events, specifically the effect of these events on marine biota, for which she received the Maurice Ewing medal from AGU (2013). She is the 2016 Brady medal recipient. She has been editor of Marine Micropaleontology and Geology, and is presently Editor in Chief of Paleoceanography.