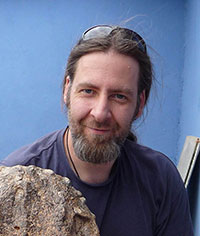 Torsten M. Scheyer. Paläontologisches Institut und Museum, Universität Zürich, Karl Schmid-Strasse 4, CH-8006 Zürich, Switzerland
Torsten Scheyer is research associate and private lecturer of Palaeontology at the Palaeontological Institute and Museum of the University of Zurich (PIMUZ), Switzerland. He is mainly interested in the evolutionary morphology and palaeobiology of vertebrates, the development of skeletal tissues and the microstructures of bone, as well as the ecological adaptations of extant and extinct vertebrates, with a focus on reptiles.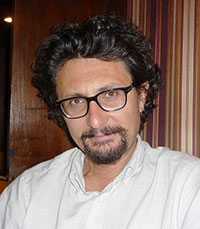 Massimo Delfino. Dipartimento di Scienze della Terra, Università di Torino, Via Valperga Caluso 35, I-10125 Torino, Italy. and Institut Català de Paleontologia Miquel Crusafont, Universitat Autònoma de Barcelona. Edifici ICTA-ICP, Carrer de les Columnes s/n, Campus de la UAB, E-08193 Cerdanyola del Vallès, Barcelona, Spain
Massimo Delfino is Associate Professor of Palaeontology and Palaeoecology at the University of Turin (Italy). The focus of his research concerns aspects of palaeontology, evolutionary morphology, systematics, phylogeny and biogeography of the amphibians and reptiles. The main research lines deal with the contribution of fossils to the phylogeny of crocodilians and to the evolution of the herpetofaunas of Europe and the Mediterranean area.