The first fossil New World Dixidae with a critical discussion of generic definitions
Plain Language Abstract
The dipteran family Dixidae is a small group of 184 extant species of flies. They, along with two other families, are related to mosquitoes but have received little attention from modern taxonomists. The fossil record of the dixids is relatively good with 13 described species. In this study, we describe four additional extinct species from the oil shale of the 46 million-year-old Kishenehn Formation in Montana, including the first females and the only fossil species to be described from the New World. We review the morphological bases of the generic assignments of all extant and extinct dixids and conclude that neither of the two major genera, Dixa and Dixella, can be distinguished by wing venation characters alone. Given that some fossil species of Dixidae consist only of an isolated wing, the generic assignments of these specimens must be re-examined.
Resumen en Español
Los primeros fósiles de Dixidae del Nuevo Mundo con una discusión crítica de las diferenciaciones de los géneros
Se describen cuatro nuevas especies fósiles de la familia de dípteros Dixidae, incluyendo los primeros ejemplares fósiles de hembras de esta familia, provenientes de las lutitas bituminosas del Eoceno Medio de la Formación Kishenehn en el noroeste de Montana. Estas nuevas especies, Dixella intacta sp. nov., D. eomarginata sp. nov., D. spinilobata sp. nov. y D. curvistyla sp. nov., son los primeros fósiles de Dixidae que se describen del Nuevo Mundo. Se revisa críticamente el cuerpo de carácteres morfológicos usados hasta ahora para todas las asignaciones a nivel taxonómico de género de los Dixidae existentes y extintos, y se presentan nuevos datos sobre la variabilidad del patrón de venación alar en Dixidae actuales. Se concluye que es imposible distinguir entre los adultos de los dos géneros principales, Dixa y Dixella, a partir únicamente de la venación alar. Debido a la falta de rasgos distintivos, los nombres de las dos especies cenozoicas que consisten únicamente un ala aislada en cada caso, Dixa priscula y D. cimbrica, se declaran nomina dubia y los fósiles se asignan a Dixidae incertae sedis.
Palabras clave: Dixidae; insecto fósil eoceno; Formación Kishenehn; venación; nuevas especies
Traducción: Enrique Peñalver (Sociedad Española de Paleontología)
Résumé en Français
Les premiers fossiles de Dixidae du Nouveau Monde et une révision des définitions des genres
Quatre nouvelles espèces fossiles de la famille de diptères Dixidae, incluant notamment les premiers spécimens fossiles de femelles de cette famille, sont décrites dans les schistes bitumineux de l'Éocène moyen de la formation de Kishenehn, nord-ouest du Montana. Ces nouvelles espèces, Dixella intacta sp. nov., D. eomarginata sp. nov., D. spinilobata sp. nov., et D. curvistyla sp. nov., sont les premières espèces fossiles de Dixidae décrites dans le Nouveau Monde. Les définitions morphologiques de tous les genres de dixidés actuels et éteints sont révisées, et de nouvelles données sur la variabilité des schémas de nervation des ailes des Dixidae actuels sont présentées. Il est conclu qu'il est impossible de distinguer les adultes des deux genres principaux, Dixa et Dixella, en se basant uniquement sur la nervation des ailes. Étant donné le manque de caractères diagnostiques, les noms des deux espèces cénozoïques qui sont basées sur des ailes isolées, Dixa priscula et Dixa cimbrica, sont déclarées nomina dubia et les fossiles sont attribués à Dixidae incertae sedis.
Mots-clés : Dixidae : fossiles d'insectes éocènes ; formation de Kishenehn ; nervation ; nouvelle espèce
Translator: Antoine Souron
Deutsche Zusammenfassung
Das erste Dixidae-Fossil aus der neuen Welt mit einer kritischen Diskussion der Gattungsdefinition
Vier neue fossile Arten der Dipteren-Familie Dixidae, mit den ersten weiblichen Stücken in dieser Familie, werden aus den mitteleozänen Ölschiefern der Kishenehn-Formation von Nordwest-Montana beschrieben. Diese neuen Arten, Dixella intacta sp. nov., D. eomarginata sp. nov., D. spinilobata sp. nov. und D. curvistyla sp. nov., sind die ersten beschriebenen Dixidae-Fossilien aus der neuen Welt. Es wird die morphologische Basis aller Gattungszuordungen der heutigen und ausgestorbenen Dixiden kritisch überprüft und neue Daten zur Flügelnervatur-Variabilität bei heutigen Dixidae werden vorgelegt. Es wurde der Schluss gezogen, dass es unmöglich ist, zwischen den Adulten der zwei großen Gattungen Dixa und Dixella, nur aufgrund der Flügelnervatur zu unterscheiden. Da es an Unterscheidungsmerkmalen fehlt, werden die Namen der zwei känozoischen Arten, die nur aus einem Flügel bestehen, Dixa priscula und D. cimbrica, zu nomina dubia erklärt und die Fossilien werden den Dixidae incertae sedis zugeschrieben. .
Schlüsselwörter: Dixidae; eozäne Insektenfossilien; Kishenehn Formation; Nervatur; neue Art
Translator: Eva Gebauer
Arabic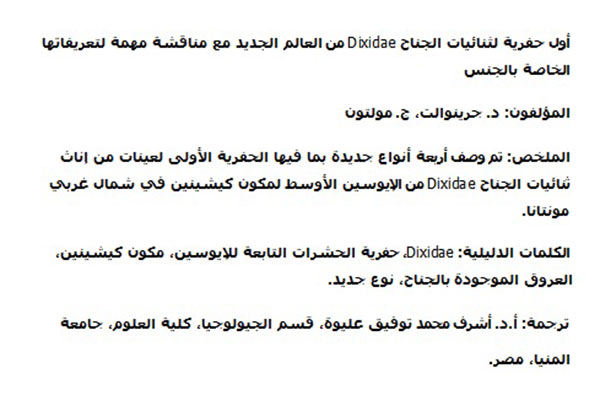 Translator: Ashraf M.T. Elewa