First comprehensive morphological analysis on the metapodials of Giraffidae
Plain Language Abstract
Giraffids are a group of ruminants with only two living members, the giraffe and the okapi. This family, however, was much more diverse in the past, with more than 20 species that were variable in body size, neck length, and skeletal features. We describe characteristics on the limbs of living and extinct giraffids, and find that each species exhibits a unique combination of features. Our forelimb and hindlimb descriptions allow for genus identification based on a limb specimen, and for comparisons between the different taxa. We find both phylogenetic and environmental signals in the limb anatomical features, allowing for studies involving cladistics as well as paleoecology. We also evaluate measurements of the limbs, and find that most species exhibit a front-loaded body weight distribution, consistent with the elongated necks and robust ossicones. The morphological features of the giraffid metapodials, as well as the limb lengths and proportions prove to be a useful tool for genus identifications and comparisons.
Resumen en Español
Primer análisis morfológico exhaustivo sobre los metapodiales de Giraffidae
Los jiráfidos son un grupo de rumiantes del grupo Pecora relictos con sólo dos taxones vivos. Durante el Mioceno, sin embargo, este grupo fue mucho más diverso, con más de 20 especies diferentes que mostraban una amplia gama de variabilidad. Además de en muchas otras partes del esqueleto, esta variabilidad también se muestra en sus metapodiales. Encontramos diferencias anatómicas inter-específicas en los metapodiales de la familia Giraffidae; cada taxón evaluado posee una combinación única de morfologías de las extremidades. La superficie metapodial próximo-palmar/plantar proporciona características útiles y permite identificaciones y comparaciones a nivel de género. Describimos el canal central del eje metapodial; cuando se combina con la longitud total de la extremidad, la profundidad de esta depresión permite una mejor separación entre taxones. Encontramos que el índice de robustez de los metacarpianos supera al de los metatarsianos en todos los jiráfidos evaluados excepto en uno, soportando una distribución de peso corporal con carga frontal, consistente con cervicales alargadas o grandes osiconos observados en muchos taxones. Las características morfológicas de los metapodiales de los jiráfidos, así como las longitudes y proporciones de las extremidades, pueden constituir una herramienta útil para el análisis filogenético.
Palabras clave: Giraffidae; Metapodial; Morfología; Extremidades; Ruminantia; Anatomía
Traducción: Enrique Peñalver (Sociedad Española de Paleontología)
Résumé en Français
Première analyse globale de la morphologie des métapodes de Giraffidae
Les giraffidés sont un groupe relique de ruminants Pecora avec seulement deux taxons actuels. Cependant, pendant le Miocène, ce groupe était beaucoup plus diversifié, avec plus de 20 espèces différentes montrant une grande variabilité de nombreuses parties du squelette, notamment les métapodes. Nous décrivons des différences anatomiques inter-spécifiques sur les métapodes de giraffidés. Chaque taxon évalué possède une combinaison unique de caractères morphologiques des membres. La surface proximo-palmaire/plantaire des métapodes fournit des caractères utiles permettant d'identifier et de comparer les genres. Nous décrivons les différences au niveau du sillon longitudinal de la diaphyse du métapode. Combinée avec la longueur absolue du membre, la profondeur de ce sillon permet de mieux distinguer les taxons. Nous observons que l'indice de robustesse des métacarpes dépasse celui des métatarses chez tous les giraffidés évalués, à l'exception d'un taxon. Cela suggère une distribution de la masse corporelle plus importante vers l'avant, ce qui est cohérent avec les cervicales allongées et les ossicônes de grande taille observés chez de nombreux taxons. Les caractères morphologiques des métapodes de giraffidés, ainsi que les longueurs et les proportions des membres, peuvent être utiles pour les analyses phylogénétiques.
Mots-clés : Giraffidae ; métapodes ; morphologie ; membres ; Ruminantia ; anatomie
Translator: Antoine Souron
Deutsche Zusammenfassung
Die erste umfassende morphologische Analyse der Giraffidae-Metapodien
Giraffiden sind eine Gruppe reliktischer Stirnwaffenträger-Ruminanten mit nur zwei heute noch lebenden Taxa. Während des Miozäns war diese Gruppe jedoch viel diverser und zeigte mit mehr als 20 unterschiedlichen Arten eine große Variabilität. Neben vielen anderen Skelettteilen spiegelt sich diese Variabilität auch in den Metapodien dieser Tiere wieder. Wir finden interspezifische anatomische Unterschiede bei giraffiden Metapodien; jedes evaluierte Taxon besitzt eine einzigartige Kombination seiner Beinmorphologie. Die proximo-palmar/plantare Oberfläche bietet sinnvolle Merkmale und erlaubt Gattungsidentifikation und Vergleiche. Wir beschreiben den zentralen Trog des Metapodium-Schafts; eine Kombination der Trogtiefe mit der absoluten Beinlänge erlaubt eine bessere Teilung der Taxa. Wir fanden heraus, dass der Metacarpale-Robustheits-Index den Metatarsale-Robustheits-Index bei allen bis auf einer evaluierten Giraffide übertrifft. Dies unterstützt eine im vorderen Körperbereich konzentrierte Gewichtsverteilung, was mit den verlängerten Halswirbeln oder den großen Ossicones mancher Taxa einhergeht. Die morphologischen Merkmale der giraffiden Metapodien können zusammen mit den Beinlängen-und Proportionen ein brauchbares Werkzeug für die phylogenetische Analyse sein.
Schlüsselwörter: Giraffidae; Metapodium; Morphologie; Beine; Ruminantia; Anatomie
Translator: Eva Gebauer
Arabic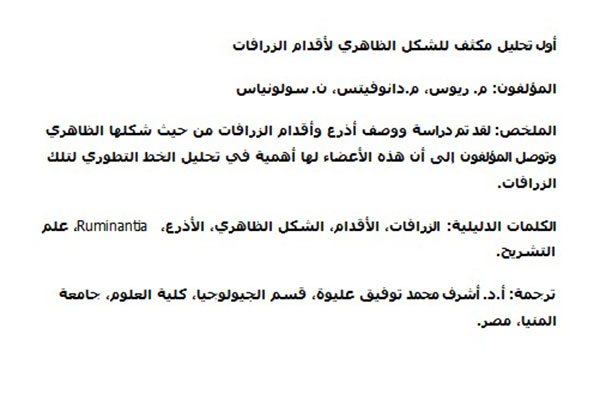 Translator: Ashraf M.T. Elewa