Nannotanyderinae: A new subfamily of Tanyderidae (Diptera)
Plain Language Abstract
After analyses of fossil and extant representatives of family Tanyderidae, they have been divided into two separate evolutionary lines — Tanyderinae Osten-Sacken, 1879 and Nannotanyderinae subfam. nov. A new genus and species is described based on material from the Eocene Baltic amber.
Resumen en Español
Nannotanyderinae: una nueva subfamilia de Tanyderidae (Diptera)
Se examinaron los caracteres de la venación de ala y los genitales masculinos para los representantes fósiles y existentes de la familia Tanyderidae. A partir de la evidencia morfológica, se plantea la hipótesis de que existen dos linajes evolutivos separados a nivel de subfamilia, a saber, Tanyderinae Osten-Sacken, 1879 y Nannotanyderinae subfam. nov. Se establecen las diferencias entre ellos. Se describe e ilustra un nuevo género y especie del ámbar eoceno del Báltico.
Palabras clave: sistemática, taxonomía, ámbar báltico, fósiles de Diptera, nueva subfamilia, nueva especie.
Traducción: Enrique Peñalver (Sociedad Española de Paleontología)
Résumé en Français
Nannotanyderinae : une nouvelle sous-famille de Tanyderidae (Diptera)
Les caractères décrivant la nervation des ailes et les organes génitaux des mâles ont été examinés chez des représentants fossiles et actuels de la famille Tanyderidae. D'après la morphologie, nous émettons l'hypothèse selon laquelle deux lignées évolutives séparées existent au niveau sous-familial : Tanyderinae Osten-Sacken, 1879 et Nannotanyderinae subfam. nov. Les différences entre ces deux sous-familles sont présentées. Une nouvelle espèce (appartenant à un nouveau genre) de l'ambre éocène de la Baltique est décrite et illustrée.
Mots-clés : systématique ; taxinomie ; ambre de la Baltique ; Diptera fossiles ; nouvelle sous-famille ; nouveau genre ; nouvelle espèce
Translator: Antoine Souron
Deutsche Zusammenfassung
Nannotanyderinae: eine neue Unterfamilie der Tanyderidae (Diptera)
Es werden die Flügel-Nervatur und Merkmale der männlichen Geschlechtsorgane bei fossilen und heutigen Vertretern der Familie Tanyderidae untersucht. Aufgrund morphologischer Nachweise wird angenommen, dass zwei separate Evolutionslinien auf Subfamilienlevel existieren, nämlich Tanyderinae Osten-Sacken, 1879 und Nannotanyderinae subfam. nov. Es werden die Unterschiede zwischen den beiden Subfamilien angegeben. Eine neue Gattung und Art aus dem eozänen Baltischen Bernstein wird beschrieben und illustriert.

Schlüsselwörter: Systematik, Taxonomie, Baltischer Bernstein, fossile Diptera, neue Subfamilie, neue Art
Translator: Eva Gebauer
Arabic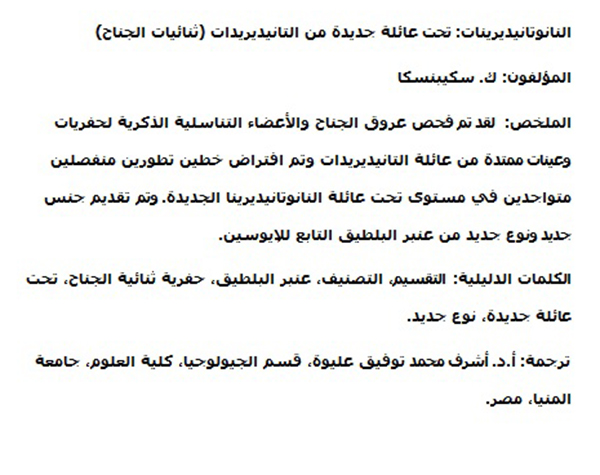 Translator: Ashraf M.T. Elewa