Draconisella mortoni sp. nov., a Mizzia-like Dasycladalean alga from the Lower Cretaceous of Oman
Plain Language Abstract
The Order Dasycladales, which consists of "geant" unicellular green algae, spans most of the Phanerozoic times. Its representatives display few thallus shapes: stick-, club-, bowl- or umbel-shaped, or "string of beads". This last morphology corresponds to articulated forms known from the modern Family Dasycladaceae as well as from the extinct families Diploporaceae and Triploporellaceae. On the basis of loose articles we reconstruct here a new Early Cretaceous species and we compare it to Permian and Late Jurassic forms.
Resumen en Español
Draconisella mortoni sp. nov., un alga del grupo Dasycladales y tipo Mizzia del Cretácico Inferior de Omán
El estudio de la asociación de microfósiles del Hauteriviense al Barremiense Inferior en Omán nos llevó a identificar una nueva alga Triploporellaceae. Esta especie se asemeja a alguna Mizzia Schubert, 1909 del Pérmico. Se compara con este género, así como con el género Draconisella Granier and Michaud, 1989 del Jurásico, ambos referidos a la Tribu Mizziineae. Mizzia tiene quistes supuestamente situados dentro del eje principal y Draconisella tiene quistes supuestamente localizados dentro de los laterales, por lo que la nueva especie se atribuye a este último género. Existen muy pocos registros de microfósiles del intervalo Hauteriviense, y esta nueva alga del grupo Dasycladales puede resultar ser un buen marcador en ambientes de carbonatos de aguas someras.
Palabras clave: alga verde fósil; Triploporellaceae; nueva especie; Cretácico; Hauteriviense-Barremiense; Lekhwair
Traducción: Enrique Peñalver (Sociedad Española de Paleontología)
Résumé en Français
Draconisella mortoni sp. nov., une algue Dasycladale du Crétacé inférieur d'Oman ressemblant à une Mizzia
L'étude d'une association de microfossiles provenant de couches d'âge Hauterivien à Barrémien inférieur en Oman nous a conduit à identifier une algue Triploporellacée nouvelle. Cette espèce ressemble à quelques Mizzia Schubert, 1909. Elle est comparée à ce dernier genre du Permien, ainsi qu'au genre Draconisella Granier & Michaud, 1989, du Jurassique, soit deux genres appartenant à la Tribu des Mizziineae. Mizzia étant endosporée (avec des cystes supposément localisés dans l'axe principal) et Draconisella cladosporée (avec des cystes supposément localisés dans les latérales), la nouvelle espèce est attribuée au dernier des deux genres. Il existe très peu de documentation concernant les microfossiles de l'intervalle Hauterivien et cette nouvelle algue Dasycladale pourrait s'avérer être un bon marqueur dans des environnements calcaires d'eaux peu profondes.
Mots-clés : algue verte fossile ; Triploporellacée ; nouveau taxon ; Crétacé ; Hauterivien-Barrémien ; Lekhwair
Translator: Author
Deutsche Zusammenfassung
Draconisella mortoni sp. nov., eine Mizzia-ähnliche dasycladaleane Alge aus der Unteren Kreide Omans
Die Untersuchung einer Assemblage von Mikrofossilien aus Strata des Hauteriviums bis unteren Barremiums aus dem Oman führte zur Identifikation einer neuen triploporellaceanen Alge. Diese Art ist manchen der permischen Mizzia Schubert, 1909 ähnlich. Der neue Fund wird mit letzterer verglichen, ebenso wie mit der jurassischen Draconisella Granier und Michaud 1989, die beide dem Tribus Mizziineae zugeordnet werden. Da Mizzia endosporatisch ist (mit Cysten, die mutmaßlich innerhalb der Hauptachse liegen) und Draconisella cladosporatisch ist (mit Cysten, die mutmaßlich innerhalb der Lateralen liegen) wird die neue Art letzterer Gattung zugeschrieben. Es gibt relativ wenige Nachweise von Mikrofossilien aus dem Hauterivium-Intervall und diese neue dasycladaleane Alge mag sich als guter Marker für Flachwasserkarbonate erweisen.
Schlüsselwörter: fossile Grünalgen; Triploporellaceae; neue Art; Kreide; Hauterivium-Barremium; Lekhwair
Translator: Eva Gebauer
Arabic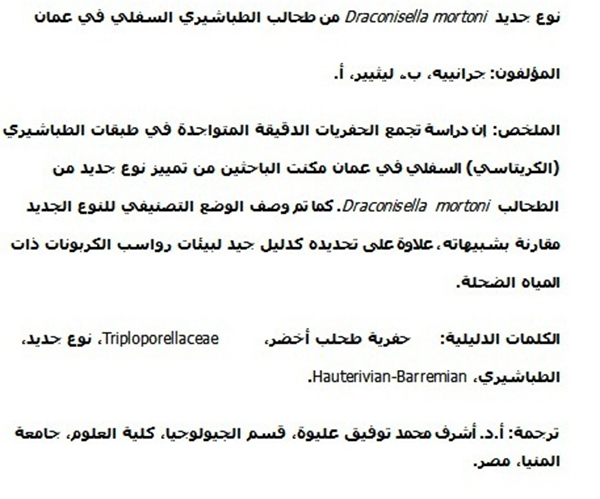 Translator: Ashraf M.T. Elewa