A remarkably well-preserved terrestrial isopod (Peracarida: Isopoda: Armadillidiidae) from the upper Oligocene of Hungary, with remarks on the oniscidean taphonomy
Plain Language Abstract
Isopods rank among the more successful and diverse peracaridan crustaceans, the clade of oniscidean isopods (pill-bugs and wood-lice) being one of the few pancrustacean groups to have successfully invaded terrestrial habitats. Yet, the majority of fossil occurrences of terrestrial isopods stem from amber deposits and only under very special circumstances are they preserved in marine settings; such an occurrence is recorded herein. A single, specifically indeterminate, specimen of Armadillidium from upper Oligocene strata (ca. 26 million years old) at Eger (Hungary) is interpreted as a drowned individual that found itself inadvertently trapped on a piece of floating driftwood or was caught by waves while strolling on the seashore. The animal was preserved virtually intact and close to a natural posture. Similar preservation of terrestrial isopods, i.e., with a very well-preserved cuticle, is extremely rare and has been so far documented only from amber.
Resumen en Español
Un isópodo terrestre notablemente bien conservado (Peracarida: Isopoda: Armadillidiidae) del Oligoceno superior de Hungría, con comentarios sobre la tafonomía de los oniscídeos
Los isópodos se encuentran entre los crustáceos peracáridos más exitosos y diversos; el clado de los isópodos oniscídeos (cochinillas de la humedad o bichos bola) es uno de los pocos grupos de pancrustáceos que han invadido con éxito los hábitats terrestres. Sin embargo, la mayoría de los fósiles de isópodos oniscídeos provienen de depósitos de ámbar y sólo en circunstancias muy especiales se han conservado en medios marinos; se presenta aquí un caso así. Un único espécimen, del género Armadillidium pero no determinado al nivel de especie, proveniente del Oligoceno superior de Eger (Hungría) se interpreta como un individuo ahogado que se encontró atrapado en un trozo de madera o fue alcanzado por las olas mientras se desplazaba por la orilla del mar. El individuo se conservó prácticamente intacto y con una postura cercanamente natural. La preservación casi perfecta de la superficie cuticular del isópodo indica el potencial de estos organismos para preservarse en ambientes siliciclásticos marinos bajo condiciones particulares.
Palabras clave: Armadillidium; Europa Central; conservación de la cutícula; Egeriense; fósil
Traducción: Enrique Peñalver (Sociedad Española de Paleontología) or Diana Elizabeth Fernández
Résumé en Français
Un isopode terrestre (Peracarida : Isopoda : Armadillidiidae) exceptionnellement bien préservé provenant de l'Oligocène supérieur de Hongrie, avec des remarques sur la taphonomie des oniscides
Les isopodes sont parmi les crustacés Peracarida les plus divers et les plus prospères. Le clade des isopodes oniscides (cloportes) est notamment un des seuls groupes de pancrustacés à avoir colonisé avec succès les habitats terrestres. La majorité des occurrences fossiles d'isopodes oniscides proviennent de dépôts d'ambre et ils ne sont préservés dans des environnements marins que dans des circonstances très spéciales. Nous présentons une de ces occurrences dans cet article. Un seul spécimen du genre Armadillidium (non déterminé au rang spécifique) des strates de l'Oligocène supérieur à Eger (Hongrie) est interprété comme un individu noyé après avoir été piégé dans un morceau de bois flotté ou après avoir été emporté par des vagues quand il marchait au bord de la mer. Cet animal est quasiment intact et dans une position proche de sa position naturelle. Une préservation quasi-parfaite de la surface de la cuticule de l'isopode indique leur potentiel d'être préservés dans des milieux marins silicoclastiques dans des conditions particulières.
Mots-clés : Armadillidium ; Europe centrale ; préservation de cuticule ; Egérien ; fossile
Translator: Antoine Souron
Deutsche Zusammenfassung
Ein bemerkenswert gut erhaltener terrestrische Isopode (Peracarida: Isopoda: Armadillidiidae) aus dem oberen Oligozän von Ungarn, mit Anmerkungen zur Thaphonomie der Oniscidea
Isopoden gehören zu den erfolgreicheren und diverseren peracariden Crustaceen, von denen die Klade Oniscidea (Rollasseln und Landasseln) als eine der wenigen Gruppen der Pancrustaceen erfolgreich terrestrische Habitate besetzt hat. Jedoch stammt der Großteil der Oniscidea-Fossilien aus Bernstein, der nur unter sehr speziellen Bedingungen in mariner Umgebung erhalten bleibt. In der vorliegenden Studie erläutern wir ein solches Vorkommen. Ein einzelnes Stück eines, ausdrücklich unbestimmten, Armadillidium aus dem oberen Oligozän von Eger (Ungarn) wird als ein ertrunkenes Individuum interpretiert, das auf einem Stück Treibholz gefangen war oder von Wellen erfasst wurde als es am Ufer entlanglief. Das Tier war nahezu vollständig erhalten und einer natürlichen Körperhaltung sehr nahe. Die annähernd perfekte Erhaltung der cuticularen Oberfläche weist auf das gute Potential von Isopoden hin unter bestimmten Bedingungen in marinen siliziklastischen Milieus konserviert zu werden.
Schlüsselwörter: Armadillidium; Zentraleuropa; Cuticula-Erhaltung; Egerium; fossil
Translator: Eva Gebauer
Arabic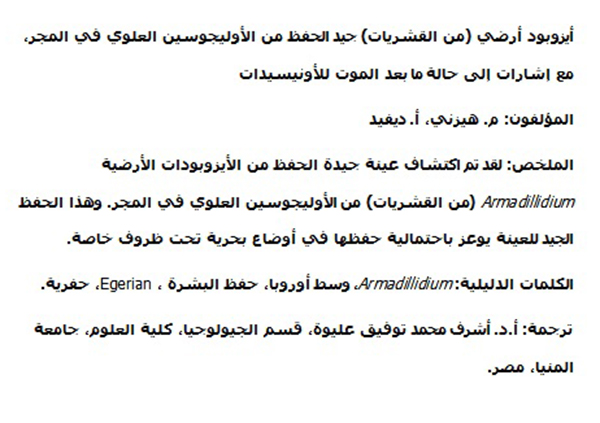 Translator: Ashraf M.T. Elewa