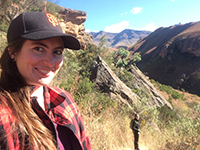 Tesla A. Monson. Department of Integrative Biology, University of California, Berkeley, 3040 Valley Life Sciences Building #3140, Berkeley, CA 94720, USA. This email address is being protected from spambots. You need JavaScript enabled to view it.
Tesla Monson is a Ph.D. candidate in the Department of Integrative Biology at the University of California, Berkeley. Her research focuses on the evolution of mammalian craniodental variation, the evolution of body size and life history traits in mammals, and the interpretation of mammalian species variation in the fossil record. Tesla's dissertation addresses the relationship between phylogeny, life history, and dental eruption sequence in mammals. Tesla also hosts and produces The Graduates on KALX 90.7FM, a talk radio show dedicated to science education and outreach, and diversity in STEM.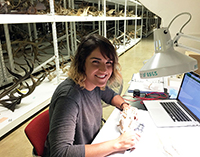 Marianne F. Brasil. Department of Integrative Biology, University of California, Berkeley; Human Evolution Research Center, 3040 Valley Life Sciences Building #3140, Berkeley, CA 94720, USA. This email address is being protected from spambots. You need JavaScript enabled to view it.
Marianne Brasil is a Ph.D. candidate in the Department of Integrative Biology at the University of California, Berkeley. Marianne's research interest is in mammalian dental and skeletal variation, particularly how variation is patterned and interpreted in the fossil record. Marianne's dissertation research focuses on early modern human skeletal remains from the Middle Awash area of Ethiopia, and she is an active member of the Middle Awash research project.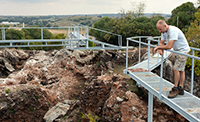 Dominic J. Stratford. School of Geography, Archaeology and Environmental Studies, University of the Witwatersrand, 1 Jan Smuts Avenue, Braamfontein 2000, Johannesburg, South Africa. This email address is being protected from spambots. You need JavaScript enabled to view it.
Dominic Stratford is research director of the Sterkfontein Caves and senior lecturer of geoarchaeology at the University of the Witwatersrand, Johannesburg, South Africa. Dominic's research interests focus on the development and application of multidisciplinary analyses to help refine contextual control of palaeoanthropological and archaeological assemblages during and after their excavation. As a consequence of this focus, Dominic's interests cover a range of earth and biological sciences from vertebrate morphology to sediment micromorphology. Dominic is involved in field work in several areas of South Africa and Namibia spanning the late Pliocene to Holocene.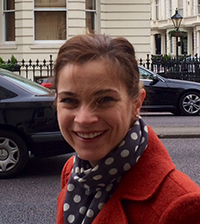 Leslea J. Hlusko. Department of Integrative Biology, University of California, Berkeley; Human Evolution Research Center, 3040 Valley Life Sciences Building #3140, Berkeley, CA 94720, USA. This email address is being protected from spambots. You need JavaScript enabled to view it.
Leslea Hlusko's research explores the genetic underpinnings of skeletal variation and how this has evolved through time as seen in the fossil record. The focus is on mammalian evolution, with an emphasis on primates. Lab methods span from quantitative genetic analyses to gene expression studies. Leslea has co-directed field paleontology projects in Kenya and Tanzania, and participates in field projects in Ethiopia and Turkey. Her paleontological research is focused on mammalian evolution in the Neogene of Africa and Eurasia. She is currently an Associate Professor of Integrative Biology at the University of California Berkeley.