A new species of Eutatus Gervais (Xenarthra, Dasypodidae) from the Late Pleistocene of the Northern Pampean Region, Argentina
Plain Language Abstract
In this article we describe a new armadillo from the late Pleistocene of Argentina, Eutatus crispianii, which has larger osteoderms than the other Pleistocene species, such as E. pascuali and E. seguini. The osteoderms of the new species also present differences in shape and presence of large foramina on the exposed surface.
The great diversity that exists between the osteoderms intra and inter individuals was assessed statistically. We perform the first geometric morphometric analysis to quantitatively describe the characteristics of the osteoderms that define different species of armadillos.
Resumen en Español
Una nueva especie de Eutatus Gervais (Xenarthra, Dasypodidae) del Pleistoceno Tardío de la Región Pampeana Septentrional, Argentina
El género Eutatus ha sido recientemente revisado y sólo se han reconocido dos especies a partir del estudio detallado de las características de los osteodermos fijos del escudo pélvico y otros elementos postcraneales: E. seguini, limitado a edades Bonaerense y Lujanense, y E. pascuali, más antiguo que el anterior, reconocido en el Marplatense y Ensenadense. Se describe una nueva especie de Eutatini, Eutatus crispianii sp. nov., del Lujanense a partir de la morfología de los osteodermos fijos. El análisis morfométrico geométrico y el análisis estadístico de las variables cuantitativas de estos elementos revelan diferencias significativas entre la nueva especie y las ya conocidas.
Palabras clave: América del Sur; Lujanense; Armadillo; Eutatini; Osteodermo; Morfometría geométrica
Traducción: Enrique Peñalver (Sociedad Española de Paleontología)
Résumé en Français
Une nouvelle espèce du genre Eutatus Gervais (Xenarthra, Dasypodidae) du Pléistocène récent du nord de la région pampéenne, Argentine
Le genre Eutatus a été récemment révisé et seules deux espèces ont été reconnues d'après une étude détaillée des caractéristiques des ostéodermes fixes du bouclier pelvien et d'autres éléments post-crâniens : E. seguini, restreinte aux stades/âges Bonairien et Lujanien, et E. pascuali, plus ancienne, reconnue dans les stades/âges « Marplatan » et « Ensenadan ». Nous signalons dans cet article une nouvelle espèce d'Eutatini, Eutatus crispianii sp. nov., présente au stade/âge Lujanien, et décrite sur la base de la morphologie des ostéodermes fixes. Une analyse de morphométrie géométrique et une analyse statistique des variables quantitatives de ces éléments révèlent des différences significatives entre la nouvelle espèce et les espèces précédemment décrites.
Mots-clés : Amérique du Sud ; Lujanien ; tatou ; Eutatini ; ostéoderme ; morphométrie géométrique
Translator: Antoine Souron
Deutsche Zusammenfassung
Eine neue Art von Eutatus Gervais (Xenarthra, Dasypodidae) aus dem späten Pleistozän der nördlichen Pamparegion, Argentinien
Die Gattung Eutatus wurde kürzlich revidiert. Nach detaillierten Untersuchungen der festen Osteoderme des Beckenschildes und anderer Elemente des Postcraniums wurden nur zwei Arten erkannt: E. seguini, die auf die Bonaerian Stufe/Alter und die Lujanian Stufe/Alter begrenzt ist und E. pascuali, die älter ist und in der Marplatan und Ensenadan Stufe/Alter vorkommt. Hier stellen wir eine neue Art der Eutatini, Eutatus crispianii sp. nov. vor, die in der Lujanian Stufe/Alter vorkommt und auf der Basis der Morphologie der festen Osteoderme beschrieben wird. Geometrisch-morphometrische Analysen und statistische Analysen quantitativer Variablen dieser Elemente zeigen signifikante Unterschiede zwischen der neuen Art und bisher beschriebenen Arten.
Schlüsselwörter: Südamerika; Lujanian; Gürteltier; Eutatini; Osteoderm; geometrische Morphometrie
Translator: Eva Gebauer
Arabic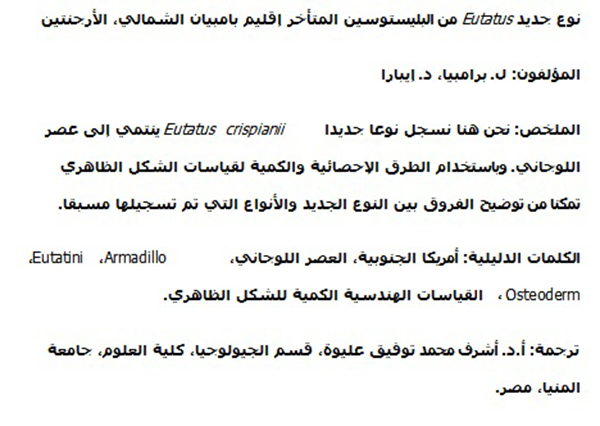 Translator: Ashraf M.T. Elewa