The oldest record of gnathostome fossils from Greece: Chondrichthyes from the Lopingian of Hydra Island
Plain Language Abstract
Until now, no jawed vertebrate (fishes and tetrapods) fossils were known from Paleozoic deposits in Greece. Recent fieldwork on Hydra Island, Western Aegean Sea, brought to light some 255 million year old shark remains. Tooth anatomy suggests that the Hydriot shark fed on hard, likely shelled prey, and shows anatomical similarities with other iconic Paleozoic and Mesozoic bottom feeding sharks. However, fine anatomical differences, like tooth ornamentation, do not allow us to include the Hydriot shark in any previously known species. The Hydriot shark material is not only the first known occurrence of jawed vertebrates in Greece, but also corresponds to one of the few occurrences of such animals in the late Paleozoic sediments of the Paleotethyan Ocean.
Resumen en Español
El registro más antiguo de gnatóstomos fósiles de Grecia: Condrictios del Lopingiense de la isla de Hidra
Los yacimientos del Pérmico de la isla de Hidra, Grecia, se conocen desde hace más de un siglo y albergan algunas de las asociaciones de invertebrados más estudiadas y más diversas del antiguo Océano Paleotetis. Sin embargo, hasta ahora, no se habían encontrado fósiles paleozoicos de vertebrados con mandíbula en Grecia. Los trabajos de campo recientes en la isla de Hidra sacaron a la luz raros restos de peces cartilaginosos, incluyendo un diente perteneciente a un tiburón desconocido del orden Hybodontiformes, así como un dentículo dérmico no identificable de un tiburón Euselachii. A pesar de las similitudes con los icónicos Euselachii durófagos del Paleozoico y Mesozoico, el diente de Hidra probablemente corresponde a una nueva especie, pero provisionalmente se hace uso de la nomenclatura abierta hasta que se disponga de más ejemplares. Los nuevos fósiles de condrictios de la isla de Hidra corresponden a uno de los pocos registros del Lopingiense (Permico tardío) conocidos para el Paleotetis. Además, constituyen el registro más antiguo de fósiles de vertebrados con mandíbula de Grecia, y son más de 50 millones de años más antiguos que los registros más antiguos hasta ahora en este país.
Palabras clave: Pérmico tardío; Paleotetis; peces fósiles; Hybodontiformes; Isla de Hidra; Grecia
Traducción: Enrique Peñalver (Sociedad Española de Paleontología)
Résumé en Français
La plus ancienne occurrence de fossiles de gnathostomes en Grèce : des fossiles de Chondrichthyes du Lopingien de l'île d'Hydra
Les dépôts permiens de l'île d'Hydra, Grèce, sont connus depuis plus d'un siècle et incluent certains des assemblages d'invertébrés les mieux étudiés et les plus divers de l'ancien océan Paléotéthys. Cependant, aucun fossile paléozoïque de vertébrés à mâchoires n'avait été signalé en Grèce jusqu'à maintenant. Un travail de terrain sur l'île d'Hydra a récemment permis de mettre à jour de rares restes de poissons cartilagineux, incluant une dent qui appartient à un requin hybodontiforme inconnu, ainsi qu'un denticule cutané non identifiable d'un requin eusélacien. Malgré des similarités avec les eusélaciens durophages emblématiques du Paléozoïque et du Mésozoïque, la dent de l'île d'Hydra correspond probablement à une nouvelle espèce, mais elle est laissée pour l'instant en nomenclature ouverte en attendant que plus de matériel soit disponible. Les nouveaux fossiles de l'île d'Hydra correspondent à une des rares occurrences lopingiennes (Permien récent) connues dans la Paléotéthys. De plus, ils constituent la plus ancienne occurrence de fossiles de vertébrés à mâchoires en Grèce, étant antérieurs aux occurrences plus récentes de plus de 50 millions d'années.
Mots-clés : Permien récent ; Paléotéthys ; poissons fossiles ; Hybodontiformes ; île d'Hydra ; Grèce
Translator: Antoine Souron
Deutsche Zusammenfassung
Der älteste Nachweis fossiler Gnathostomen aus Griechenland: Chondrichthyes aus dem Lopingium von Hydra
Die permischen Ablagerungen auf Hydra, Griechenland, sind seit über einem Jahrhundert bekannt. Sie beherbergen eine der am besten untersuchten und vielfältigsten Invertebraten-Assemblage der Paläotethys. Über kiefertragende Wirbeltiere aus Griechenland wurde bis jetzt jedoch noch nicht berichtet. Jüngste Ausgrabungen auf Hydra brachten Überreste von Knorpelfischen zu Tage, inklusive eines Zahnes von einem unbekannten hybodontiformen Hai, ebenso wie ein nicht identifizierbarer Dermaldentikel eines Euselachiers. Trotz Ähnlichkeiten mit den ikonischen paläozoischen und mesozoischen durophagen Euselachiern, gehört der Zahn von Hydra eher zu einer neuen Art. Er wurde jedoch provisorisch in der offenen Nomenklatur belassen bis mehr Material zur Verfügung steht. Die neuen Chondrichthyer-Fossilien von Hydra stimmen mit einem der wenigen Vorkommen aus dem Lopingium (spätes Perm) aus der Paläotethys überein. Darüber hinaus enthalten sie den ältesten Fossilnachweis von kiefertragenden Wirbeltieren aus Griechenland und sind mehr als 50 Millionen Jahre jünger als die bisher bekannten jüngsten Vorkommen.
Schlüsselwörter: spätes Perm; Paläotethys; fossiler Fisch; Hybodontiformes; Hydra; Griechenland
Translator: Eva Gebauer
Arabic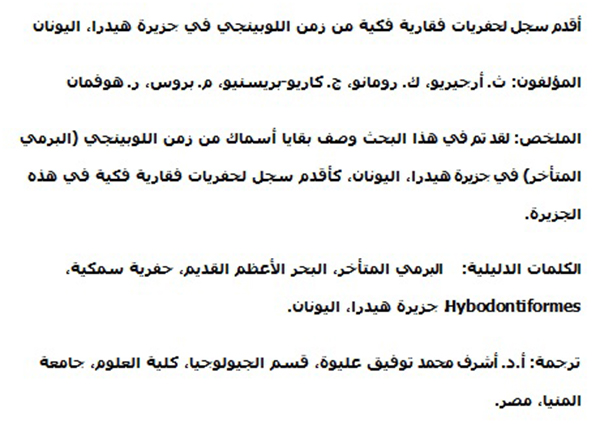 Translator: Ashraf M.T. Elewa