Pleistocene cave hyenas in the Iberian Peninsula: New insights from Los Aprendices cave (Moncayo, Zaragoza)
Víctor Sauqué, Raquel Rabal-Garcés, Joan Madurell-Malaperia, Mario Gisbert, Samuel Zamora, Trinidad de Torres, José Eugenio Ortiz, and Gloria Cuenca-Bescós
Plain Language Abstract
Cave hyena (Crocuta spelaea) was a common carnivore in Europe, especially during Late Pleistocene, in spite of which there are very few examples of complete skeletons. In this paper, we present a new paleontological site called Los Aprendices, where the most complete skeleton in the Iberian Peninsula has been recovered. Besides, a taphonomic work has been done in order to understand the origin and preservation of these exceptional remains, suggesting a rapid burial after dead with scarce modification by other carnivores. The skeleton allows us to perform a biometric analysis and a study of the characteristics of cranial and appendicular skeleton, which result in the classification of cave hyenas as a different species and not as a subspecies of the extant spotted hyena (Crocuta crocuta). Additionally, a review of the Pleistocene record of genus Crocuta has been conducted, enabling us to establish one of the first records of Crocuta spelaea just in the recently discovered Los Aprendices cave.
Resumen en Español
Hienas de las cavernas del Pleistoceno en la Península Ibérica: nuevos conocimientos sobre la cueva de Los Aprendices (Moncayo, Zaragoza)
Se presenta un nuevo yacimiento paleontológico del Pleistoceno, Los Aprendices, ubicado en la parte noroeste de la Península Ibérica, en la zona del Moncayo (Zaragoza). La capa con restos fósiles ha sido datada por racemización de aminoácidos en 143,8 ± 38,9 miles de años (Pleistoceno Tardío más temprano o Pleistoceno Medio más tardío). Se han identificado cinco especies de mamíferos en la asociación: Crocuta spelaea (Goldfuss, 1823), Capra pyrenaica (Schinz, 1838), Lagomorpha indet., Arvicolidae indet. y Galemys pyrenaicus (Geoffroy, 1811). Los restos de C. spelaea corresponden a un esqueleto casi completo en semi-conexión anatómica. El espécimen de hiena representa el esqueleto más completo jamás recuperado en Iberia y uno de los restos más completos de Europa. Se ha comparado anatómica y biométricamente con las hienas de las cavernas europeas y las hienas manchadas actuales. Además, se ha realizado un estudio tafonómico para comprender el origen y la preservación de estos restos excepcionales. Los resultados sugieren un entierro rápido con pocas modificaciones por alteración producida presumiblemente por un carnívoro de tamaño medio. Se ha realizado una revisión del registro ibérico pleistoceno de Crocuta spp., que nos ha permitido establecer uno de los primeros registros de C. spelaea, en la recién descubierta cueva de Los Aprendices, y que nos ha mostrado también que la distribución geográfica más extensa de esta especie ocurrió durante el Pleistoceno Tardío (MIS4-2).
Palabras clave: Pleistoceno; Crocuta spelaea; Tafonomía; distribución; Península Ibérica
Traducción: Enrique Peñalver (Sociedad Española de Paleontología)
Résumé en Français
Les hyènes des cavernes pléistocènes de la péninsule Ibérique : nouvelles données de la grotte de Los Aprendices (Moncayo, Saragosse)
Un nouveau site paléontologique pléistocène, Los Aprendices, situé dans la partie nord-ouest de la péninsule Ibérique dans la région de Moncayo (Saragosse), est présenté. La couche avec les restes fossiles a été datée par racémisation des acides aminés à 143,8 ka ± 38,9 ka (base du Pléistocène récent ou toute fin du Pléistocène moyen). Cinq espèces de mammifères ont été identifiées dans l'assemblage : Crocuta spelaea (Goldfuss, 1823) Capra pyrenaica (Schinz, 1838), Lagomorpha indet., Arvicolidae indet., et Galemys pyrenaicus (Geoffroy, 1811). Les restes de C. spelaea comprennent un squelette sub-complet en semi-connexion anatomique. Le spécimen de hyène des cavernes représente le squelette le plus complet jamais trouvé dans la péninsule Ibérique et un des plus complets d'Europe. Des comparaisons anatomiques et biométriques ont été effectuées à la fois avec des hyènes des cavernes européennes et des hyènes tachetées actuelles. Une étude taphonomique a également été effectuée pour comprendre l'origine et la préservation de ces restes exceptionnels. Les résultats suggèrent un enfouissement rapide avec quelques modifications de charognage produites par un Carnivora de taille moyenne. Une synthèse du registre fossile pléistocène de Crocuta spp. dans la péninsule Ibérique a été effectuée, nous permettant de définir une des plus anciennes occurrences de C. spelaea dans la grotte récemment découverte de Los Aprendices, et montrant que la distribution géographique la plus vaste de cette espèce était au Pléistocène récent (SIM 4-2).
Mots-clés : Pleistocène ; Crocuta spelaea ; taphonomie ; distribution ; péninsule Ibérique
Translator: Antoine Souron
Deutsche Zusammenfassung
Pleistozäne Höhlenhyänen von der Iberischen Halbinsel: Neue Ergebnisse aus der Los Aprendices Höhle (Moncayo, Zaragoza)
Es wird eine neue pleistozäne paläontologische Fundstelle, gelegen im nordwestlichen Teil der Iberischen Halbinsel im Gebiet von Moncayo (Zaragoza), vorgestellt. Die fossilführende Schicht wurde mit Aminosäure-Racemisierung auf 143.8 ± 38.9 ka datiert (frühestes Spätpleistozän bis spätestes Mittelpleistozän). In der Assemblage wurden fünf Arten identifiziert: Crocuta spelaea (Goldfuss, 1823) Capra pyrenaica (Schinz, 1838), Lagomorpha indet, Arvicolidae indet und Galemys pyrenaicus (Geoffroy, 1811). Die Überreste von C. spelaea stellen ein nahezu komplettes Skelett in anatomischer Halbartikulation dar. Das Stück verkörpert das vollständigste Skelett, das jemals in Iberien gefunden wurde und eines der vollständigsten Überreste aus Europa. Es wurde anatomisch und biometrisch mit beiden europäischen Höhlenhyänen verglichen sowie mit den heutigen Tüpfelhyänen. Darüber hinaus wurde eine taphonomische Untersuchung durchgeführt, um den Ursprung und die Erhaltung dieser bemerkenswerten Überreste zu verstehen. Die Ergebnisse legen eine schnelle Einbettung nahe, mit wenigen Veränderungen durch Aasfresser, die vermutlich durch einen mittelgroßen Karnivoren verursacht wurden. Die pleistozänen iberischen Nachweise von Crocuta spp. wurden überprüft, was uns ermöglichte einen der frühesten Belege von C. spelaea in der kürzlich entdecken Los Aprendices Höhle etablieren. Außerdem wird herausgestellt, dass die größte geografische Verbreitung dieser Art während des späten Pleistozäns auftrat.
Schlüsselwörter: Pleistozän; Crocuta spelaea; Taphonomie; Verteilung; Iberische Halbinsel
Translator: Eva Gebauer
Arabic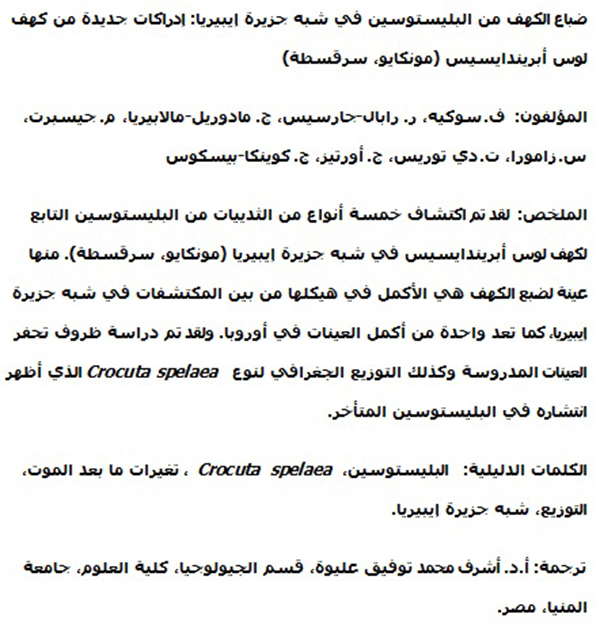 Translator: Ashraf M.T. Elewa